What We Learnt About Sustainability & Innovation at Industry Events
Written by Weavabel, published 31/01/23 12:34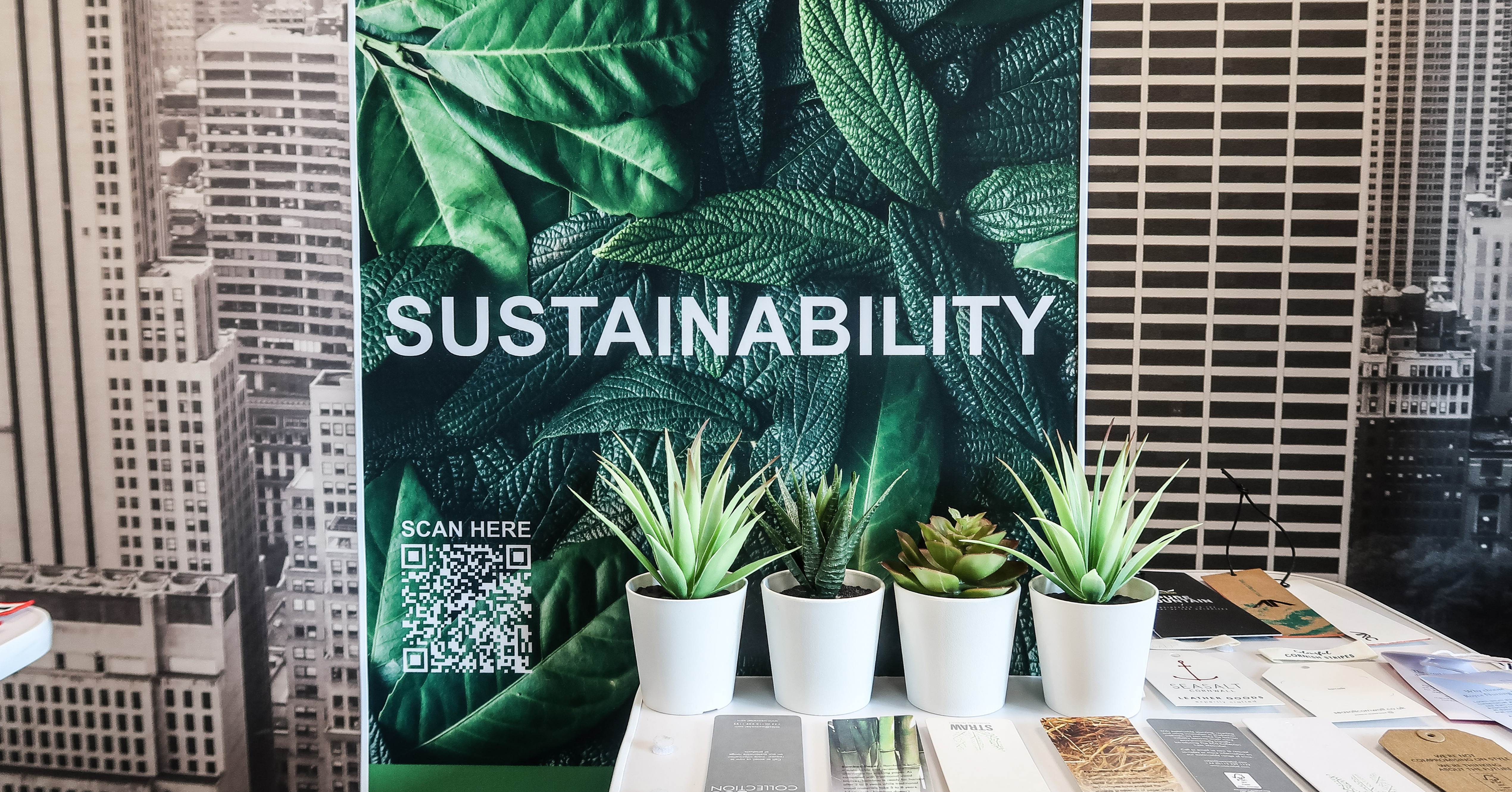 We have a stacked calendar of industry events that we attend and exhibit at. As well as learning the latest about sustainable materials, innovation and branding from others, we use these opportunities to share what sustainable initiatives we can make possible for top fashion, homeware and sportswear brands.
Read on to find out what we learnt at recent events at home and across the globe.
New Collection Launch - Ocean Day 2023
Introducing our new captivating collection of clothing labels, swing tags, badges and packaging items specially launched in celebration of Ocean Day on June 8th. This range of ocean-inspired trims has been designed and developed with the ocean in mind, and uses materials that would otherwise end up in our oceans and cause further damage to our precious marine ecosystems.
Read on to discover what is included in our new collection.
Featured in this range
In this latest collection, you'll find a water soluble poly bag, clothing trims made from recycled nylon yarn which has been spun from old fishing nets and a swing tag made from algae paper. You can read more about these products, and find out what else is included in the Ocean Day Collection here.
New Product Alert - FSC Paper Tape Handle
It's often difficult to strike the balance between having a luxurious bag and using strictly eco-friendly materials - especially as traditionally a luxury bag would have ribbon handles, or something even more premium. Brands have experimented with twisted paper handles but this doesn't give the same experience and can be mistaken as brands seeking to cut costs.
We've launched a new woven tape option which answers this problem - made entirely from paper! This new option can be combined with an FSC Mix or FSC Recycled Paper Carrier Bag to create a luxury, fully recyclable, 100% plastic-free gift bag. Read more here.
New Collection Launch - Earth Day 2023
On 22 April 2023, we launched the new Earth Day Collection of trims featuring a range of bio-based and renewable materials. The theme of this year's Earth Day was "invest in our planet" and as we researched new materials for this collection, we tried to find options that provide a luxury feel without exploiting the world's resources.
From printed labels made from a bamboo-cotton mix to laser-etched swing tags made from cork, the new eco-friendly collection has been designed with the future of our Earth in Mind.
Read on to discover what is included in our new collection.
Featured in this range
In this collection, you'll find a screen-printed tape made using 100% Tencel yarns, a bio-based debossed badge made with apple leather and a laser-etched swing tag made with cork. You can read more about these products, and find out what else is included in the Earth Day Collection here.
Premiere Vision Paris - Feb 2023
In February, we exhibited at one of our favourite industry events, Premiere Vision Paris. Premiere Vision helps connect all members of the fashion industry and highlights innovative solutions and new products from suppliers worldwide.
This year, we showcased our new sustainable range — the Earth in Mind collection. From packaging to trims, we showed new and prospective customers our latest products whilst displaying our keen focus on sustainability.
Read on to discover some highlights.
Colour creativity and material sourcing
Premiere Vision is the perfect place to browse the latest fashion trends and innovations. There was an incredible variety of styles and colours showcased in the forum areas, signalling the start of a new season for fashion enthusiasts worldwide.
One of the most interesting trends that caught our eye was the shift away from traditional leather towards more sustainable alternatives. In the smart creation area of Hall 4, we saw a plethora of innovative materials on display, including Mycelium, Pinatex, Olive and other eco-friendly options.
We look forward to seeing how these new innovative products and materials will shape the future of fashion and contribute to a more sustainable and ethical fashion industry.
Crossing paths
This three-day event was a whirlwind of networking, discovering fresh product innovations and indulging in delectable French delicacies. As always, our team was thrilled to showcase our range board rail which is a great place to browse our offerings and draw inspiration from our latest designs and trends.
We were also excited to make new connections with brands looking to partner with a branding specialist like Weavabel. The show provided an excellent opportunity to introduce ourselves and discuss potential collaborations. We also had the pleasure of reconnecting with existing brands and clients, providing the perfect platform for us to strengthen these relationships face-to-face.
We can't wait to see what the future holds for the fashion industry and the collaborations that lie ahead.
Take a Look at Our Packaging Toolkit
Want to stay on top of the trends but not sure how? Our packaging toolkit gives you everything you need to know about the materials offered by Weavabel and what we can do with them. Download the toolkit today and take the first steps towards sustainable packaging.

London Textile Fair - Jan 2023
We had the pleasure of exhibiting at The London Textile Fair, the biggest industry show in the UK, showcasing collections from 500 international exhibitors. One of the biggest focuses for this year's fair is sustainability — specifically how we should all be making more conscious decisions in our day-to-day lives to gradually improve mindsets for the future.
Read on to discover some of our highlights.
Sustainable Technology, Robotics and AI
Technology is becoming a force for good, helping to increase sustainability, traceability and accountability, allowing us to make more considered decisions and review the environmental impact they may have.
At Weavabel, we use various technologies to produce, emboss, brand and embellish our luxury garment and packaging trims. We put great emphasis on the materials we use to create low-impact products and the energy consumption of our production process to make the entire process environmentally-minded.
There's been a dramatic improvement in materials, processes and technology in recent years, including the introduction of robotics and AI, which has had a profound impact on production techniques. These new developments have helped to improve lead times, reduce waste and improve costs.
Plant-Based Solutions
The increase in plant-based materials has helped develop the circularity of many items across the fashion industry. Material integrity has been on our radar for a long time and is incorporated into our own product development and ethos. It's great to see the strides in industry come to life and be met with new and surprising solutions.
Upcoming Trends
The London Textile Fair is fantastic for sneak peeks of some of the upcoming industry trends for 2024, including the colour palette of Spring/Season 2024. We're seeing baked tones such as terracotta and stone as well as neutrals and washed-out hues. In many scenarios, these are complimented by earthy, leafy greens and browns and accented by more striking, oceanic blues.
"Heated brights" elevate many textile concepts showcasing fiery reds and sunsets oranges. There's even the occasional splash of pink for a truly tropical affair.
When it comes to textures and fabric there are many new entrants. Body mapping, gradients and psychedelic prints take us back to the seventies, while heavily digitalised prints ground us in the modern day. Natural dyes, ribbed surfaces and patchwork make every material feel kitsch and lean into the feel-good trend of upcycling.
Find Innovative Textiles, Anytime
Innovation doesn't end at live events. We're always looking for ways to reinvent the wheel and improve the impact of industry favourites. Want a quick way to digest this information? Download our cheat sheet which breaks down our bestselling, most environmental materials in detail.