7 reasons why you should work with Weavabel, a sustainable packaging supplier
Written by Weavabel, published 04/09/23 08:00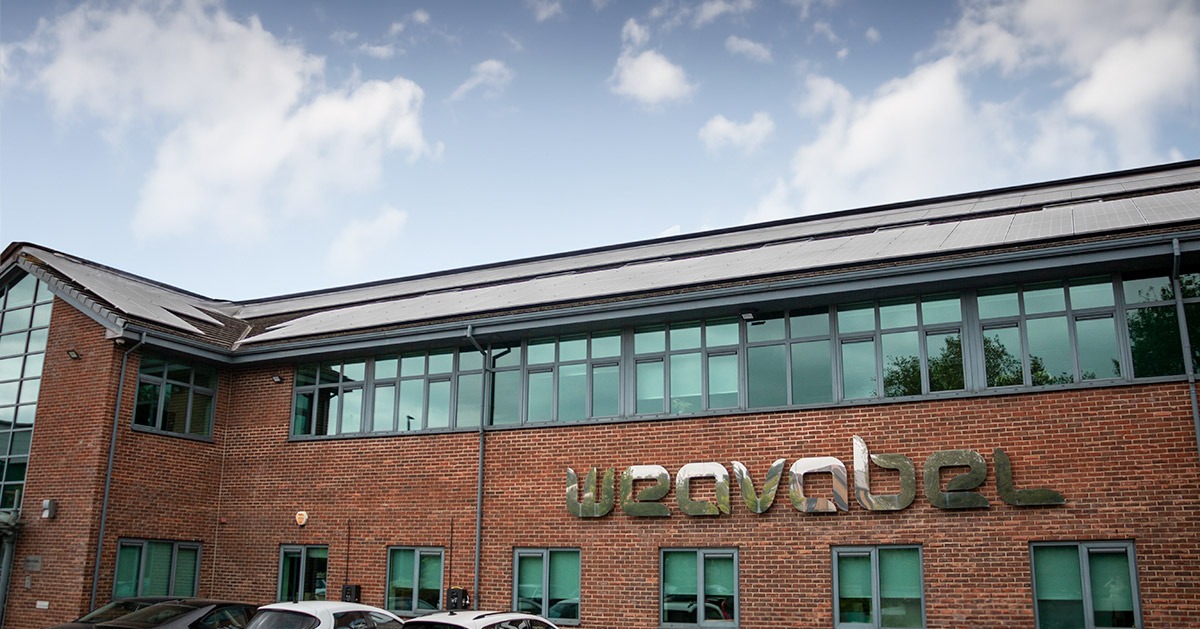 We get it — looking for a new sustainable packaging supplier can be challenging. How can you be sure that one is better than another? Or that your chosen supplier can replicate exactly what you need for your brand?
To make your search easier, we've gathered all the reasons why you should work with us. Keep reading to find out more.
1. Sustainability is a top priority
With the fashion industry contributing to 10% of greenhouse gas emissions alone, we understand how crucial it is to minimise our environmental impact as a sustainable packaging supplier for us and our clients.
For industries such as fashion, luxury, sportswear and homeware to become truly sustainable, brands need to overhaul their practices and products, right down to the label sewn inside a garment or the plastic packaging a product is shipped in.
That's why sustainability is a top priority for us. Whether shipping from a warehouse local to your supply chain facilities or investing in developing new, eco-friendly materials, sustainability is at the forefront of everything we produce.
You'll find water-soluble poly bags, FSC-certified rubber badges, vegan leather trims, organic cotton labels, seed paper swing tickets and more in our product range. Want to get inspired? Explore our entire range, previous collections and collaborations in our product brochure.


2. Innovation is at the heart of what we do
Innovation and sustainability go hand in hand — we know we should never stand still as a sustainable packaging supplier. That's why we continuously invest in developing and finding new materials and products to enhance our range. Ultimately, this helps our clients reach their sustainability goals faster.
We're always bringing out new collections that focus on improving our and our customers' impact on the planet. Take our Ocean Day collection as an example. Launched to celebrate World Ocean Day, the collection features products that help reduce the amount of ocean waste.
There are labels made using recycled nylon from fishing nets, biodegradable labels and soluble plastics, which all reduce the amount of plastic that has a detrimental effect on our oceans.
Want to explore what other materials we can produce and use for branded packaging and trim collections? Take a look at our textiles cheat sheet below.
3. Our stitch-to-store model
One of the core reasons we're a top-rated sustainable packaging supplier is our stitch-to-store operating model. After we've worked with you to develop your branded packaging and trims, we deliver locally from one of our 10+ locations and get the right products to the right part of your supply chain at the right time.
Here's how the process works: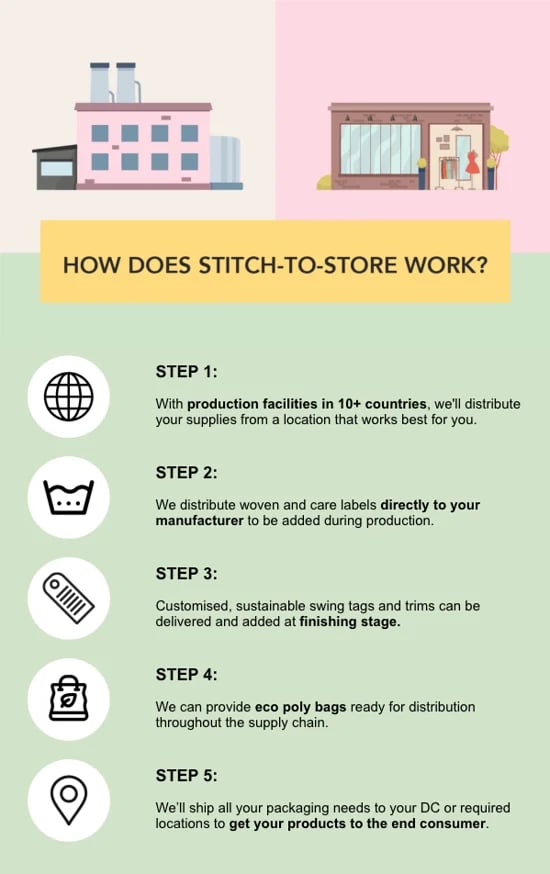 And what are the benefits of our stitch-to-store model?
Branding consistency - You can be sure all of your branded packaging and trims are consistent and represent your brand clearly, no matter what part of the supply chain they're used in.
Reduced costs - As we ship directly to your manufacturers, we reduce the shipping costs. Dispatching from the nearest of our 10+ locations also reduces costs and your carbon footprint.
Shorter lead times - Local distribution, direct to manufacturer also minimises lead times, so you can get your products to market faster.
Reduced carbon - Not only will our sustainable packaging and trims reduce your carbon footprint, but our localised shipping model will, too.
Build a traceable supply chain -

Traceability

and sustainability go hand in hand, so our model allows you to track the journey of our products to the source for reporting and accreditation purposes.
One point of contact - You'll have one point of contact through the process who'll work with you to optimise our flow of goods, meaning you'll have one less thing to deal with.
4. We have the certifications to match
In a world full of greenwashing and vague sustainability claims, our certifications are what set us apart from the rest. Our certifications ensure our products and practices are eco-friendly, which means that when you partner with us, you can be sure you're investing in eco-friendly products to help accelerate your sustainability efforts.
We hold several certifications that stretch across our whole product range and operations. If you want to learn more about each certification, get all the information here.
Offering you certified sustainability
If having these certifications is important to you, please mention this in your enquiry, as we will be able to advise on any options which may not be covered by these certifications, due to the finishing requirements that you may be requesting.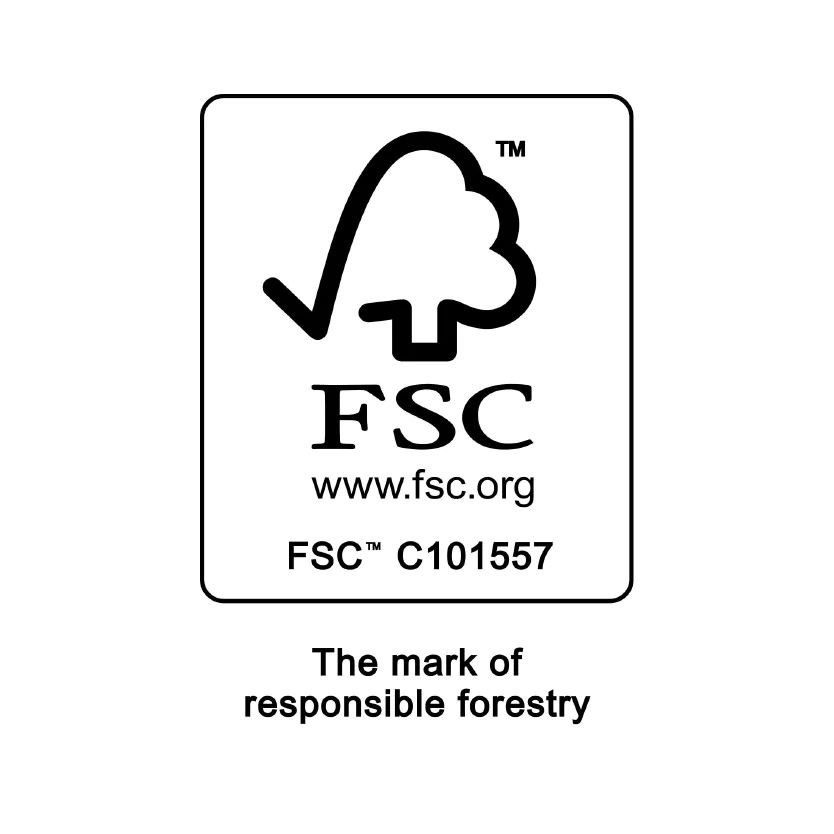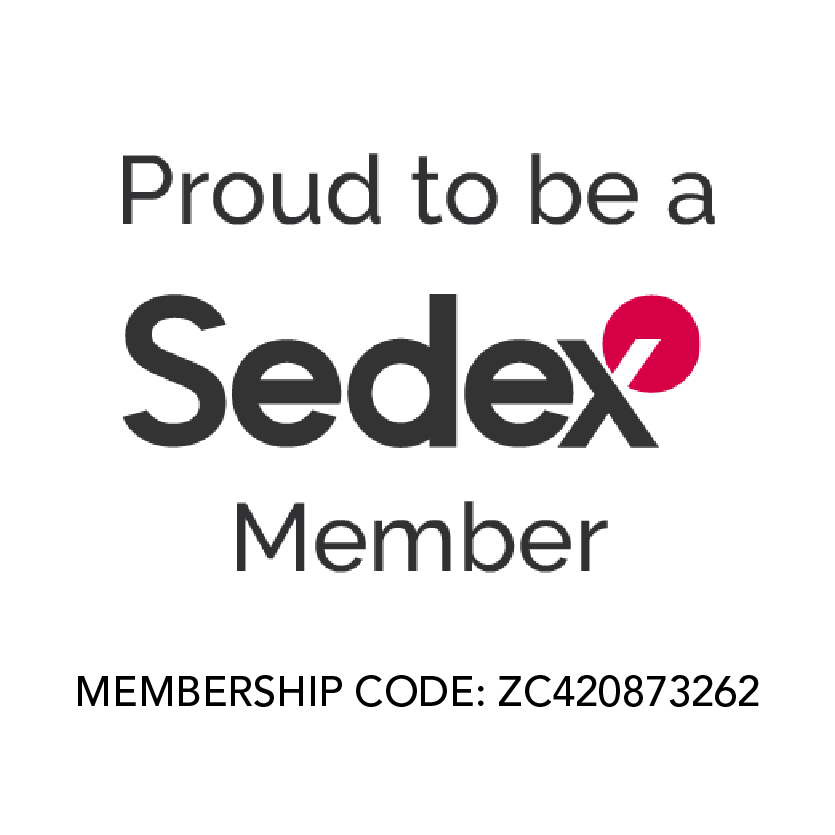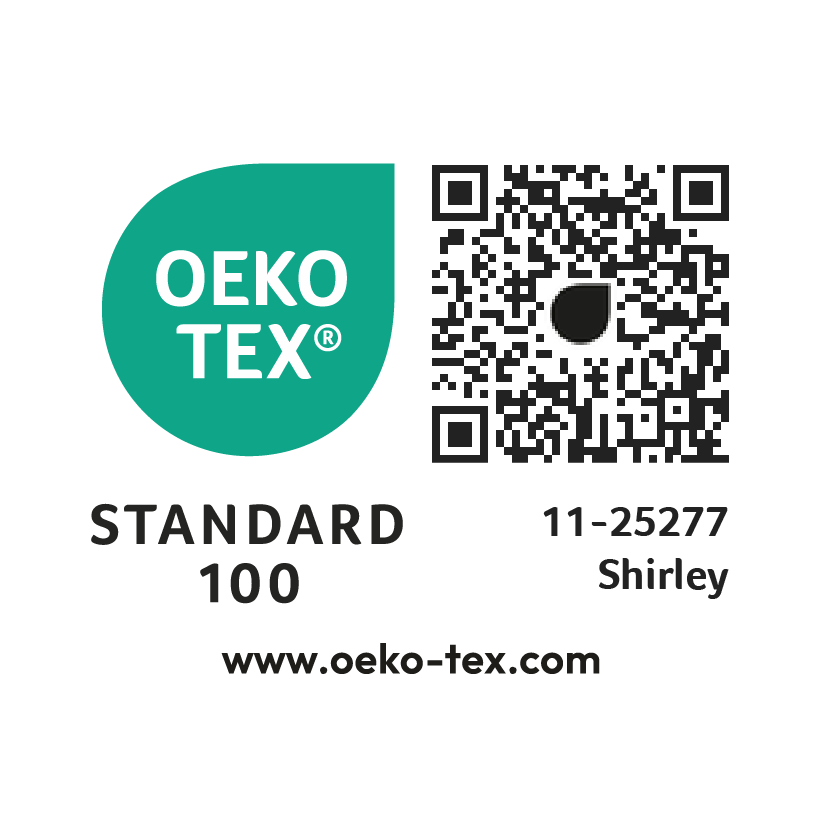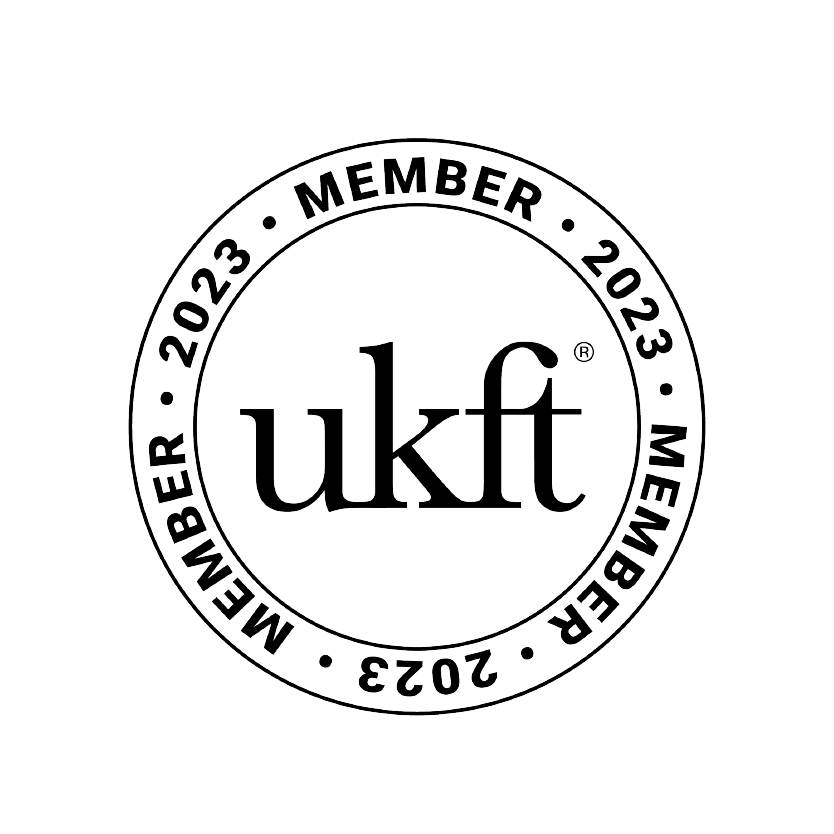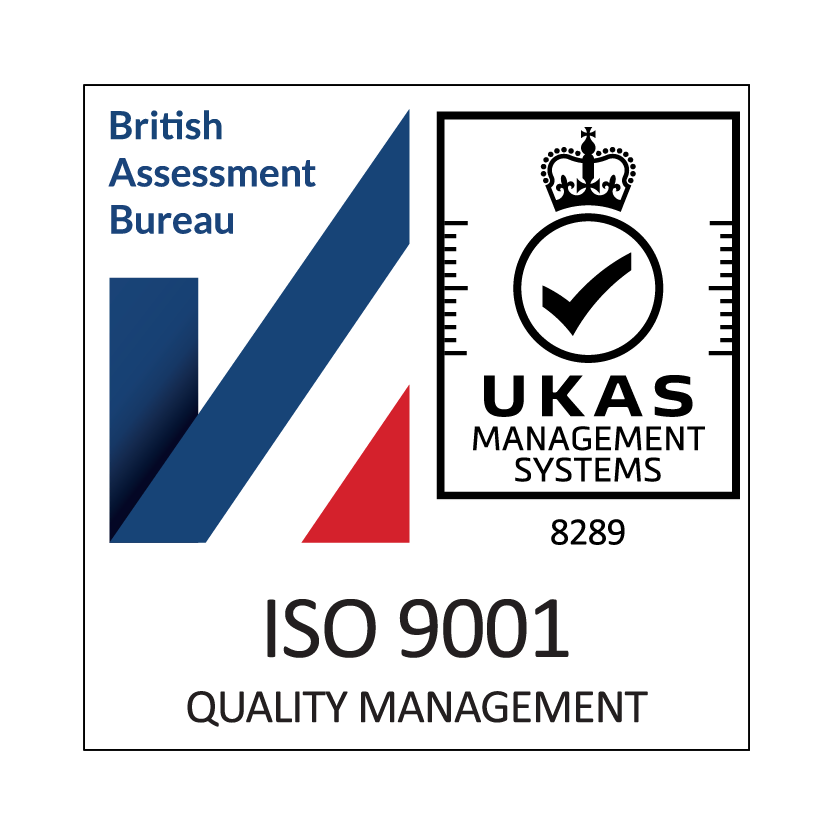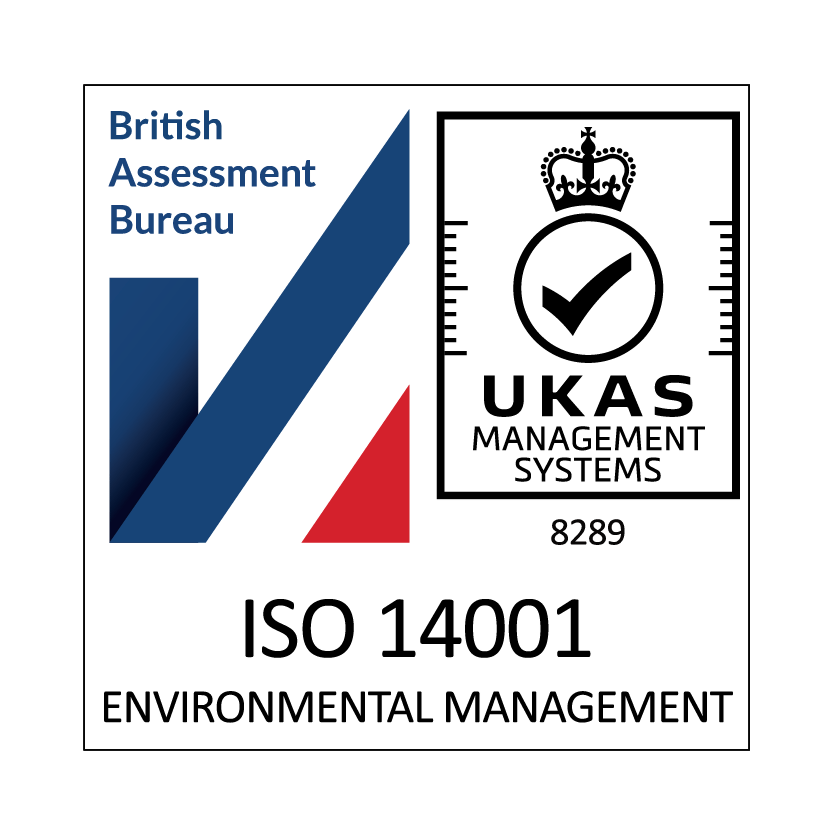 5. A wide product range
We understand there's rarely a one-size-fits-all product, so we've spent years developing an extensive product range that addresses many design needs and sustainability requirements and is adaptable.
Whether you're looking for a custom swing tag that perfectly showcases your branding or need an eco-friendly alternative to plastic poly bags, we can work with you to develop the right products that cater to your needs.
You can explore our product range here, but endless possibilities exist. So, if you can't see exactly what you're looking for, please don't hesitate to contact us as we'll be happy to discuss and cater for your bespoke requirements.
6. Your branding, as it should be
Seamless branding at every touchpoint is essential for our clients. Packaging that's different from the labels sewn into products can be jarring and leave an unprofessional impression.
We work with you to develop packaging and trims that match your branding exactly. Whether you're looking for a particular coating for your leather patches or want your branding to feature on the finer details, such as elastic tapes, you can rest assured that everything will be cohesive and leave a lasting impression on your customers.
7. An extension of your team
As a designer, product manager or buyer, there are often multiple plates to spin at once. We aim to make your life easier by acting as an extension of your team. Once we've outlined your project and received everything we need, we'll take care of the design, production and distribution for you — leaving you one less worry to deal with.
Of course, we'll always be on hand to help or answer any queries, which is why we provide a single point of contact for all our customers. No searching around for an answer or an update — we'll keep you in the loop every step of the way.
Ready to explore our range and get inspired?
Our product brochure is the best place to start. More than just a catalogue, this resource provides design inspiration, insights and previous collections to help inform your next project.