How we help brands build a traceable supply chain
Written by Weavabel, published 21/06/23 11:30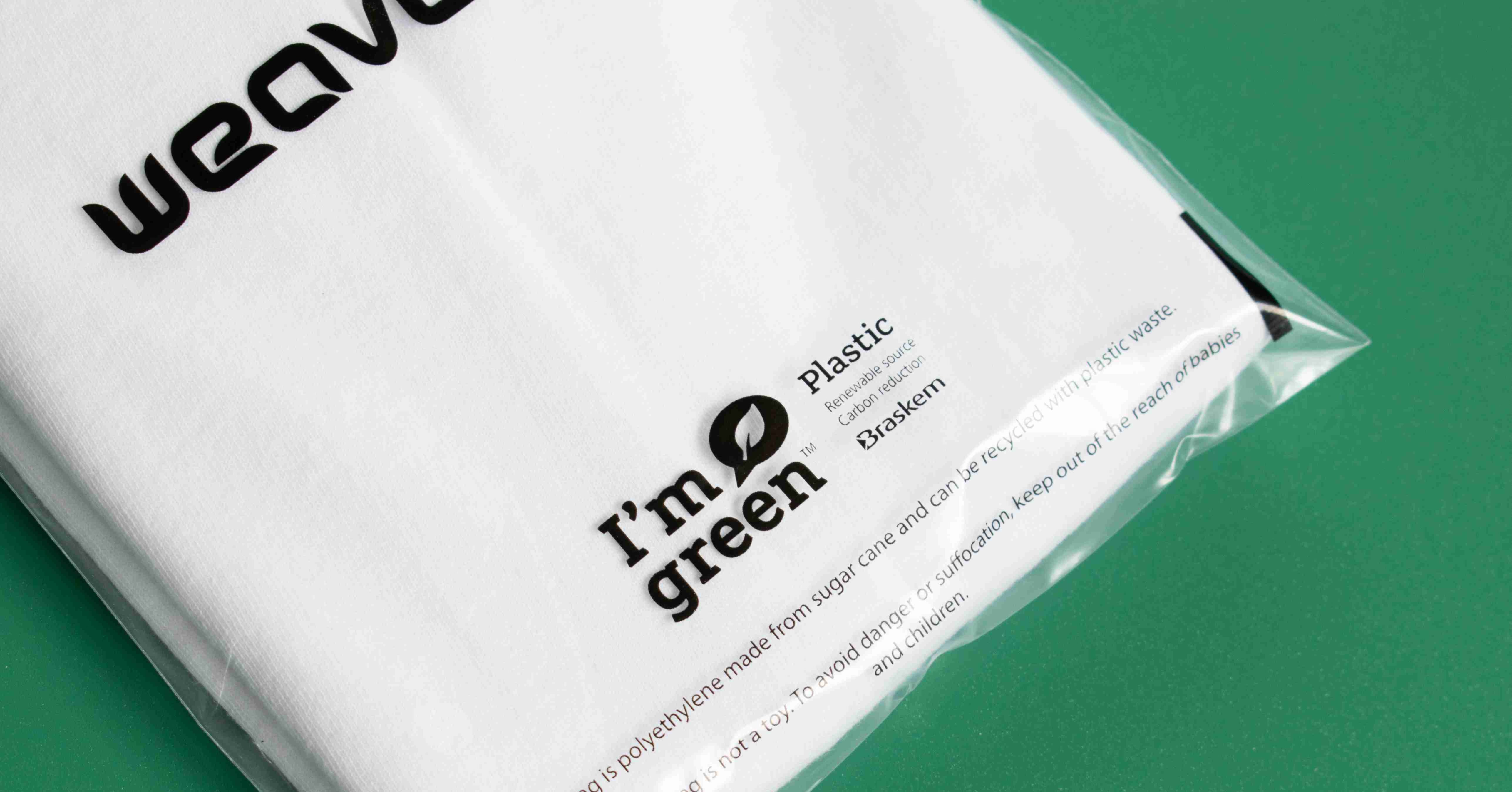 As sustainable fashion practices become commonplace and more brands invest in sustainable initiatives like circular fashion, the need for a traceable supply chain increases.
Yet, when there are so many suppliers and vendors involved in the fashion supply chain, keeping tabs on whether they're sustainable can be challenging.
That's where our stitch-to-store concept comes into play, designed specifically with traceability for our partners in mind. Want to find out more about what it is and how it works? Keep reading.
The need for sustainable fashion
When you consider that 57% of discarded clothes end up in landfills, resulting in 92 million tonnes of clothes waste each year and the fashion industry account for 10% of all greenhouse gas emissions, one thing is clear — something needs to change.
The sustainable fashion market is expected to grow to $10.1 billion by 2025 and $15 billion by 2030. If your brand is looking for business growth, sustainable fashion practices are worth serious consideration.
But it isn't as simple as saying you're sustainable and being done with it. Consumers are becoming much more aware of greenwashing and aren't afraid to call out the brands they think are at fault.
While you can consider many sustainable fashion practices, including the widely popular circular fashion initiative, adopting a traceable supply chain is one of the biggest parts of the puzzle.
Traceable supply chains allow you to track products and resources from the manufacturer to the consumer and the sustainability implications throughout. This includes your supplies from external providers, such as packaging and trim providers.
But how can you ensure your suppliers are as sustainable as you need them to reach those all-important sustainability and carbon-reduction KPIs?
Well, here's our method.
Our approach: The stitch-to-store model
We know how important sustainability and traceability are for our partners and the wider fashion industry. That's why we developed our stitch-to-store operating model, which guarantees sustainability.

Stitch-to-store ensures traceability at every part of our supply chain, which feeds into yours. So how does it work?

First, choose the products you need, whether eco poly bags, swing tags or something more bespoke like sustainable leathers. We offer a wide range of certifications, so there's no risk of greenwashing here.

We'll then produce and pack your order at one of our 10+ locations — whichever's closest to you. Next, depending on the products, we'll ship directly to your vendors or DC, cutting out the middleman and any extra hassle.

The result? Sustainable branded trims and packaging at every stage of the supply chain.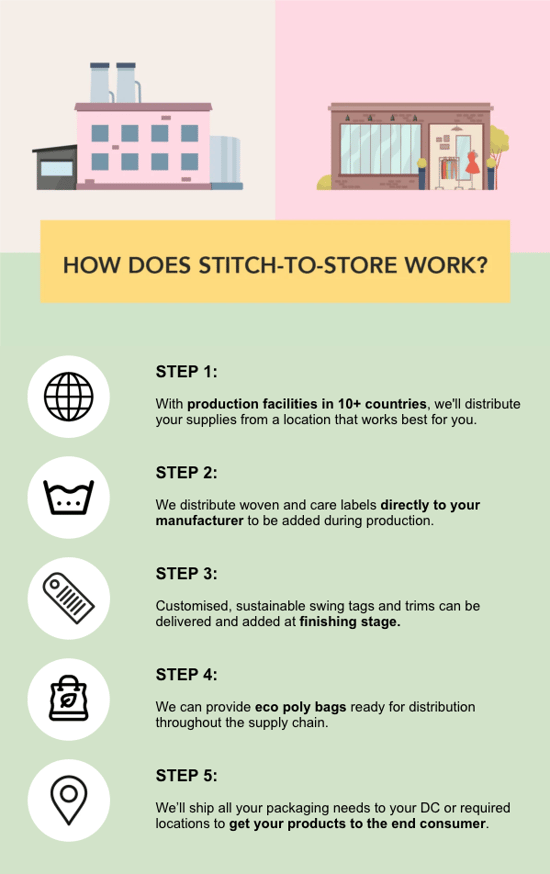 The benefits of our stitch-to-store model
You'll automatically enhance your sustainability initiatives and traceable supply chain by working with transparent suppliers like us. Want to know more about the benefits of our stitch-to-store model? Here they are.
Certified sustainability — We have multiple certifications to offer for our products, meaning no greenwashing here.
Reduce your carbon footprint — Local production, delivery and eco-friendly materials mean less greenhouse gas emissions.
Reduce costs — Fewer logistics costs as we ship from a local facility and take out you, the middleman, by shipping straight to vendors.
Shorter lead times — Get exactly what you want, when and where you want it.
Branding consistency — From swing tags to eco poly bags, we'll make sure there's one clear brand message, elevating your product.
One point of contact — Who will support you along the way, answer any questions and take the workload of supplier management off your to-do list.
And it doesn't end there...
Our stitch-to-store model is just one of the many sustainability initiatives we have in place — after all, protecting the planet is at the core of everything we do.

If you'd like to learn more about our sustainability initiatives, the latest materials or how we're continuing to help our clients meet their sustainability KPIs, head over to our dedicated page.