Is Patagonia a 'Good' Brand? The Fight for Feel-Good Consumerism
Written by Weavabel, published 30/01/23 08:00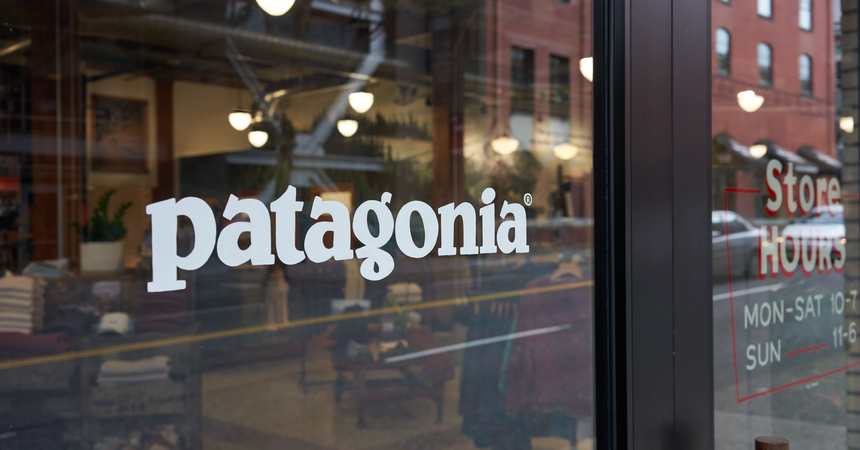 When the words 'sustainable fashion' are mentioned, more often than not, Patagonia is one of the first brands that comes to mind. At the forefront of the sustainability movement since its beginnings in 1973, sustainability is what makes Patagonia.
It's more than just a clothing brand, investing just as heavily in its activism and climate pledges. But just how sustainable is Patagonia? Is Patagonia a good brand? In this article, we look at its supply chain, sustainable practices and future innovations to establish how eco-conscious the sustainable brand is.
Is Patagonia a Good Brand? Why Good Goes Further Than Product Quality and Brand Image
When we think of sustainable clothing, Patagonia is top of the list. While they offer high-quality clothing made from recycled materials, being truly sustainable reaches far beyond the products.
Many consumers would view Patagonia as sustainable, although the brand itself begs to differ. Greenwashing is a massive problem within the fashion industry, with brands making baseless claims to convince consumers they're sustainable when they're not.
Patagonia's response came at COP26 in 2021. The brand explained it couldn't call itself 'sustainable' as it is part of the problem. Taking away from nature, by definition, isn't sustainable. Instead, it takes a regenerative approach, aiming to restore nature as much as possible.
It's also set impressive targets to be carbon neutral by 2025. And it won't be purchasing offsets to help get there. But it won't come easily — we'll discuss its supply chain later in this article.
The Products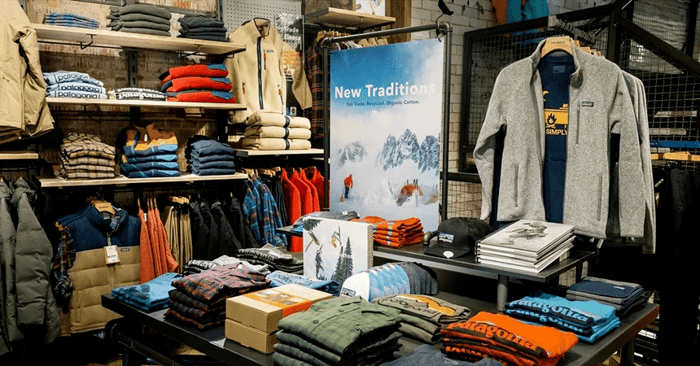 <Credit: Visit Manchester>
Although sustainability stretches much further than the clothing itself, it still has its part to play. Patagonia has been a staple brand for outdoor activities and fashion lovers for decades, creating high-quality, technical gear that's built to last.
Patagonia uses primarily recycled materials, which are commonplace in the collection. Although it doesn't come with a designer price tag, it's still not cheap. You're paying for the quality and sustainability credentials, neither of which can be done for free.
Is Sustainable Fashion Achievable?
If one thing is for sure, the fashion industry has to make a significant change for the good of our planet. Accounting for 10% of total greenhouse gas emissions, the fashion industry produces alarming amounts of waste.
So, is sustainable fashion achievable? Patagonia goes to show that it is. Although it doesn't come without hard work, Patagonia creates ethical products people want.
The more Patagonia rejects consumerism, the more people buy into it. Its exponential sales growth shows that sustainable fashion brands can work and be profitable. It taps into the eco-conscious and fashion-conscious consumers, giving them the intoxicating sense that they're doing the right thing.
More Than Just Clothing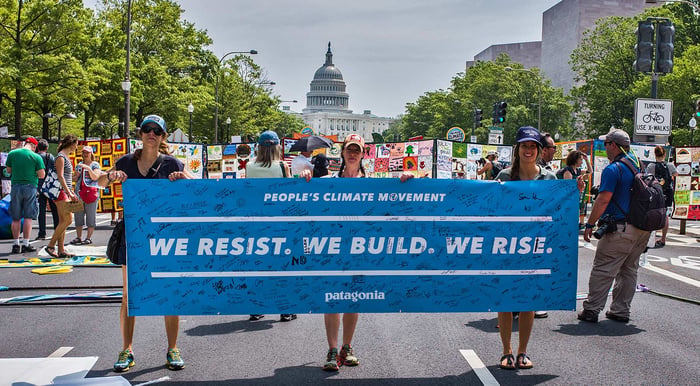 <Credit: Patagonia>
Measuring a brand's sustainability requires looking outside its immediate interests. As consumers become far more eco-aware, luxury, fast fashion and sportswear brands are all making moves to meet sustainable expectations. But it's in their interests too. Ultimately, it will boost sales.
This is where Patagonia stands out from the rest as a 'good' brand. While it works hard on its clothing range, it puts just as much emphasis on improving the planet through other means.
The Action Works initiative supports grassroots activists in solving the environmental crisis. You'll often find Patagonia employees taking part in protests or rallies. It's helped guarantee the removal of harmful dams and signed Joe Biden's 'Build Back Better' Act.
All of this helps improve and secure the planet's future, provides funding to those who need it to make a real difference, and offers no other benefit than genuinely improving our natural ecosystem and environment.
Patagonia's Fight for a Fully Traceable Supply Chain
Patagonia's quest for circularity has been a long and winding road. A circular supply chain is a concept that everything that ends up as waste at the end of the supply chain is reinvested at the beginning, to be recycled, repurposed or reused to create new products.
95% of Patagonia's emissions come from its supply chain, mainly because it uses shared factories alongside much larger brands. That's why it's innovating and taking new approaches to make changes where it can to improve its overall performance.
Adopting new technologies has helped across the supply chain, from developing new materials to monitoring resources, and the brand continues to develop best practices for a truly sustainable future.
"In a circular economy, it's about generating more money from the same products and leaning into materials like recycled wool that are actually cheaper than their virgin counterparts."
Raw Materials
Let's start at the beginning of the supply chain. 72% of Patagonia's clothing uses recycled materials such as recycled polyester and nylon. While you'll spot the usual suspects, such as organic cotton, recycled wool and recycled polyester, there's also been a lot of investment into creating new, trademarked materials.
Regenerative Organic Certified™ Cotton

Implementing the highest cotton farming standard to rehabilitate soil, respect animal welfare and improve the lives of farmers.

Infinna™ Fiber

A soft, cotton-like fibre made from post-consumer cotton that can be indefinitely recycled into new fibre.

Yulex® Natural Rubber

A natural rubber that replaced petroleum-based neoprene rubber.

Netplus® Recycled Fishing Nets

Made from 100% recycled discarded fishing nets from fishing communities in South America.
Patagonia aims to use recycled materials wherever possible and has initiatives that regenerate natural resources when it extracts raw materials.
Labour
When considering whether a brand can be classed as 'good', it's not just about the impact on the planet, but its people too. For Patagonia, fair labour is at the top of its agenda, in-house and with suppliers.
After the Rana Plaza disaster in 2013, the severity of the poor working conditions in garment supplier factories was brought to light. Fashion brands could no longer ignore what was happening in their supply chains. Being proactive is essential, rather than being ignorant.
Patagonia's factories must fulfil their Supplier Workplace Code of Conduct, a cornerstone of its Social and Environmental Responsibility program. Its membership in the Fair Labour Association also demonstrates its commitment to supply chain transparency, and it's a member of many other initiatives created to promote fair labour practices.
Suppliers
For brands like Patagonia, when the manufacturing of its products is somewhat out of its control, keeping tabs on supplier practices and their contribution to overall sustainability can take time and effort.
That's where the Supply Chain Environmental Responsibility Program comes in. Developed to help measure, reduce and eliminate the environmental impact of Patagonia's products and materials, the Program is based on internal standards that all Patagonia-approved manufacturers must follow.
It covers everything from chemicals, water and energy usage to emissions and waste. Patagonia regularly evaluates and reviews suppliers to make sure they're not falling behind or not holding up their side of the deal.
Once suppliers have met these initial requirements, Patagonia then works with them to improve performance, implement better working methods and enhance continuous improvement. The end goal? Complete decarbonisation of their supply chain.
Too often, fashion brands turn a blind eye to parts of their supply chain that they 'can't control' — what they don't know can't hurt them. Patagonia is turning against the status quo and holding its suppliers accountable to ensure it's a truly sustainable company.
Worn Wear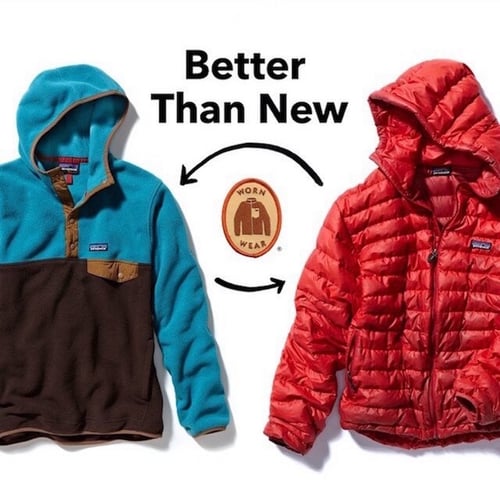 <Credit: Patagonia>
The biggest contributing factor to the fashion industry's negative environmental impact is post-consumer waste. 64% of garments produced annually end up in landfill, which could instead be reused, resold or recycled for a new lease of life.
That's exactly what Patagonia has done to close the loop on their supply chain. The Worn Wear program resells used and pre-loved Patagonia clothing instead of it heading to landfill. Customers can trade-in and buy used Patagonia gear, further promoting its 'built to last' lifetime guarantee.
Patagonia believes that reselling should be part of every brand's DNA. Although the resale market is predicted to double in size by 2025, there's still some way to go. Patagonia champions the message of attitude change that we should buy less and wear more to reduce our overall consumption and footprint on the planet.
Initiatives
Patagonia's work doesn't start and end with its supply chain. There are so many more initiatives that help show just how good a brand it is.
<Credit: Milled>
Brand Criticism
Although Patagonia is a 'good' brand, it hasn't been without its controversy. When a brand stands for so much, it's likely that onlookers will notice any slip-up. Due to its constantly-innovating nature, admittedly, the brand does make the odd mistake from time to time.
One of the most notable occurrences was when an investigation by the Wall Street Journal found that Patagonia suppliers were force-feeding the geese used for their down feathers, had human rights violations in Taiwan and was found to be mistreating sheep on their wool farms.
This just goes to show why it's important to keep a close eye on suppliers and incentivise them with sustainable practices, accreditations and statuses, such as their Supply Chain Environmental Responsibility Program.
Along with The North Face, Patagonia was also called out by Greenpeace for using toxic chemicals in its outdoor clothing. As a direct result, Patagonia began to overhaul its supply chain and invest in new manufacturing methods.
Is Patagonia Sustainable? The Conclusion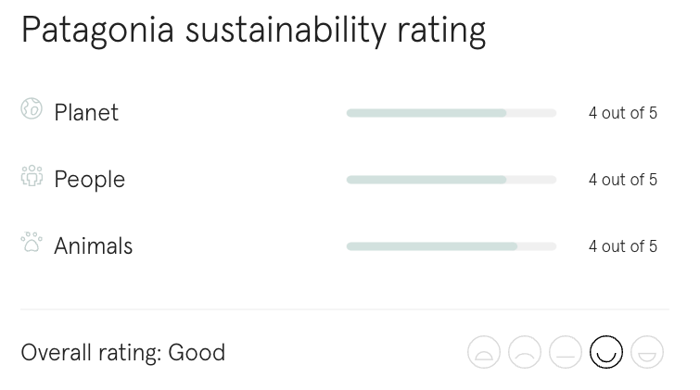 <Credit: Good On You>
So, what's the verdict? Is Patagonia a sustainable brand? In short, yes. Although no brand is perfect, Patagonia is as close as it gets for a mass-market fashion brand.
It's made significant investments and innovations in every area, from its supply chain to general activism, rather than just focusing on the quick wins. Although their products may be more expensive, you get what you pay for when it comes to being eco-conscious.
Want To Follow in Patagonia's Footsteps?
Whether you're well on your way to sustainability or taking the first steps, start with Weavabel. We're the sustainable branding and packaging supplier you need to transform your offering.
Wondering what we can create and with what sustainable materials? Download our Textiles Cheat Sheet, where you can learn about the innovative materials we use for branding, trim and packaging projects.