4 Types of Sustainable Trims (and Innovative Examples to Inspire You)
Written by Weavabel, published 28/10/19 11:42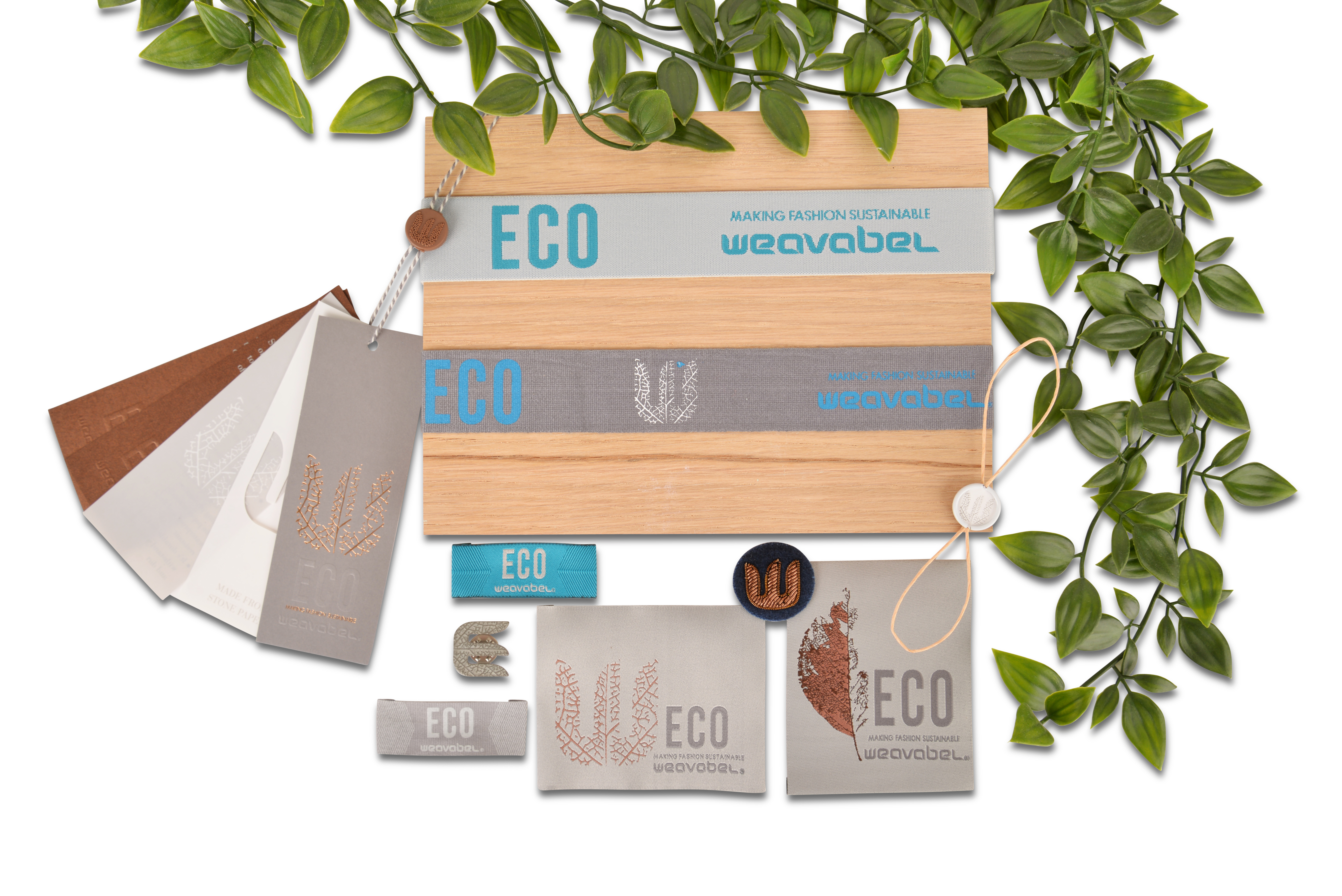 Although trims are just a small part of manufacturing as a whole, we should all strive to be more sustainable. Reducing our plastic waste, recycling more effectively and improving biodegradability for everything involved in our garments are steps we need to take.
Here are four types of sustainable trims and some innovative examples to take inspiration from:
Recycled Polyester Tape

Oeko-Tex certified Pin Badges

Labels, Labels, Labels
Sustainable Swing Tag Solutions
RECYCLED POLYESTER TAPE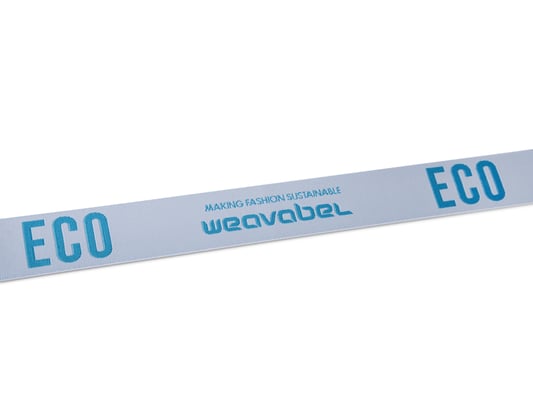 Using a recycled polyester substrate with an elastic insert, our PET tape is made using 100% post-consumer waste recycled polyester.
For items which use tape like this for tags and trims, you can help make sure less plastic goes to landfills by using our GRS certified material.
Another sustainable alternative to resource-heavy cotton is our bamboo tape. Bamboo requires only 10% of the area that cotton needs to produce the same amount of material, but offers the same high-level look and feel in its finish.
Oeko-Tex

Metal Pin Badges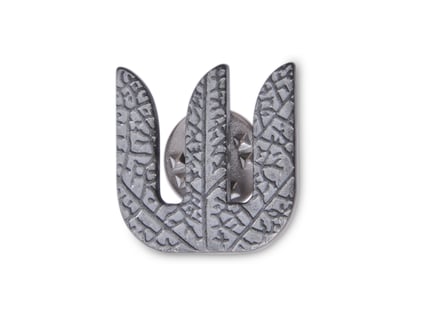 We're excited to now have an OEKO-TEX metal pin badge for our customers. All the regular benefits of pin badges can be achieved whilst actively doing your own small part to help save the planet.
OEKO-TEX metals are produced without any harmful chemicals whatsoever and come with an eco-friendly coating.
Each pin produced this way as opposed to regular methods is a stride towards more sustainable practices.
"oak-y tex"
Labels
Your customers will refer to the label in a garment more than you think. It can be to find their size in-store or search for a brand to make a future purchase.
You want to make sure it's high-quality but also kind to the environment if snipped out. GOTS-certified labels are authentic and organic while still being strong. Lots of brands are already doing their part, so there's no excuse to delay your transition to eco-friendly materials.
Working with a branding specialist who can produce these labels guarantees they're free from pesticides. They also provide credible assurance to the end consumer.
Clothing brand Rakha doesn't follow seasons or trends but rather focuses on designing classic pieces. All cotton used by them is completely GOTS-certified, from their timeless garments to their labels. They're tackling fast fashion head-on and listening to their eco-conscious consumers.
Sustainable Swing Tag Solutions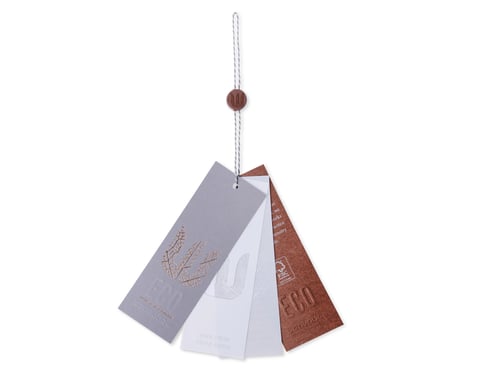 People are quickly becoming more educated about the brands they purchase. This includes the sustainability of trims and tags.
Using cutting-edge printing techniques, you can create spectacular designs for your swing tags with paper that's kinder to the environment.
Bamboo paper is renewable and doesn't require replanting after harvesting. Stone paper is made from crushed stone - no water is used in the entire production process. It's 100% waterproof and completely recyclable. Always look for FSC-certified paper as it refers to any paper that's from responsibly managed forests.
You know all about sustainable trims, so now is the perfect opportunity to further your knowledge and think about implementing it into your production. From swing tags to labels and everything in between - you'd be surprised at the extensive range of sustainable options available.
Be inspired and start using sustainable trims in your production
Non-biodegradable fabrics sit in landfills for up to 200 years, producing harmful chemicals and destruction to the earth. That's why we should all be making a conscious effort when it comes to our environmental impact.
It could mean using alternatives for your trims or choosing to work alongside a manufacturer who actively puts money towards sustainable offerings and products.
To help you make that change, we've created our Eco-Friendly Product Guide. You can learn all about what a branding specialist has to offer to support your more sustainable footprint.
Download the guide now.