7 Eco-Friendly Packaging Ideas for 2023
Written by Weavabel, published 03/02/23 08:00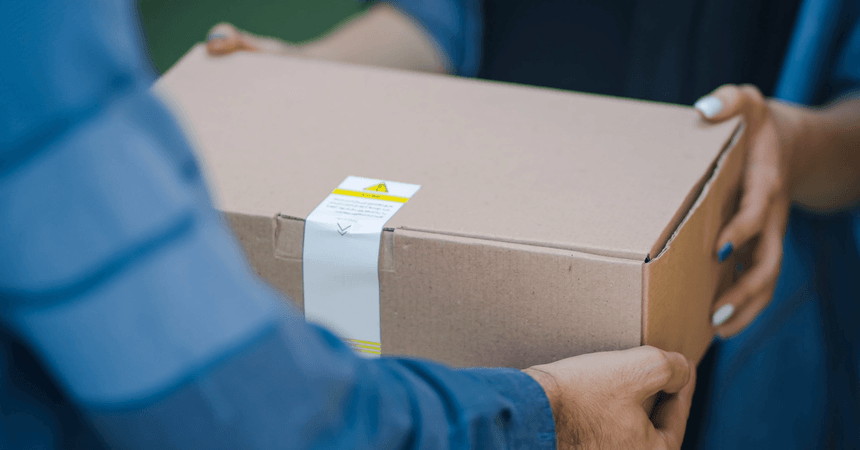 As we enter another year, sustainability is more important than ever. However, for many fashion, homeware, sportswear and luxury brands, there's a challenge to overcome — overhauling their packaging to become more eco-friendly.
We're here to help you along the way. In this blog, we take you through the latest eco-friendly packaging ideas to get you inspired. It'll help you identify opportunities to replace plastic and showcase eco-friendly alternatives when plastic packaging is still needed.
Ready to get started? Take a look at the latest eco-friendly packaging ideas.
1. Seed Paper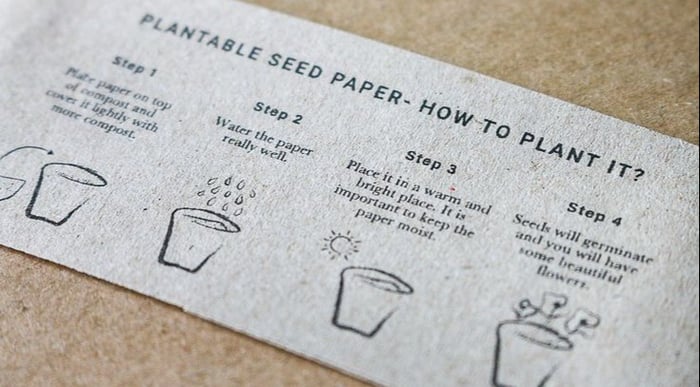 <Credit: Pinterest>
What better way to show you're committed to the planet than including seed paper in your packaging portfolio? This biodegradable, eco-friendly paper contains seeds, so flowers will grow when the paper is saturated with water and placed in soil.
Often produced using waste material, this paper alternative is regenerative and sustainable and can be used for swing tags, overrider tickets, order cards and so much more.
Want to find out more about the innovative materials used for packaging projects? Download our Textiles Cheat Sheet to explore the options.
2. Compostable or Biodegradable Packaging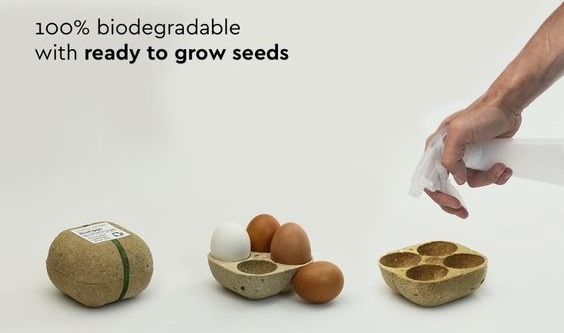 <Credit: BioPack>
Whether it's compostable plastic poly bags, biodegradable papers or water-soluble packaging peanuts, the wealth of compostable and the availability of biodegradable packaging options is now vast.
As brands look to be more sustainable and investment in producing eco-friendly alternatives increases, more options are available by the day. The benefit of compostable and biodegradable options is that they break down over time, meaning there's less plastic waste in our environment.
3. Recycled Materials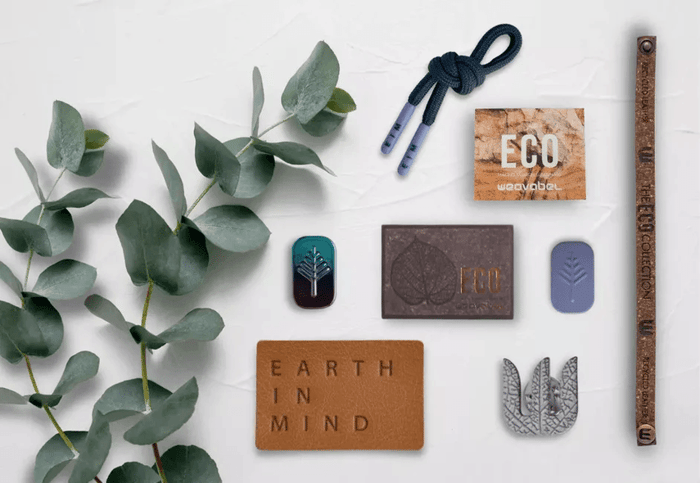 Like biodegradable packaging, recycled materials used for packaging have come on leaps and bounds in recent years. With 79% of our plastic waste sent to landfill or the ocean, the need for increased recycling into new products is more important than ever.
So what options are available? Waste polyester can be recycled into new garment labels. Waste silicone can be repurposed into new clothing badges. Waste lycra can be used for new garment tapes. Waste leather can be transformed into new trims. And the list goes on.
4. Sustainable Inks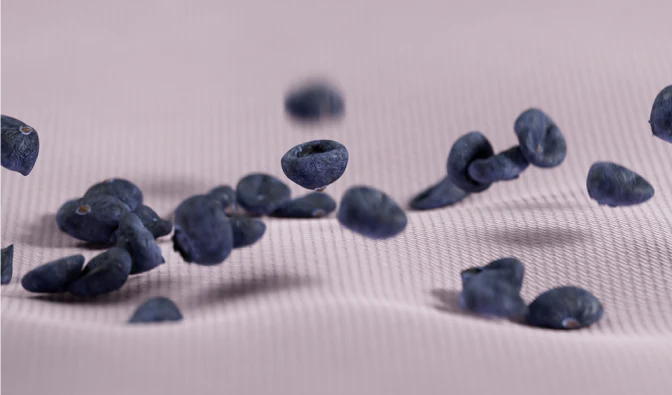 <Credit: PANGAIA>
Traditional dyes contain many chemicals and colourants that damage our environment by contaminating our waterways and ecosystems. But branding is a big part of the packaging process, and without ink, how do you make your mark?
Eco-friendly food and vegetable inks are the answer. New developments in using natural resources for inks and dyes have meant you can still achieve your desired branding without damaging the planet.
5. Sustainable Papers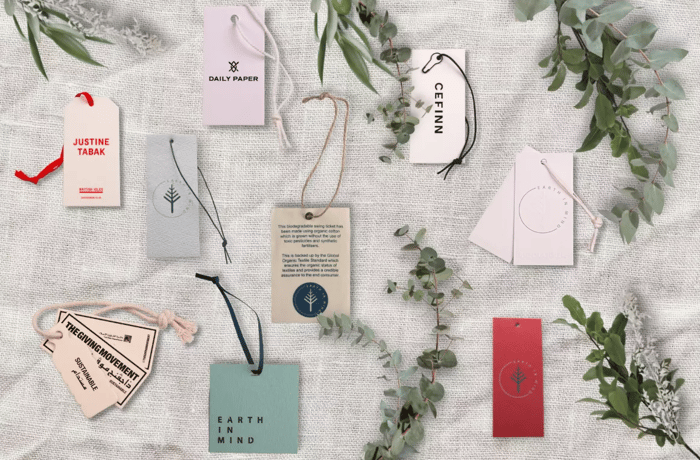 Paper is good for brands looking to clean up their carbon image. Used for products such as swing tags, sustainable papers are an obvious, easy swap for greener, cleaner branding and packaging.
There's a whole range of eco-friendly packaging options using paper. There are FSC-certified options, kraft gift boxes and recycled paper using waste bamboo and straw. Most papers are biodegradable and compostable, meaning their environmental impact is less harmful than plastic alternatives.
6. Eco Poly Bags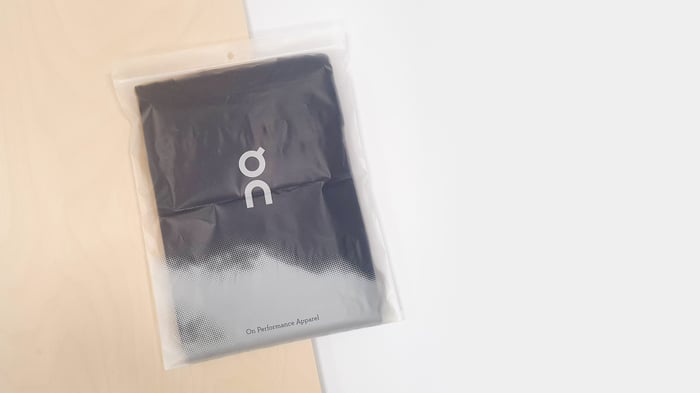 There's no doubt that our use of single-use plastic needs to decrease. It's estimated that five trillion plastic bags are produced worldwide each year and it can take up to 1,000 years for a bag to decompose fully.
However, there are still instances where plastic packaging is needed, particularly further up the supply chain, where it's essential to protect an item as it goes through transit. That's where eco-friendly packaging alternatives come into play.
The single-use plastic bag has come a long way. Many recycled, recyclable and biodegradable plastic eCommerce poly bags are available today. Recycled LDPE, biodegradable LDPE, green PE and even biodegradable cornstarch options are now available, meaning you can reduce the amount of plastic waste your brand is responsible for.
7. Reusable Gift Packaging, Boxes and Bags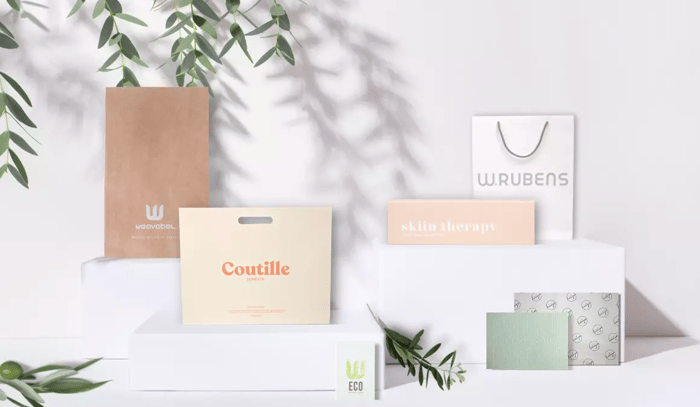 For eco-friendly packaging to become the norm, brands and customers must shift their attitudes from single-use to reusable. Just because an item of packaging has been used once doesn't mean it's ready for the bin.
Offering customers reusable alternatives is a great way to reduce your negative impact on the environment and reach sustainability targets. Gift packaging and boxes repurposed for gifting or storage are sustainable and offer added value to the customer. Fabric bags can be reused again after the initial purchase.
The Opportunities Don't End There
We've given you a snapshot of the eco-friendly packaging ideas available, but there's much more for you to explore. If you're looking for an innovative partner for your next branding and packaging project, then we can help.
To get you started on discovering new, alternative eco-friendly packaging materials, our Textiles Cheat Sheet is the perfect place to start. Download now to find the different materials available, as well as the uses and sustainability credentials of each.