6 Sustainable Packaging Trends To Watch Out for in 2021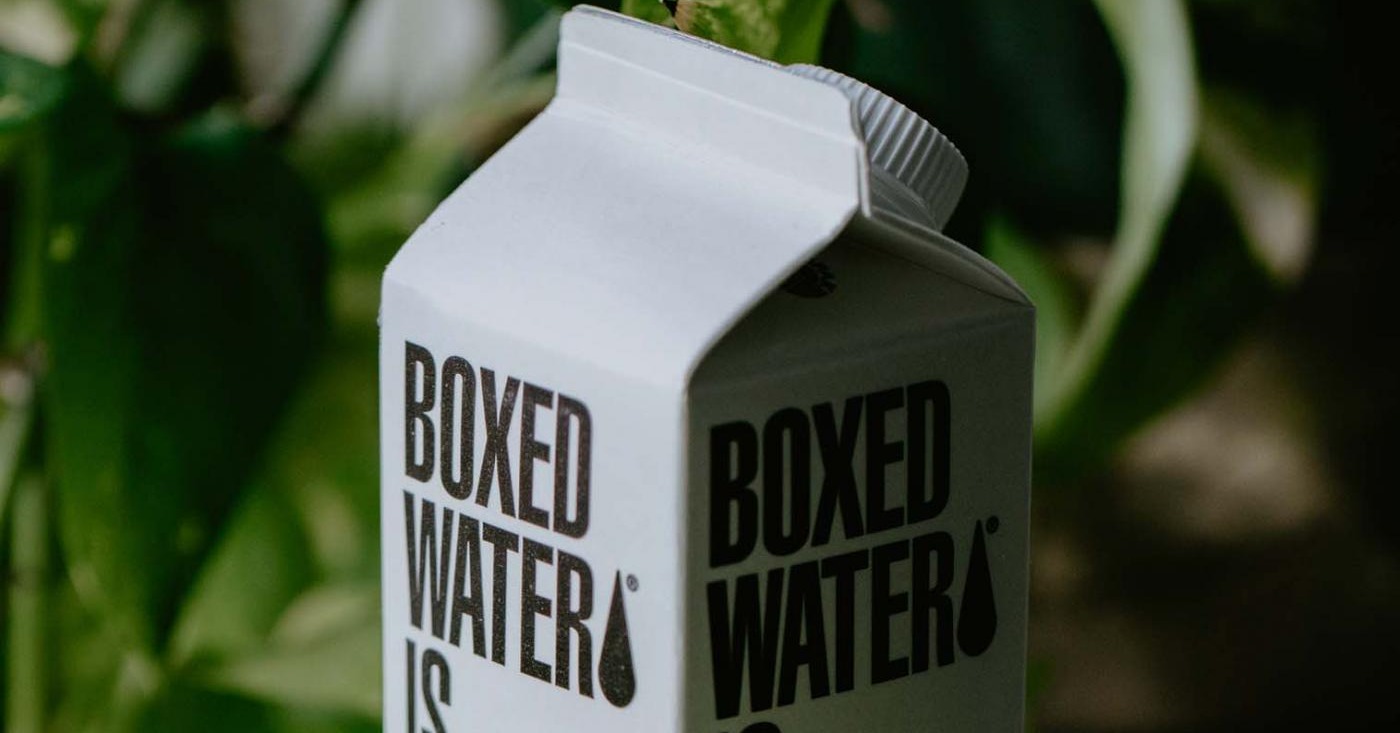 What's one of the most appealing factors for consumers when buying products? Sustainability. Your customers want to see you improving the environmental credentials of your brand throughout your supply chain. Whether it's switching to renewable energy or practising recycling, there are limitless bounds for creativity to make your brand sustainable while still shouting about its premium quality. So what happens when it comes to packaging?
That little thought-about but vital part of your brand image. How can you make your packaging sustainable and stand out? Here are six sustainable packaging trends to watch out for in 2021.
1. Designed To Be Recycled
Whether it's packaging, fashion or technology, everything we design needs to be recyclable if we want to close the loop on waste. To be recyclable, packaging needs to be separable, labelled correctly and clean, which are simple requirements to satisfy. Here's a list of fashion startups to look out for.
You also have to implore your customers to actually recycle these products, as that's why they're being made how they are.. Consider how your designs can benefit your marketing efforts - are there ways of using recycling as a topic of conversation to engage more people? Good, sustainable packaging choices can help increase our thought leadership within an industry. Better for you, better for the planet.
And many brands are doing it. Look at BOXED's recyclable water bottles. Instead of plastic, they're made of paper and are fully recyclable. Plus, they're cute, quirky and stand out from the crowd.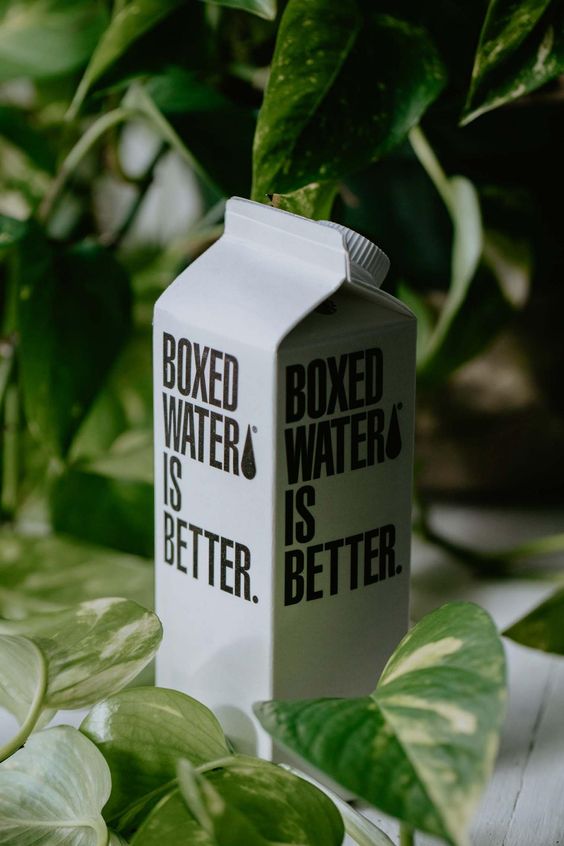 Image credit: Pinterest
However, we can also design packaging for reuse rather than simple recycling. Does it last long? Can it be used in the household? Could it be made into compost? These are some important and exciting questions we can answer in our design process. Ones that help extend the life of packaging before it's thrown away.
2. Packaging for Packaging's Sake
We're seeing a revolution in how packaging is designed to remove all of its dead weight. We all saw the pictures of the peeled oranges which had been resealed in plastic packaging. Such unnecessary choices when it comes to packaging products is a detriment to both innovation and the environment.
In 2021 and going forward, packaging will be designed to get the most out of the least.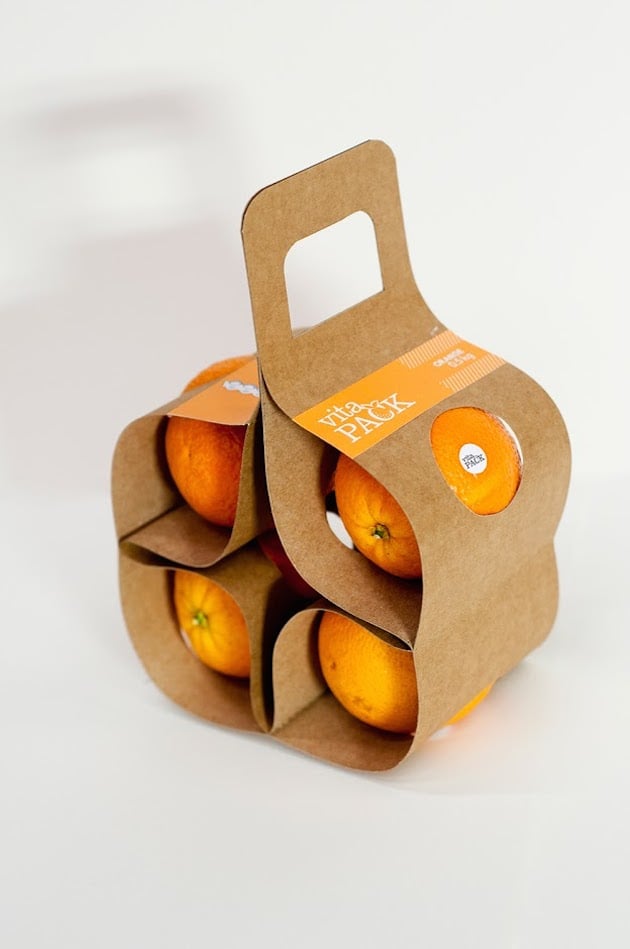 Image credit: Feel Desain
Created by Hungarian designer Ágnes Gyömrei, the image above is a simple and effective example of how less is more. There's no plastic and the innovative design allows for easy carrying and storage. This kind of design is the future of packaging.
No longer will we face reams of bubble wrap once we open a box. We'll do away with using a huge cardboard box to house a tiny item. Extraneous plastic will be reduced. Packaging is finally going to be streamlined.
3. Replacing Plastic With Innovative Materials
With an estimated 5.25 trillion pieces of plastic circulating our oceans right now - and that number increasing by the day - plastic is a problem. Brands and packaging specialists are quickly turning their attention to materials that can replace plastic.
For example, the global furniture retailer IKEA has begun trialling packaging made from mushrooms. They announced they would replace styrofoam packaging with MycoComposite - a mushroom-based packaging created by Ecovative.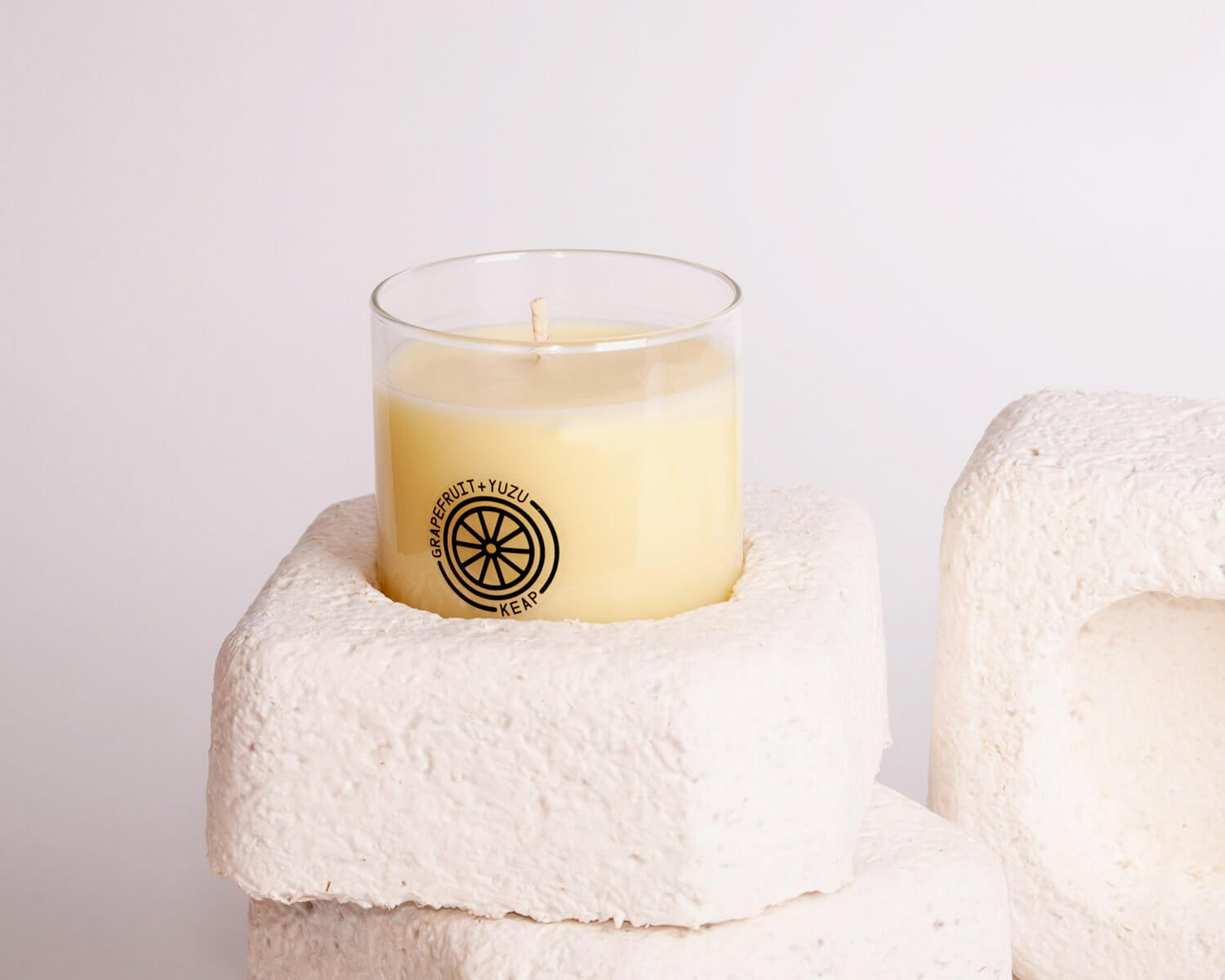 Image credit: Intelligent Living
Eco-friendly packaging such as this will be seen more and more protecting the premium products of homeware brands.
4. Compostable or Biodegradable Packaging
What's more efficient than having one use for packaging? Having two uses for it. Compostable or biodegradable packaging is a niche new trend for sustainable packaging. One that allows for a second life for packaging in our gardens.
Ever since packaging has existed, there have been products (plastics) that don't break down. This is a big issue if packaging somehow ends up in a place it isn't meant to be - like a plastic bag on a beach.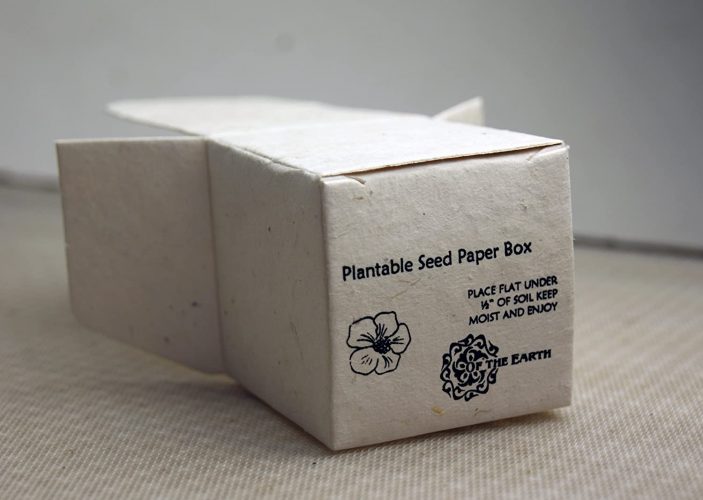 Image credit: In The Bag
Some packaging has even started to be made to contain seeds for wildflowers, so it can be thrown away into your garden, biodegrade and then grow into beautiful plant life.
5. Changing The Ink Up
Inks are widespread and effective for printing on any medium - especially packaging. It's the final stage of your design; a visual narrative brought to life when ink is printed on a substrate.
However, in the past, they haven't been the kindest to the planet. Petroleum-based inks can contain various volatile organic compounds (VOCs) that aren't great for the environment.
Now, forward-thinking companies and packaging specialists are utilising vegetable and soy-based inks, which have a number of key benefits. They're:
Biodegradable.
Easier to de-ink during recycling.
Less likely to release any nasty chemicals when thrown away.
These inks are just as vibrant as their petroleum counterparts and are a great and simple way to enhance your brand's eco-credentials.
6. Marrying Premium Quality With Sustainability
As haute couture brands such as Gucci and Burberry prove to other premium brands that sustainable packaging can be both luxurious and ethical, we'll see more brands follow this trend.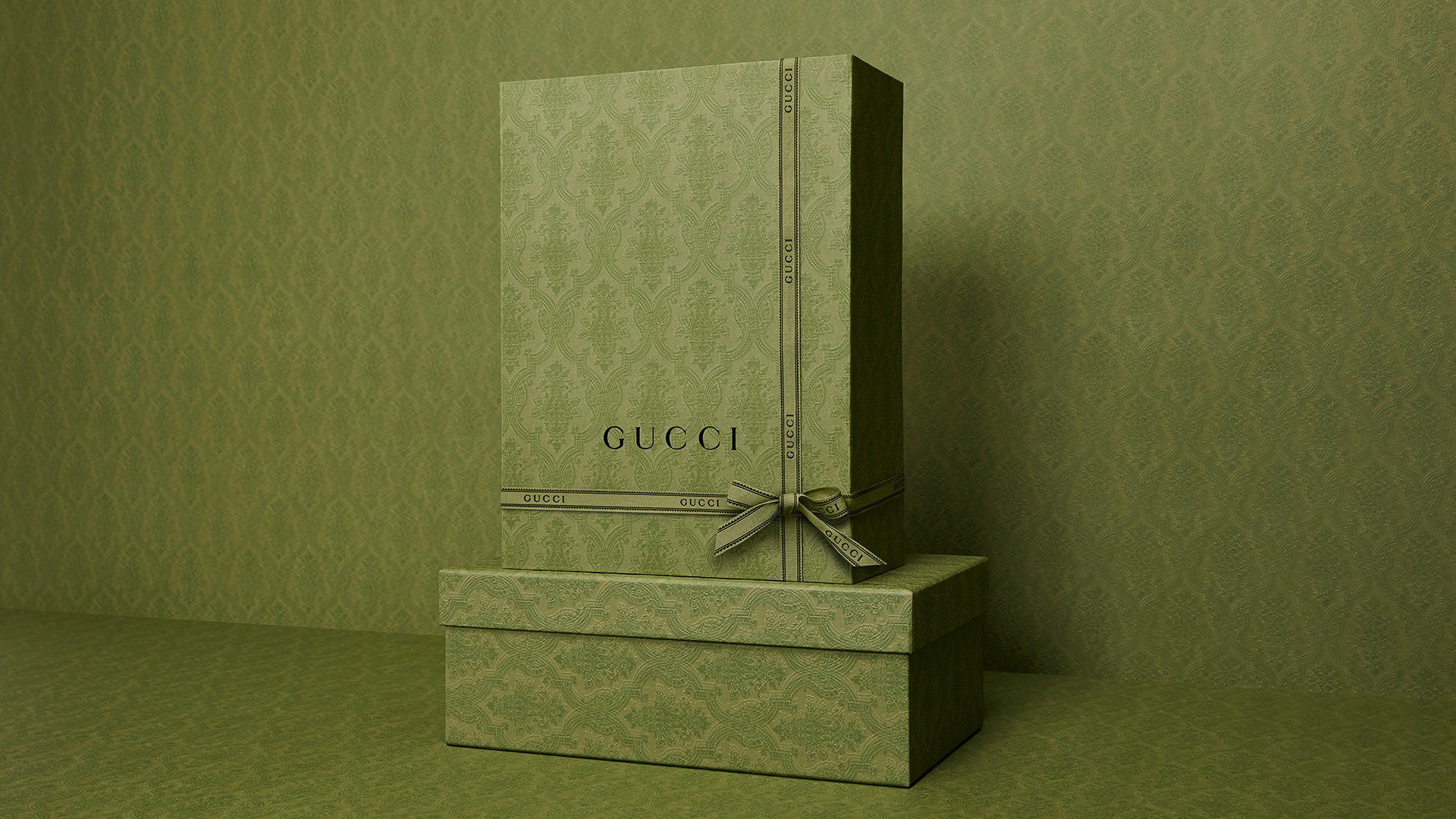 Image credit: Equilibrium
As innovation in sustainable packaging has developed upon itself over the past years, it's evident that creativity and design ownership aren't forfeited when creating a sustainable product. This kind of packaging can just as easily represent a premium brand as others did in the past.
Not only are brands choosing to represent themselves, create visual narratives and showcase how serious they are about developing top-quality products but are also working in line with corporate social responsibility. This is a big pull for today's customers who want to work with brands that care about the planet just as much as they care about their products.
Creating a premium brand experience means enhancing every part of your business' offering - including your packaging. The impact of having a great customer experience and a fantastic product can be greatly diluted by poorly designed packaging.
To explore the kind of sustainable packaging options available to you, explore our premium collection.
THE PREMIUM SUSTAINABLE COLLECTION
Over the last 3 years, we have heavily invested in developing sustainable materials for fashion branding to help brands meet their sustainable needs and goals. With sustainable sourcing, recycling and improved innovations in production methods, we have developed our latest premium sustainable collection.
We've gone past the styles traditionally associated with sustainability to promote something truly premium without compromising on environmental care. Luxury packaging options are only a click away.