Which Brands Have Adopted Sustainable Retail Packaging?
Written by Weavabel, published 25/10/19 11:03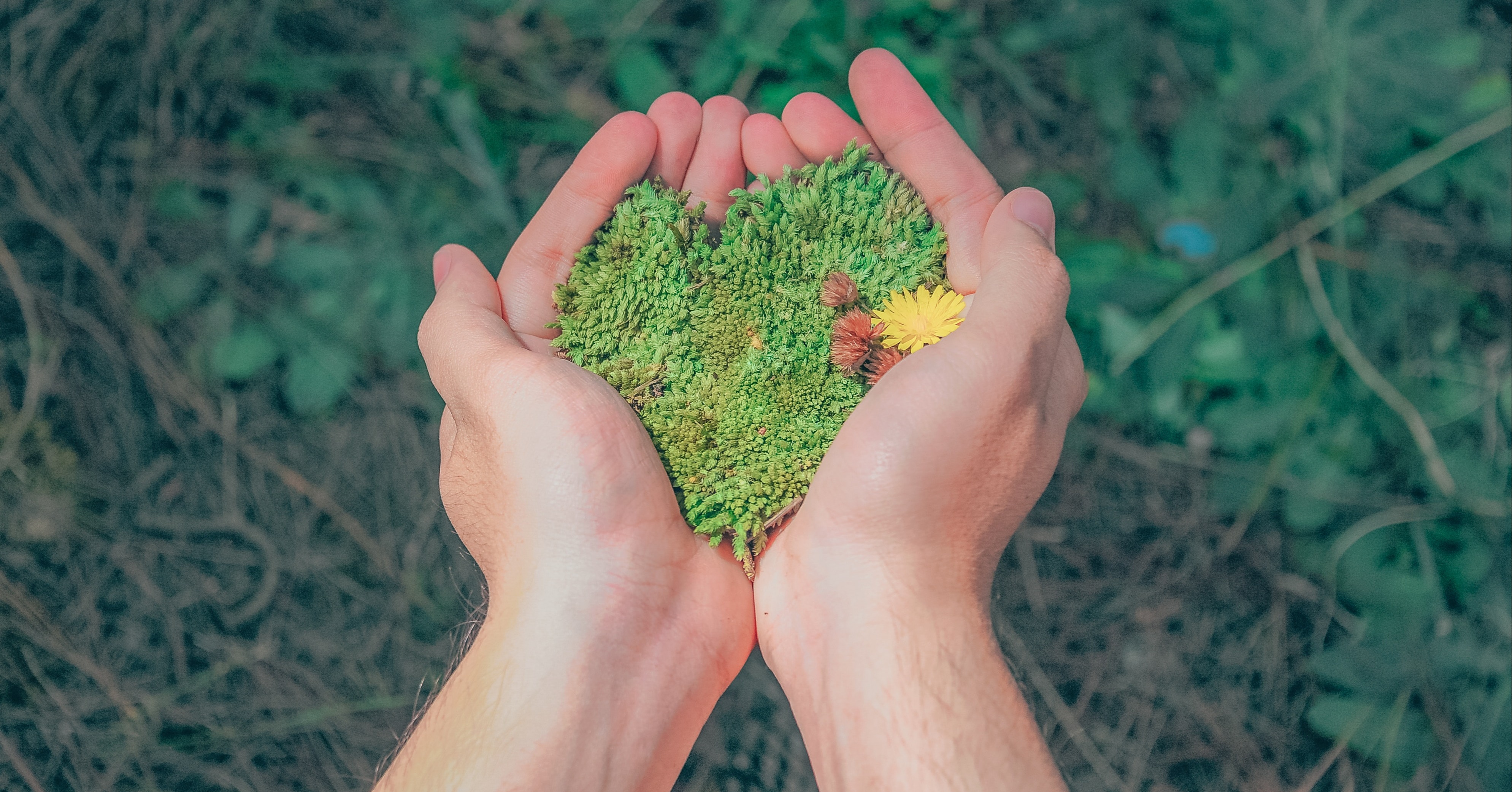 Whether you're selling clothing, food, tech gadgets or cosmetics, as a retail company, you need to reassess your packaging strategy whether you sell online, in-store or both. It's essential so you can maintain a market position in today's eco-friendly world.
Sustainable, eco-friendly and biodegradable retail packaging is no longer a USP - it's a must. Brands taking their environmental commitment to the next level could be redefining the future of packaging. But which brands have already adopted sustainable retail packaging?
Zara's Zero Waste Promise
Fast-fashion giant Zara now delivers its online orders in 100%-recycled cardboard boxes made from boxes previously used in stores. Their goal is zero waste in their stores, offices and logistics centres by 2025.
They have increased the life of their boxes, bags and hangers by reusing them until it's time to recycle them, therefore reducing the overall volume of waste. The cardboard boxes that arrive at their stores are used up to five times before being recycled.
Then with this recycled cardboard, they produce part of the boxes which they use as packaging for sending online orders. They've also changed their bags they give to customers in stores and are now made of 100%-recycled paper.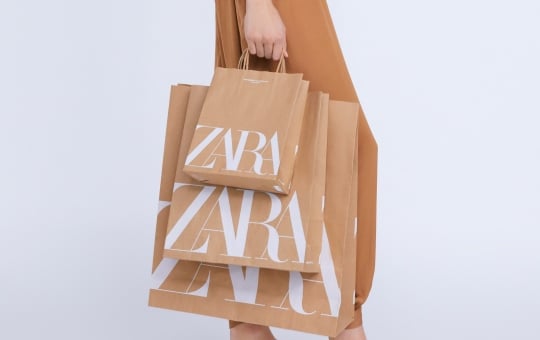 Find Out More
Sooner or later, these basic but highly functional packaging solutions will solidify themselves as iconic in the fashion industry.
Pink Boutique's Sweet and Sustainable Solution
Pink Boutique is a womenswear fashion retailer taking a strong stance on eco-packaging. It recently switched from polythene mailing bags to a greener alternative made from sugarcane. As well as being a water-efficient crop, sugarcane absorbs carbon dioxide as it grows. The completed sugarcane bag is also 100% recyclable.
"We try to be as sustainable as possible in everything that we do and I felt uncomfortable about the number of plastic bags we were using," explains Pink Boutique finance director Julie Blackie.
Find Out More
Concerns when it comes to costs are often one of the barriers preventing retailers from embracing more environmentally friendly practices and processes. Julie Blackie expressed, "The cost of the sugarcane bags was about 25% more than what we were paying before, but we looked at all the sizes we were using and then restructured the size range to get the economy we needed.
"As a result, we're not paying more - we're just being more economic about how we use the bags."
RePack's Packaging Alternative
Another initiative looking to reduce waste in the fashion industry is packaging service RePack, which aims to provide online retailers with a simple solution to waste.
It currently works with brands including Filippa K and sustainable denim company MUD Jeans. It sends customer orders in reusable and returnable packaging, in three adjustable sizes. Robust and practical, it's designed to last at least 20 cycles.
Brands can offer customers the opportunity to choose sustainable RePack packaging at checkout and shoppers can then return the packaging for free by post and are offered an incentive for doing so. RePack is currently setting up a UK logistics hub to enable it to partner with British retailers.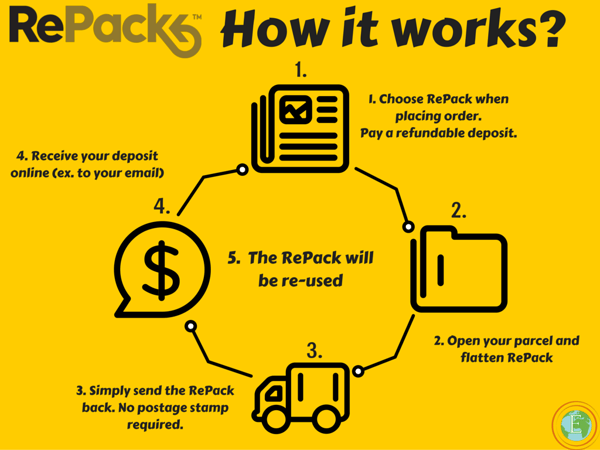 Find Out More
RePack chief executive and co-founder Jonne Hellgren remarked, "Retailers need to meet the needs of the changing consumer, particularly as concerns over plastic are more apparent than ever."
The increase in online shopping, sustainable demands and tight margins are proving to be real challenges for brands. Retailers have their work cut out to satisfy all three, but they must if they hope to thrive in the competitive market. Reuse where relevant to reduce the need for single-use packaging.
Maggie Marilyn's Root Starch Non-Plastic Bags
Maggie Marilyn's non-plastic bags are made from cassava (root starch), vegetable oil and can biodegrade in water. This brand is acutely aware of the massive social, economic and environmental challenges facing humanity and is equally aware of the huge impact the fashion industry is having on our planet.
They are committed to making a difference in an industry that's ready for change. Their bio-based polybags are commercially compostable (99.5% plant material) and they're currently making strides towards home-composting capabilities. These bags completely biodegrade back into the environment without creating any type of harmful microplastics (as the petroleum-based plastic does).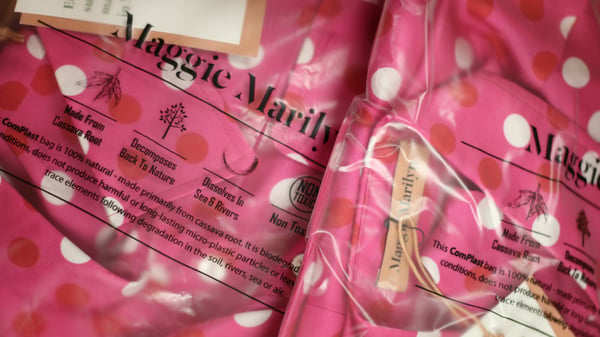 Find Out More
To follow in their footsteps and meet the demands of consumers, the first step you should take is switching to eco-friendly alternative packaging for your brand. That's where our useful, in-depth guide can help.
Adopt Sustainable Retail Packaging for Your Own Branding
Sourcing eco-friendly packaging can be time-consuming if you don't know what to look for. Aim to use alternatives for your trims or choosing to work alongside a manufacturer who actively puts money towards sustainable offerings and products.
To help you make that change, we've created our Eco-Friendly Product Guide. You can learn all about what a branding specialist has to offer to support your more sustainable footprint. To discover your options when comes to packaging, click the link below.