Eco-Friendly Garments and How They Can Make Fashion Sustainable
Written by Weavabel, published 27/04/21 14:44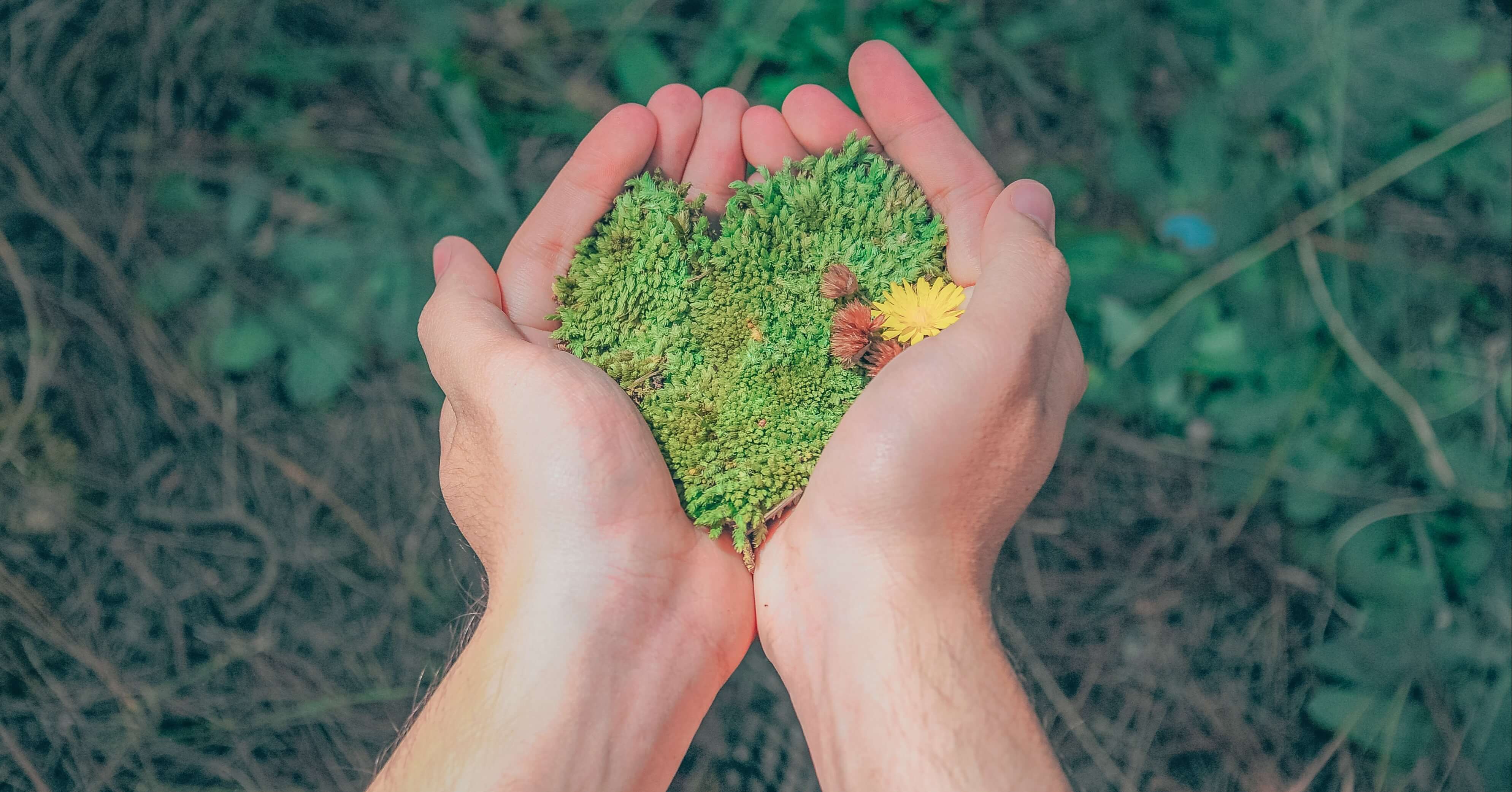 Fashion as an industry is one of the biggest carbon emitters, producing 8-10% of the world's global emissions. This is a major issue for our natural environment, as poor manufacturing practices can pollute land and water. To help the planet and ensure you create premium, eco-friendly garments, you can start choosing sustainable additions in the form of eco-labels and swing tickets.
To make your move into creating a sustainable fashion range and do your part to help the environment, here are eco-friendly alternatives your brand can adopt.
PACKAGING MADE FROM CORN STARCH
Polyester, nylon, acrylic and other synthetic fibres are all forms of plastic that make up around 60% of the materials used in clothing and packaging. Sadly, these fibres contribute to ocean plastic pollution in a subtle yet impactful way, but you can make the first positive switch by finding a substitute.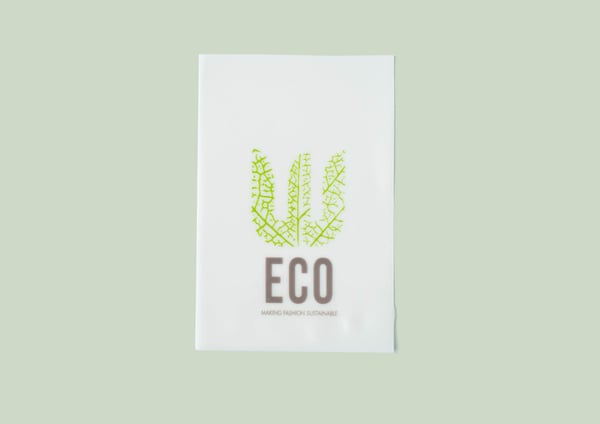 Whether it's used as a mailing bag for e-commerce parcels or regular garment packaging, you can use corn starch as a substitute for polythene to dramatically reduce its environmental impact. The fact that corn starch packaging is fully compostable goes a long way towards creating a sustainable fashion brand looking to help save the planet.
ECO SWING TICKETS MADE FROM FOREST STEWARDSHIP COUNCIL (FSC) CERTIFIED PAPERS
Another eco-friendly option you can switch to is eco swing ticket alternatives - made from FSC certified papers. If you see the FSC logo on tickets and packaging, you can be sure the tickets have been produced using recycled papers or sourced from sustainable forests.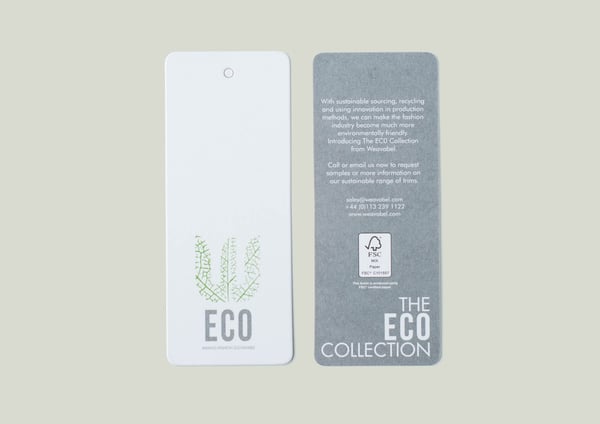 We understand that maintaining high-quality and appeal is perhaps just as crucial to succeeding as incorporating sustainability for any brand. However, don't let the 'recycled' aspect put you off. Depending on the materials you use, swing tickets don't always need to feature flecked effects with a grainy feel.
You can benefit from different colours, finishes and applications which can all be produced on recycled paper. Plus, recycling paper and using it to make new swing tickets uses between 30-50% less energy than making paper from trees. So, you'll certainly be doing your part as a sustainable brand.
ECO LABELS MADE FROM ORGANIC COTTON AND PRE-CONSUMER RECYCLED POLYESTER
Another switch your brand can make is using organic cotton for your garment labels, cotton which is sourced from Global Organic Textile Standard (GOTS) certified sources, without missing out on quality.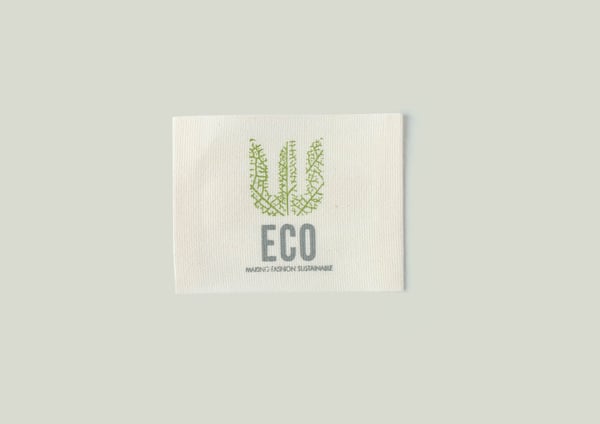 Organic cotton reduces the harmful impact on crop protection practices and they aren't genetically modified either. Organic cotton is grown on land and is given time for removal of toxic residues. It's also grown without using chemical fertilisers and aren't treated with chemicals during growth, processing or packaging.
Another sustainable option for eco woven labels is to use a range made from 100% recycled polyester.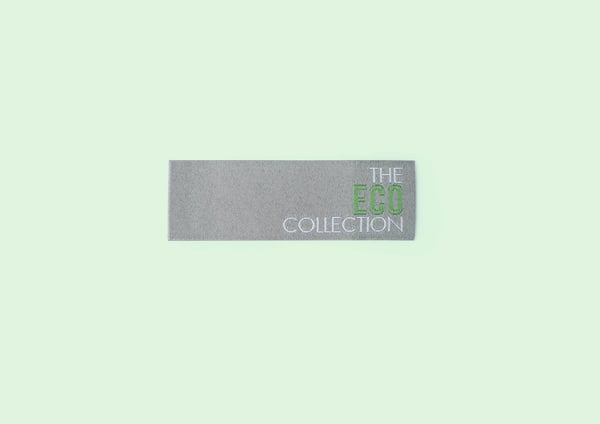 The woven label above with a jacquard effect is made from a type of polyester called PES, produced from recycled bottles. So you not only get a branding trim that looks good but also plays a big role in your brand's switch to sustainable materials.
PREMIUM SUSTAINABLE PACKAGING
Packaging plays a crucial role in both protecting a product and shouting about a brand. It conveys the quality and the message. When designed creatively, it can be just as inspiring as the product within.


However, it needs to be sustainable. Today, there are many sustainable packaging options available on the market, from flat-packed kraft boxes to biodegradable paper bags.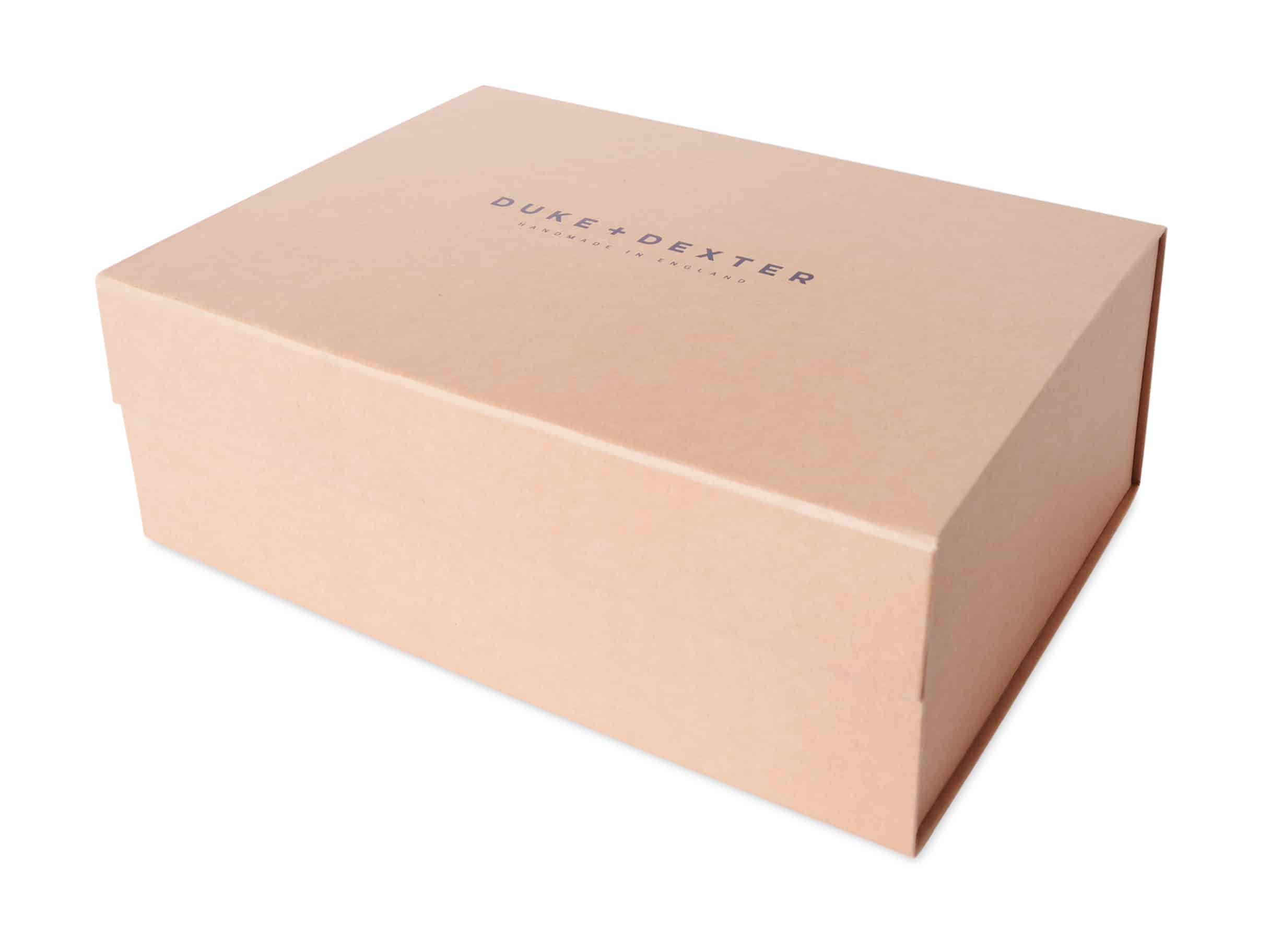 Packaging helps develop your entire branding experience, from first order to final unboxing. If you'd like to learn how to create a sustainable unboxing experience for your brand, read our blog post.
ECO LEATHER PATCHES AND WRISTBANDS MADE FROM RECYCLED LEATHER
Recycled leather is another sustainable option your brand can benefit from while maintaining all of the best characteristics from the natural product. For example, you can use recycled leather to create wristbands.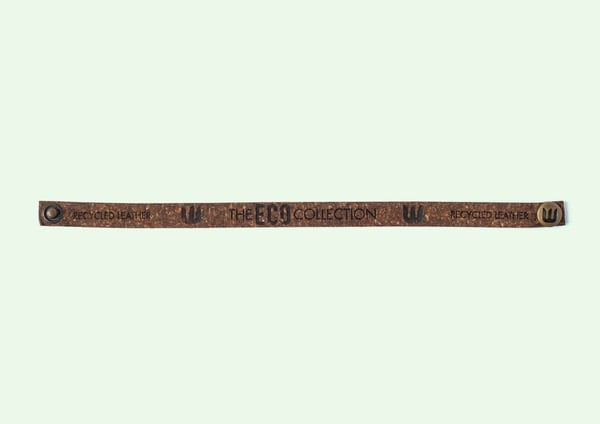 The wristband above was formed by mulching waste leather offcuts and adding a bonding agent to press the pulp. This formed the material your brand can use to act as a great substitute for leather.

Like other eco-friendly alternatives, you aren't restricted by the effects you can add. For example, recycled leather can still be heat debossed, embossed, overprinted and more.
WORKING WITH AN ECO-FRIENDLY COMPANY
One of the biggest trends continuing to grow in the fashion industry is the shift to sustainable materials. If you're looking to move towards an eco-friendly product range, then look for a company dedicated to supporting the drive for a more sustainable future, which provides the possibility for eco-friendly garment branding and packaging options.

This is a key driver within the industry, so look for a supplier committed to ensuring they can offer you sustainable branding solutions to meet your needs and goals.

You should also search for a partner that adheres to strict codes of practice and invests time and money in certifications. These ensure that they're current with manufacturing and material sourcing techniques to provide you with a sustainable offering.
Sustainability is an easy thing to capture, you just need to discover what's available on the market today. To find out, you can explore these sustainable product options.
Eco-Friendly & Sustainable Materials
One thing you'll learn about eco-friendly materials is that their quality has vastly improved over the years. For businesses looking to use premium materials to finish their premium items, this is easily done.
Eco-friendly materials can be made with a wide variety of finishes and colour applications, meaning you can always find the right ones for your garment trims or product packaging.
To see what you can choose from, simply click the link below.