Is Barbour a Luxury Brand?
Written by Weavabel, published 01/11/22 13:45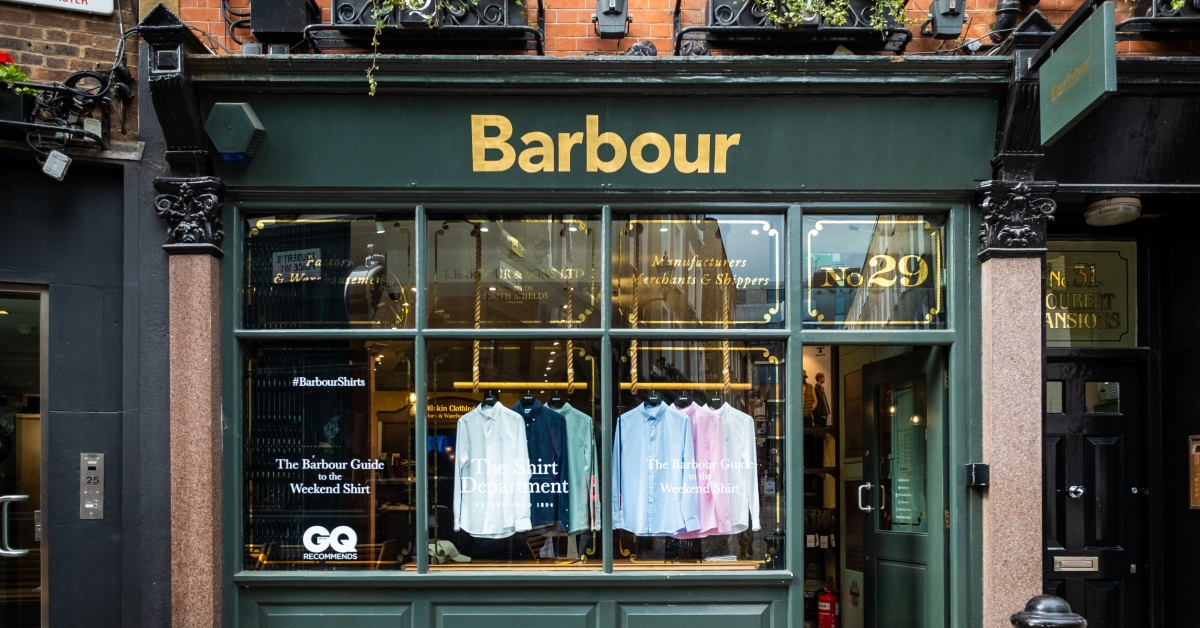 For over a century, Barbour has been an instantly recognisable British brand that's got a luxury status for a reason. Known for its outerwear, waxed and quilted jackets, most wardrobes in the UK might feature at least one Barbour item.
But is Barbour a luxury brand? What does it mean to be a luxury brand? We answer precisely that.
Barbour and Luxury: The Home of the Iconic Waxed Jacket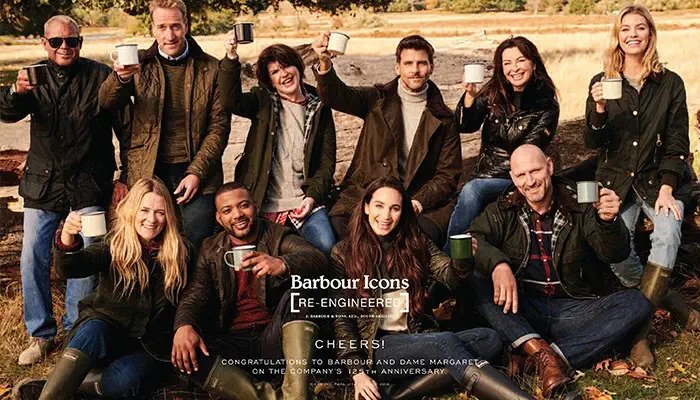 Credit: Barbour
Rooted in a countrywear background, Barbour is perhaps most famous for one product in particular — its iconic waxed jackets. Made for more than a century, you'll struggle to find someone who's never seen or heard of Barbour.
Does that automatically give the brand luxury status? Or is this earnt through other characteristics?
The History
The success of modern-day Barbour is based upon its heritage. Founded in 1894, the brand is now over 125 years old. Producing predominantly lifestyle clothing, the Barbour International brand was also established in the early 20th century, producing motorcycling garments.
In the latter half of the 19th century and into the 21st, Barbour received two Royal Warrants, has shown at London Fashion Week and became a staple brand for celebrities and the general public.
Because of this heritage, history and iconic status, Barbour can be considered a luxury brand that's still attainable for the everyday customer.
The Product
The Barbour product catalogue is the most extensive it has ever been. Producing menswear, womenswear, footwear, accessories and childrenswear, quality is the main priority.
Although it caters to a younger audience and has collaborated with big names in recent years, the Barbour brand is still instantly recognisable — today's garments hold many similarities to the clothing it produced 100 years ago.
It's this quality that positions Barbour as a luxury brand. It isn't seen as disposable. It isn't seen as fast fashion. It's known for long-lasting pieces that are an investment and will stand the test of time.
The Price Point
Price point is one of the main attributes of whether a brand is perceived as luxury. For Barbour, the price point sits in the middle ground — more expensive than fast fashion, yet cheaper than other luxury competitors such as Belstaff.
Its waxed jackets will cost around £250 and up, shirts at £70 and a pair of boots can be up to £170. Although the price point is higher than most high-street brands, customers are paying for the brand's quality and heritage, giving it a luxury status that's still affordable.
Barbour and the Future Consumer
As we move into the future and consumer priorities and needs change, will Barbour still be considered a luxury brand in the eyes of the modern consumer?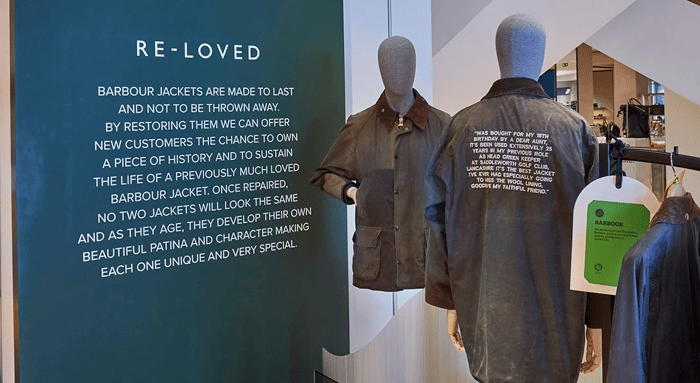 Credit: Barbour
Sustainability
Perhaps the biggest crunch point for the next generation of consumers is sustainability and Barbour doesn't fall short with its initiatives.
Barbour has long championed its message of re-waxing, offering a re-waxing service and products to extend the lifespan of its jackets
In 2019, Barbour Re-Loved was introduced — where customers can return their old jackets to either be repaired or exchanged for a voucher towards a new one. Old jackets can be repaired and resold, with Selfridges carrying many of the brand's Re-Loved products.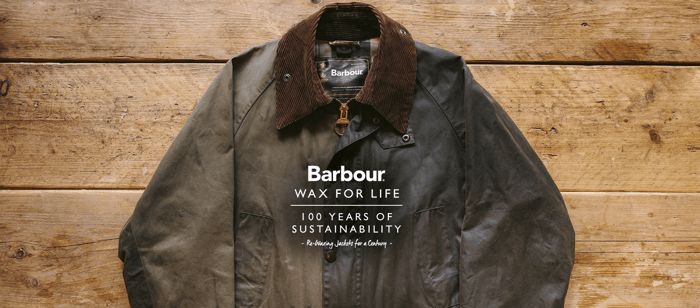 Credit: Barbour
In 2022, the brand won the Best Circularity Award from Drapers for its Wax for Life campaign — a campaign that highlighted its commitment to reusing and re-waxing jackets, encouraging customers to share their 'wax stories'.
Taking Barbour into the Future
Barbour recognises that for success to be continued, it must tap into the desires of new consumers. To plug this gap, it has launched several collaborations and services that help it remain the luxury brand it is today.
The brand has collaborated with well-known celebrities, such as Alexa Chung, as well as fashion houses, such as House of Hackney, creating Re-Loved jackets produced using the cut-offs of their patterner materials.
More recently, Barbour has collaborated with Ganni, a brand known for its Gen-Z, sustainability and fashion-focused customers.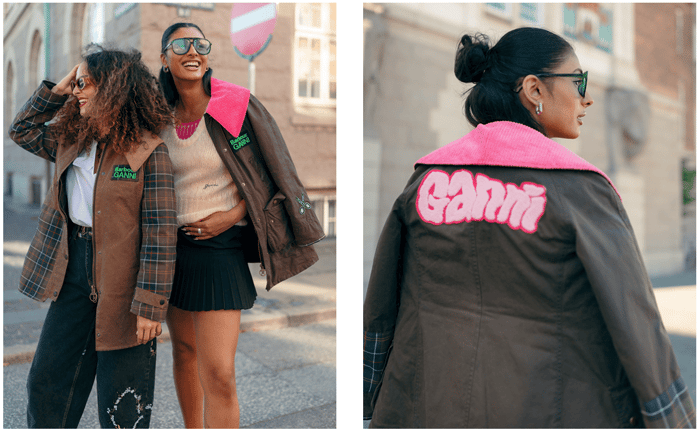 Credit: Barbour
Barbour has also capitalised on the trend for personalisation, launching a customisation service that allows customers to embellish their jackets with personal trademarks. It also launched the Barbour Beacon range with a contemporary twist, appealing to younger audiences and keeping Barbour relevant among all generations.
Barbour has perfectly executed the balance between luxury, quality and history, forming a brand recognised and loved by many. From its branded bags to its famous wax jackets, the brand has luxury and quality at the core.
Create Your Luxury Experience
If you're looking for ways to level up your brand's luxury experience, you've come to the right place. At Weavabel, we're experts in sustainable branding, creating bespoke packaging and trim options that add that touch of luxury.
To help you get a feel of what we can achieve together, explore our sustainable Earth in Mind Collection by clicking the link below.