What is UV Coating and Does My Packaging Need it?
Written by Weavabel, published 13/12/19 11:26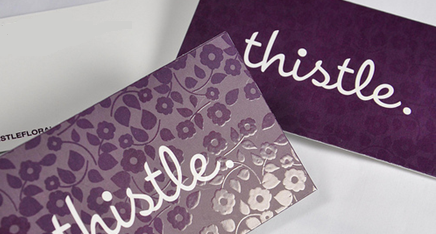 Ultraviolet (UV) coating is a transparent liquid compound that's applied to a surface and then dried instantly using ultraviolet light, which is where the name comes from.
So why should you consider UV coating for your packaging and what are the benefits? Read on to find out.
The UV Coating Process
UV coating is a popular finishing process for packaging applications. The most commonly used UV coating styles are high-gloss and matte, which can both deliver a premium feel to your packaging.
UV coating can be applied to the whole product, one side or even in a singular area which is known as spot UV coating. This is where the coating is applied to certain points on your packaging, bringing attention to your design features.
You can see the effect of spot UV coating in creating visually-impressive backgrounds for smaller pieces of branding, such as the business card below. It can also be used to accentuate both the look and feel of garment tags.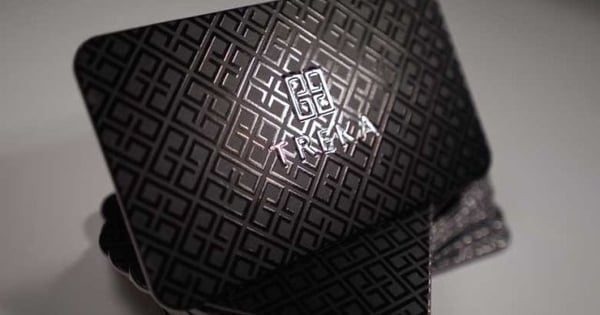 Find out more.
Does Your Packaging Really Need UV Coating?
You might be wondering whether UV coating is the right addition for your packaging. It may be the case that you don't need it or that it won't complement your design. Although, there are many advantages in choosing this process.
The Advantages of UV Coating
UV coating offers a glossy sheen which is unlike other types of coating. It's a fantastic way to highlight design features or logos as it can intentionally attract attention to specific details. It can make your packaging even more attractive which can encourage consumers to keep your boxes, rather than just throwing them away.
This is just one of the ways to improve your product packaging. We've covered even more in our blog.
Enrich Your Design
Using this finish will enhance any vibrant colours you've chosen, thanks to its glossy sheen. They'll seem to pop off the packaging, making your artwork stand out. This is especially effective when used with logos, increasing the chances of it catching someone's eye.
It's a great way to work towards creating iconic packaging.
UV coating presents a more visually attractive option than a plain packaging surface due to its high clarity, allowing your designs to truly stand out. Similarly, the coating is also very smooth to the touch. This helps to deliver a pleasing tactile experience, increasing the perceived quality and further impressing the customer.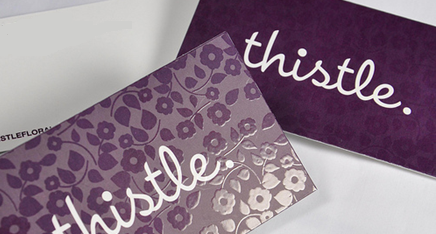 Find out more.
Look at the business cards above by Thistle. The brand has used a stylised UV coating to create a glossy floral pattern that contrasts with the matte look of the surface. Designs don't have to be complicated for them to be visually-appealing and powerful.
Make Your Packages Exude Quality
Using UV coating suggests premium quality. If your packaging looks the part, it will help to inspire customer confidence in your brand, increasing the likelihood of a sale and also the chance for repeat customers. It's the type of finish that gives any package a fully professional feel.
Don't forget, your packaging is an extra marketing tool. Having that extra layer of protection allows your packaging and more importantly, your logo to be seen for longer. It also protects the precious cargo inside. Look back at Thistle's white text logo, how it stands out from the purple design and doesn't clash with the UV coating.
Take this packaging for example, from the sporting fashion company Jaybird.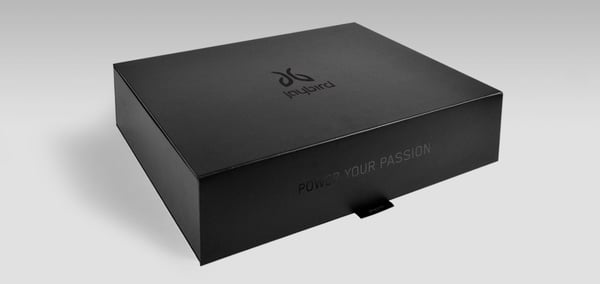 This package has been made using a spot UV coating, where the coating is only applied to a certain area of the packaging. In this case, it's been used to create the logo and tagline for the brand. The effect, while minimalist, is truly effective in drawing the eye towards the logo and tagline.
So if all these things sound good to you, read on for our tips for using UV coating in your packaging designs.
UV Coating Design Tips
For simply-designed packaging, glossy spot UV works wonderfully. Especially if you're working with a small amount of contrasting colours to create vivid backgrounds and easily-branded packages. Just like Mission did with its sporting accessory packages.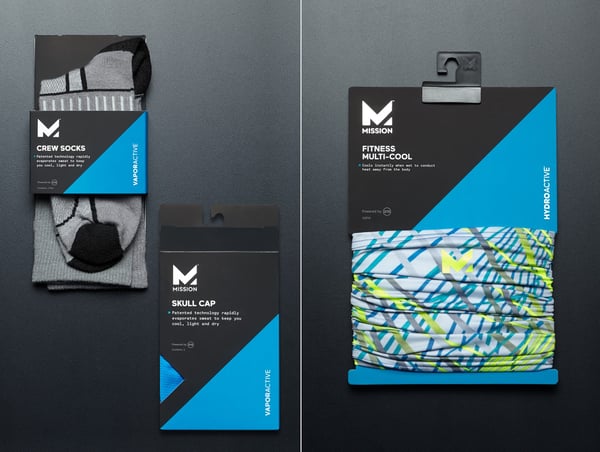 For additional impact, combining embossing and spot UV coating is a tried, tested and trusted method for delivering great visual results. The embossing process adds texture to a design and layering a UV adds an unmatched visual distinctness. It makes your packaging impossible to miss.
You could also try using both a glossy UV coating and a matte one to create some contrasts to your design. The low-key, minimalist look of matte works brilliantly in accentuating the shiny finish of gloss. This also means having a good deal of protection used on your packaging.
To create interesting and bespoke designs, try using a UV coating to create focal points on your packaging - areas that draw the eye. For example, world-famous fashion company Nike teamed up with Russian hip-hop artist, L'One, to create a unique football jersey to advertise one of his concerts.
To package the jersey, graphic designer Stas Khrustalev created a package with a circular design created by slightly-embossed, UV coating applied to a matte background. The package has the feel of a high-tech piece of technology rather than a fashion piece and so helps to create consumer interest and curiosity.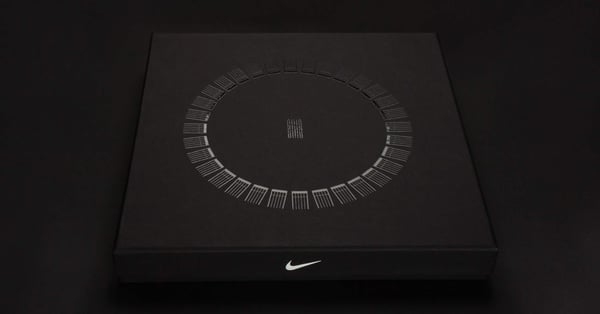 Find out more.
UV coating works fantastically with either bright colours or monochrome pieces, so remember to be creative and experimental with your design.
This finish type is a visually-impressive and practical addition to your packaging design, but what other features are you able to choose?
Discover the Best Type of Packaging For Your Brand
To help you get the most from your packaging journey, we've developed the one-stop guide to packaging. Inside, you'll find information on packaging types, printing methods, finishing touches and other much-needed packaging information.
To get your copy, click the download button below.