What Is Flexographic Printing and What are Its Pros and Cons?
Written by Weavabel, published 02/12/19 16:32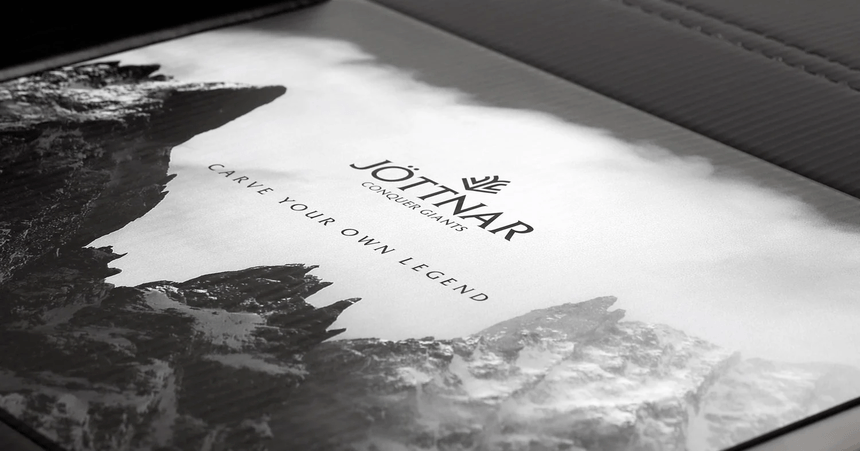 Flexography (often abbreviated to flexo) is a printing process which utilises a flexible relief plate. It's a modern version of letterpress printing and can be utilised on almost any type of substrate.
In this age of digital printing, flexography holds its own when it comes to large orders and long print runs, particularly when it comes to packaging. So what are the pros and cons of the flexographic printing process?
Ability to Print on Rough Materials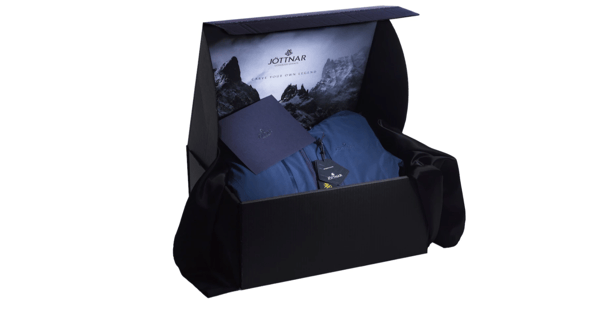 Popular packaging materials, such as corrugated cardboard, can be a challenge to print on due to their uneven surfaces. That's where flexographic printing comes in.
It uses rubber and flexible plastic plates which allows high-quality imagery to be printed and finished on rough surfaces. Flexo also uses quick-drying, water-based inks which can accommodate printing on a number of packaging substrates including cardboard, kraft paper, chipboard and even cellophane.
Extreme adventure wear clothing brand, Jöttnar, needed packaging that reflects the brand's ethos of strength and durability. They test their own gear until destruction, so the packaging solution needs to reinforce that.
When creating their eCommerce mailer boxes, they showcased what can be achieved using flexo-print on corrugated board. Utilising a mountain motif and grayscale colour palette, they designed a spectacularly sophisticated packaging solution for their garments.
Fast-Drying and Quick Process
The printing process itself is well suited for packaging due to its high-speed production. Flexo printing uses low-viscosity, fast-drying inks and the machinery works at extremely high speeds when transferring images onto packaging material.
Flexo printing also has the advantage of producing a finished product at the end of the process without having to wait for inks to dry. On the downside, flexographic printing isn't very advanced. It can't produce complicated and extensive artwork like other digital printing techniques.
If version changes are necessary, they can be time-consuming to do but the quick-drying process makes up for it.
Facilitates Versatile Finishes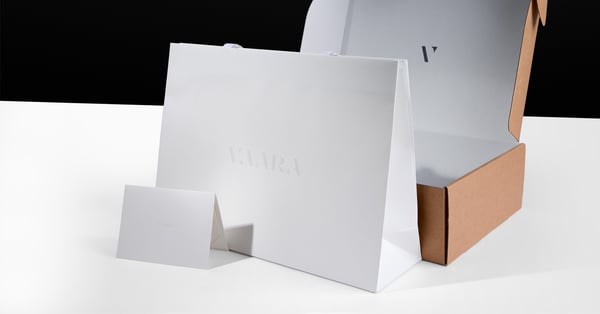 Flexographic printing machines allow exploration in a wide range of ink types including fluorescents and metallics which are available as water-based, solvent and UV curable. Not only this, but the finish is also incredibly durable.
This means you'll get a solid ink coverage for effective and attractive graphics which will last for a very long time.
Vaara is a premium activewear brand for women, built on the belief that everyone is capable of achieving an active lifestyle. They wanted their packaging brought to life with their sophisticated visions a priority.
The retail bags were produced using embossed paper. The Vaara logo was then embossed to both sides of the carriers, giving them a visually-stimulating raised 3D appearance. The corrugated outer mailing boxes were made in a self-assembly format and manufactured using a brown and white dual coloured corrugated materials.
The branding on the interior was flexographically printed before the boxes were die-cut and creased on completion. The accompanying tissue paper was printed with opaque white ink on white paper, continuing the subtle message of their branding throughout.
Cost-Effective Printing Technique
The initial cost of the flexo printing plates is high but when they are properly cared for, they last for millions of impressions. Work with a branding specialist who already has this equipment as flexo printing a great option for your corrugated packaging. A flexographic printing press offers many different components which help facilities to increase efficiency and reduce their costs.
The flexo printing process allows printing, coating, die-cutting, foil stamping and more all to pass through the machine. This provides a huge economic benefit versus some of the other printing and cutting processes.
Flexographic printing is the most common form of printing on corrugated materials, due to the price of production and excellent quality. Although you know all about this style of printing, there's still a lot you can learn about the other printing techniques you can use for your packaging.
All About Popular Printing Techniques, Processes and Production
Do you want packaging that's stylish, sustainable or simply an extension of your brand? With so many materials and techniques available to you when it comes to packaging, you might be spoilt for choice.
That's why we've created our complete guide to product packaging design with everything you need to know about packaging production and design so you can choose the right one for your brand. Download your guide now.