10 Brands That Have Embraced Eco-Friendly Manufacturing and Packaging Solutions
Written by Weavabel, published 22/07/19 22:39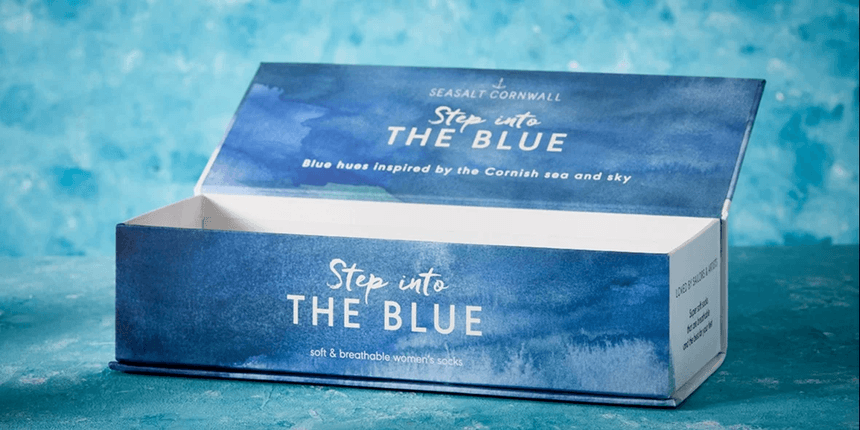 By 2050, our oceans are expected to contain more plastic than fish. Harrowing statistics like this aren't uncommon in the fashion industry. With the harmful effects of packaging gaining increasing attention over the last few years, brands are finally doing something about it.
Here are 10 brands that have embraced eco-friendly manufacturing and packaging and made it their own:
1) Zara's Green Alternatives for Packaging
2) Puma's Clever Little Bag
3) Gucci's 100% Recyclable Luxury Experience
4) Pangea Organic's Plantable Packaging
5) Jaden Smith's Plant-Based Water Bottle
6) The White Company's Eco Commitment
7) Origin X Performance's Brand DNA
8) Calvin Klein's Zero Waste Aspiration
9) ASOS Signature Sustainable Bag
10) Seasalt's Sustainable Box of Socks
Embrace Eco-Friendly Packaging for Your Brand Today
1. Zara's Green Alternatives for Packaging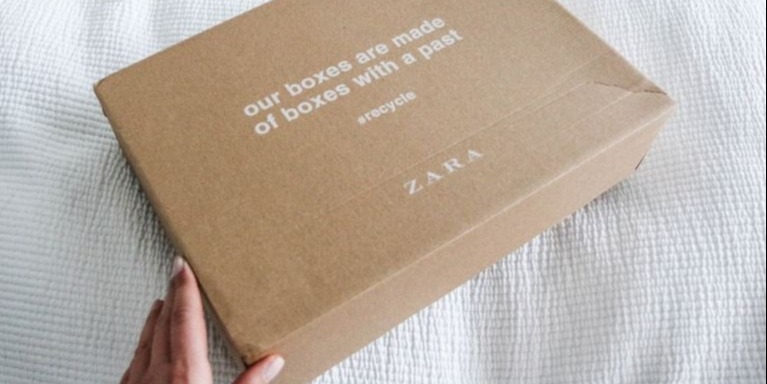 Judging from its in-store recycling donation programme, it seems this fast fashion brand is looking to slow things down. Zara's scheme encourages customers to donate their unwanted clothes that are then collected, repaired, resold or recycled. This extends their life span and reduces waste.
Although it's a substantial step in the right direction, the star of the show is definitely the approach to packaging. Zara's target is to contribute zero waste to landfills by 2025, so one of its main initiatives includes reusing bags, boxes and hangers. A single cardboard box can be used up to five times before finally being recycled into new boxes.
You can go greener with your packaging by simply reusing them if they're fit for distribution or storage and encouraging your consumers to do the same.
2. Puma's Clever Little Bag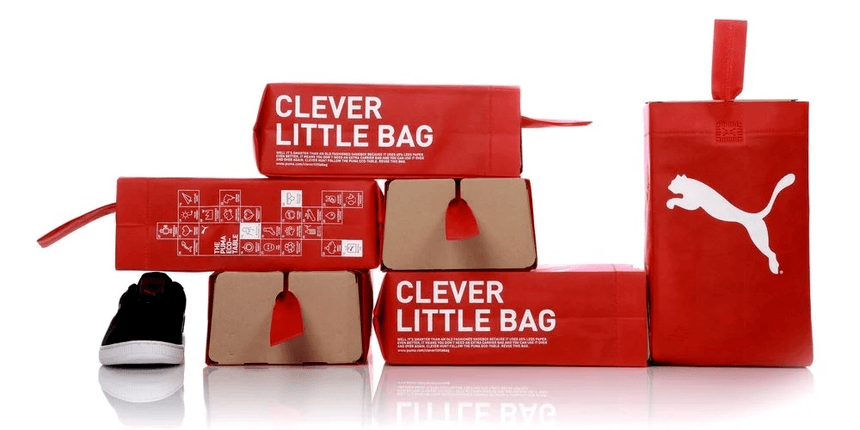 Puma looked to create a packaging system that would greatly reduce its environmental footprint and support its initiatives towards a greener future.
The brand approached Fuseproject to design new packaging that would be better for the environment, more cost-effective and has minimal deviation from previous bags and boxes. The "clever little bag" was the solution.
The tens of millions of shoes shipped in their new bag will reduce water, energy and diesel consumption on the manufacturing level alone by more than 60% per year. You can see why they call it clever.
3. Gucci's 100% Recyclable Luxury Experience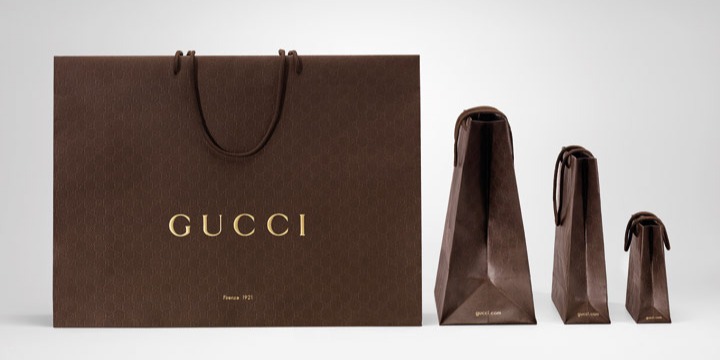 When you envision this opulent fashion brand, you think of decadent fabrics, Italian style and a luxurious unboxing experience. With many layers of extravagant packaging until you get to your purchase, it was considered just as relevant to the buyer as the garment itself.
Gucci is now ensuring its customers still get to indulge in this experience but in a way that doesn't impact the environment.
The Italian luxury label launched its new range of packaging which offered a whole new image of luxury, all while maintaining its rich heritage of quality. Creating high-quality luxury packaging can be as simple as taking inspiration from the way Gucci utilises debossing.
Their logo is set out from the rest of the packaging, demanding attention and using metallic foiling to its affluent advantage. Gone are the glossy plastic surfaces of shopping bags and welcomed is the subtle elegance of sustainably sourced beater dyed paper packaging from FSC certified forests. Their polyester handles have since been replaced by luxe cotton ribbons which still remain on-brand.
Gucci has cut down on excess packaging altogether and gift boxes are only given when customers request them. 100% recyclable and 100% better for the environment.
4. Pangea Organic's Plantable Packaging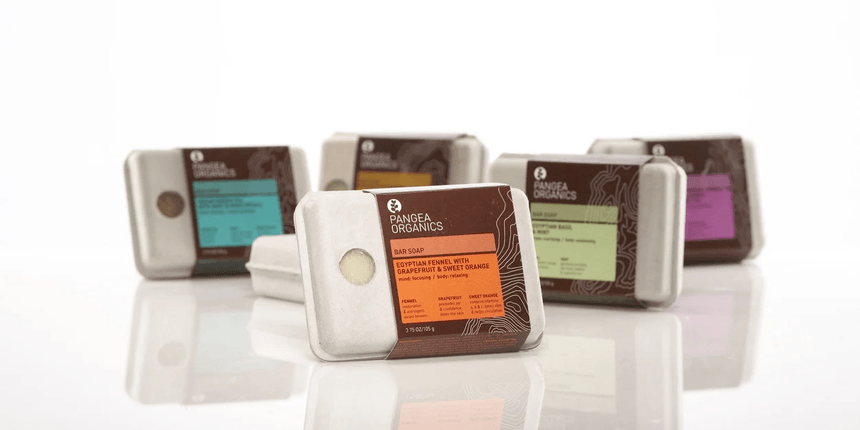 Pangea Organics, which creates 100% plant-based beauty products, was already waving the flag of zero waste. However, it decided to take things further and designed a way of turning their packaging into trees.
The brand incorporated organic seeds into the packaging so when the customer removes their product, they can easily slip off the label, soak the box in water and plant it in the earth. A sticker shows tree seeds embedded in the paper that effectively communicate the packaging can be planted.
5. Jaden Smith's Plant-Based Water Bottle
Jaden Smith pioneered a completely new way to drink water. JUST Water cartons are entirely recyclable and made from 54% paper from certified forests, 28% plant-based plastic, 15% traditional plastic and 3% aluminium. The materials and processes result in 74% less harmful emissions, primarily C02, compared to a standard PET plastic bottle.
The JUST bottle is recyclable anywhere carton recycling is available.
6. The White Company's Eco Commitment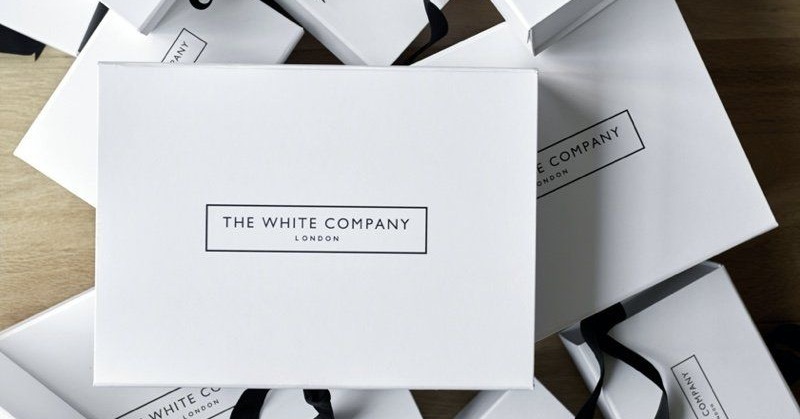 The White Company is a renowned online retailer known for beautifully designed fashion, linens and homeware. Creating and selling for nearly 30 years, the quality and attention to detail are most notable about this brand. Now, it's the commitment to more sustainable manufacturing and packaging solutions.
In the past, vendors would supply single-use, non-biodegradable poly bags to protect products during delivery. To bring greater consistency to production, alongside utilising more eco-friendly packaging options, The White Label has opted for a sustainable and transparent solution.
Working alongside a garment branding specialist, the brand changed to recycled LDPE poly bags, which also gives them greater control over the consistency of its packaging's branding and sizes. For more insights into how this brand has embraced eco-friendly manufacturing, take a look at the case study below.
7. Origin X Performance's Brand DNA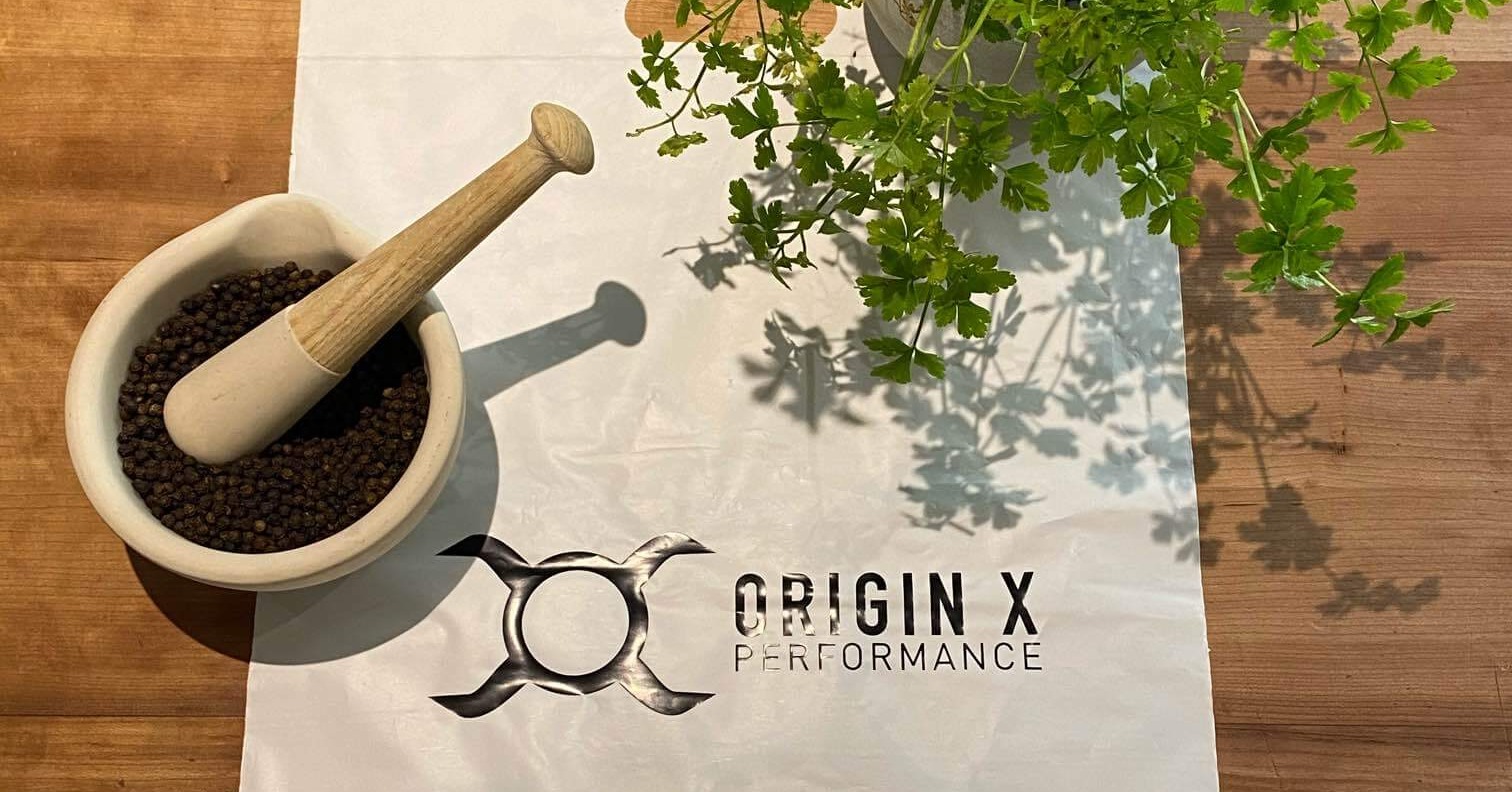 This UK-based brand has bolstered sustainability in every aspect of its sportswear attire - down to the very last thread. Origin X Performance's business was built on five pillars, with one dedicated to the environment and social responsibilities.
Like many other retailers, each garment is shipped in a branded mailing bag. However, unlike most bags used by a vast majority of e-commerce brands, Origin X Performance's packaging is fully sustainable. These bio poly mailer bags are made from natural, biodegradable ingredients and are just as durable as recyclable plastics and alternatives.
What's most appealing is this mailing solution has all the characteristics you want from a plastic - waterproof and durable - but without the impact on the environment as they're completely compostable.
For this brand, it isn't enough to be plastic-free in its packaging. Origin X Performance is constantly looking at new ways to innovate and become even more environmentally conscious. Recently, some of its activewear has been crafted from plastic collected from the oceans.

8. Calvin Klein's Zero Waste Aspiration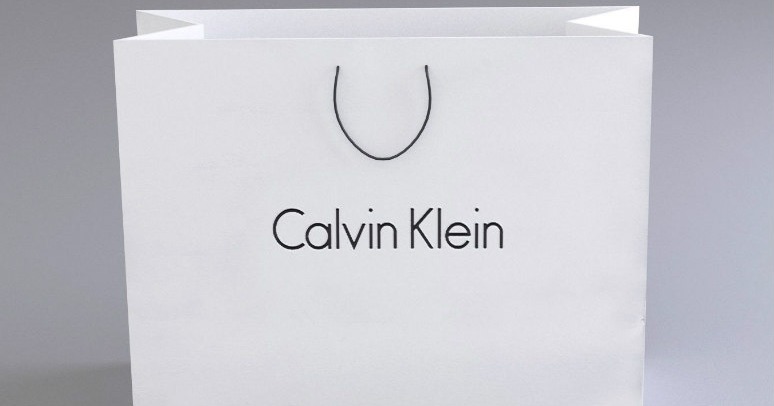 PVH, the global apparel company that owns Calvin Klein, has committed to having packaging made of 100% sustainable and ethically sourced materials by 2025.
Making landmark strides towards this effort, currently, a staggering 74% of Calvin Klein's packaging is recyclable. The company has also saved over 200 tons of plastic annually by changing to thinner material for its clothing packaging.
PVH also became the first apparel company to join the How2Recycle initiative, which has grown considerably in influence in recent years. These seemingly little strides toward sustainability can make a huge difference to how the brand is perceived and most importantly, its bottom line.

9. ASOS' Signature Sustainable Bag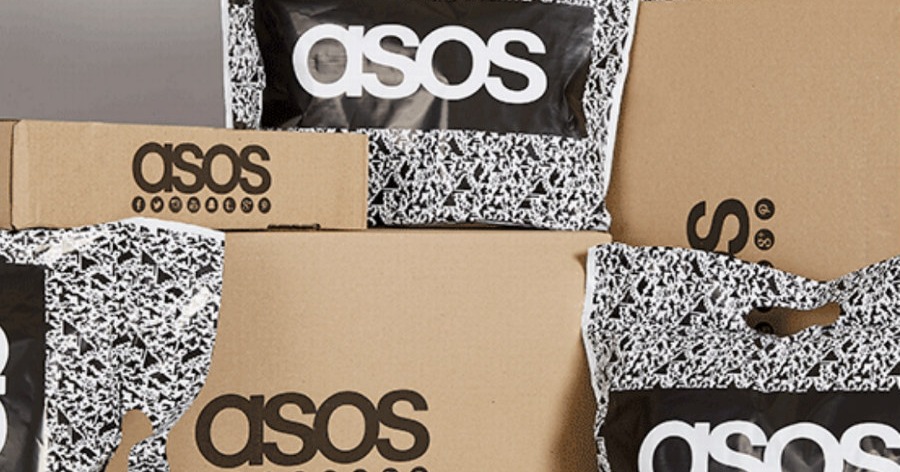 ASOS is recognised as a giant in the e-commerce industry, selling both affordable and luxury fashion. While few of its products have any characteristics of sustainability, the company has taken on the challenge of mitigating its packaging waste. So much so, it's now at the forefront of its environmental policies.
Recently, the company modified its signature black and white mailer bags to reduce the thickness. This small change reduces 583 tonnes of plastic annually. By also recycling customer return mailing bags, new bags are made with 10% post-consumer waste content.
With a mission to become a circular fashion business, ASOS has also implemented a closed-loop system with its packaging manufacturer to recycle returned packaging and incorporate it into the new mailing bags. The online retailer isn't stopping there and we look forward to seeing how ASOS continue to invite more environmentally friendly processes, products and supply chains into their arsenal.
10. Seasalt's Sustainable Box of Socks
Not only are the socks ethical but the showcase-worthy packaging is too. In 2018, Seasalt removed 18 tonnes of single-use plastic from its business, which included making some major improvements to packaging. Inspired by the seaside, the fun packaging isn't going to end up in the ocean but flaunted on your bedside.
The display box has a magnetic closure and is made entirely from recycled card. It's sturdy and can transport goods safely while also being reusable - whether that's to display socks or not.
Following in Seasalt's sandy footprints can be as easy as getting creative with your packaging design.
Now you know all the brands that have embraced eco-friendly alternatives, it's the perfect time to learn how to do the same. Adopting a more sustainable approach doesn't have to be difficult. It can be as simple as opting for biodegradable alternatives or ditching excess packaging altogether.
Whatever you choose to do, make sure you do it the right way.
Embrace Eco-Friendly Packaging for Your Brand Today
We can all do our part for the environment, whether that's being more environmentally conscious when it comes to recycling, shopping smarter or choosing to use eco-friendly alternatives for packaging. It's important we start making the change, but where can you start?
Premium Ethical Packaging and the Brand Experience is a guide for homeware and fashion brands that want to become more sustainable. If you want to find out more about premium ethical packaging options and how they'll transform your brand, download your free copy by clicking the link below.