First Impressions Count.
Packaging is a powerful way of communicating your brand to the wider world as well as protecting your product during transit. With the huge shift to online retail, it is even more important to make a lasting first impression.
Ease of opening and consumer matter information are also relevant. It needs to be robust to ensure that the product arrives in pristine condition regardless of the journey it has taken. This is your first chance to impress your customer and engage him with your brand.
Then what is inside the parcel is a further opportunity to make a lasting impression of the quality, innovation and excellence of your company.
Sustainable, Fashionable & Functional
The key focus currently is to find sustainable or circulatory solutions in packaging. This is because brands are looking to help both the producer and the consumer to reduce their environmental impact and ecological footprint and protect the planet.
Weavabel have researched the options without compromising on design and functionality, and have many available solutions.
Boxes, such as simple flat-packed varieties, can be made from 100% FSC board, using forest products from well-managed forests and/or recycled materials, to ensure the future of our forests for generations to come.
This board is both lightweight and durable, reducing the weight of the parcel and ensuring that the parcel arrives in good condition. It can be printed with your logo or message, either inside or outside of the box.
Then there is the rigid presentation box, which makes a statement and enhances your brand image. It can be used as a keepsake box, which means that your brand lives on beyond the product inside the box.
A unique combination of the lightweight fluted box and the rigid presentation box is the premium flat-pack box. This is firmly sealed with a magnetic closure and has the benefit of being easy to store before use.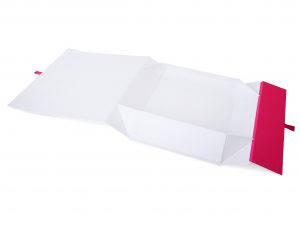 The box can be marked with a an eye-catching sticker, made from sustainably sourced paper and OEKO-TEX approved adhesive, which is also biodegradable. Inside the box, adding a touch of luxury and quality, there can be a branded tissue paper, produced from 100% paper pulp, and also biodegradable.
Boxes aren't the only packaging option though.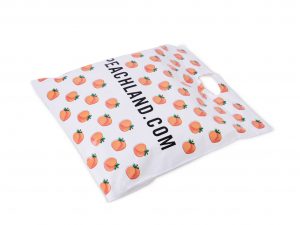 Mailing bags are ideal for shipping garments etc across the globe as they are waterproof, durable and lightweight. Made from recycled LDPE (which has been sourced from pre-consumer plastic waste), they can also be printed with an eye-catching design to instantly impress your customer.
Reusable bags can be produced from a variety of materials including Kraft Paper, Bamboo Paper, Organic Cotton, Jacron and Linen. They can be branded ,and will continue to advertise your brand for their entire life.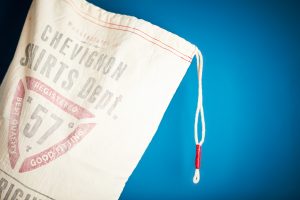 Another alternative to the plastic mailing bag is an organic cotton dust bag. Made from 100% organic cotton, this not only protects your precious product, but also presents it at a premium level by including colour or branding.
Coloured envelopes, created from FSC Kraft paper that is sustainable and biodegradable, can convey a personalised message or discount card for an individual who deserves something special. These can also be branded.
The Polybag Collection
Various shapes and sizes are available from stock, all eco-friendly and these can be branded to your requirements.
100% LDPE, made from pre-consumer plastic waste and recyclable are a one of the options. They can also be made with D2W additive, which makes them biodegradable over time. Further reducing the amount of plastic that goes into the ocean or landfill.
Green PE bags are made from sugarcane ethanol, a renewable raw material grown in Brazil and other tropical areas. The bio-based source makes it carbon neutral and the raw material remains 100% recyclable.
Then there is the option made from Cornstarch, which is biodegradable, and decomposes in 10 – 18 months.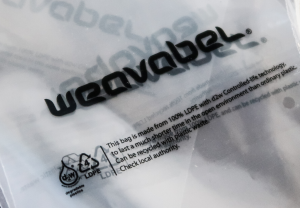 Taking steps towards becoming sustainable whilst moving forward in a challenging and changing market doesn't have to be daunting! From concept to design and through to delivery, Weavabel's wide range of creative packaging and expertise can make your products stand out better than ever. A quality, branded mailing bag or box can be the difference between a life-long customer and a returned product. And, even better, it can be providing an eco-friendly solution that meets your ethical and environmental objectives and helping to protect our future generations.