11 Sustainable Homeware Brands
Written by Weavabel, published 18/04/22 14:00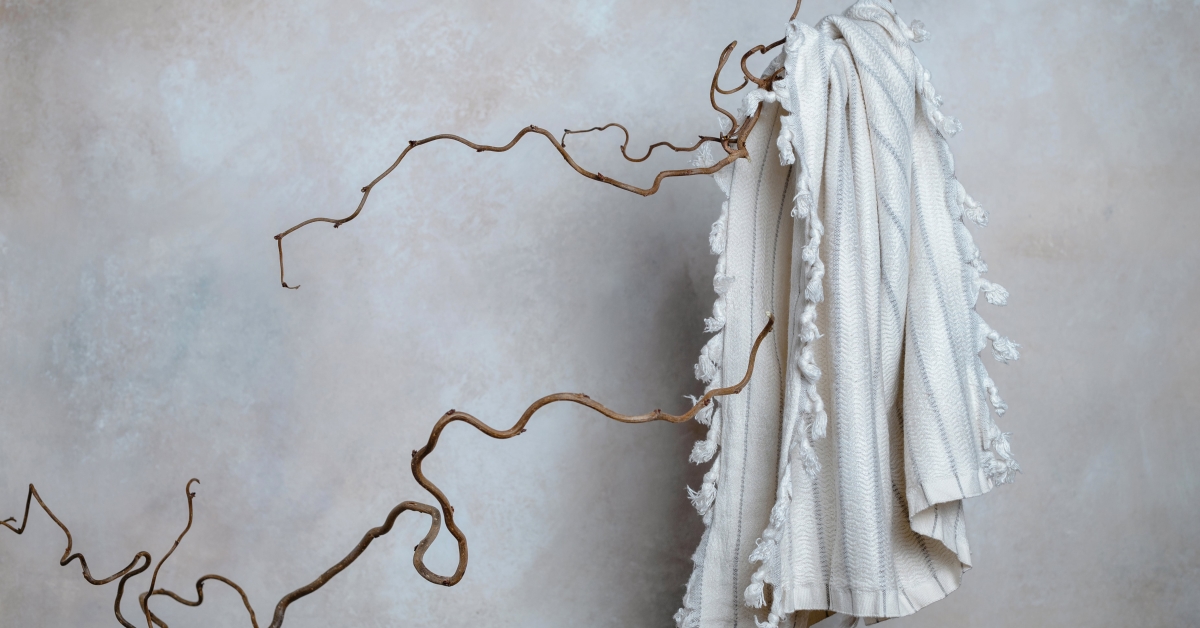 Sustainability is no longer a buzzword but a primary concern for brands and consumers alike. As the world wakes up to climate change and its challenges, brands are taking steps to become more eco-conscious and environmentally friendly.
The homeware sector is no exception. If you're looking for sustainable homeware inspiration, then you've come to the right place. We've got together a list of the top sustainable homeware brands to explore.
1. Swyft
Swyft is a furniture brand rooted in sustainability. Its stripped-back, simple business model makes it a go-to brand across the homeware sector. But what is it that makes Swyft so sustainable?
First up is its streamlined product offering. Although the brand offers beds, ottomans and armchairs, the core range is centred around sofas, with six models to choose from. Reducing the amount of choice helps Swyft manufacture only what customers need, rather than offering, producing and storing an overwhelming amount of stock.
When it comes to the products themselves, sustainability is the main concern for the materials. Swyft only uses responsibly sourced, FSC certified wood across its whole product range. The brand also minimises waste where possible — foam waste is crumbled and used as cushion filling and cork waste is turned into energy to power the cork supplier's factory.
Swyft's packaging is 100% recyclable, from cardboard boxes without glue or staples — making it easier to recycle — to biodegradable plastics. On top of this, all Swyft furniture is flat packed, meaning it takes up less space on transport, reducing overall carbon emissions.
Outside of the product offering, Swyft has teamed up with Ecologi to launch a carbon offsetting scheme that funds carbon reduction projects globally and invest in solar tubes to light its factories.
Most importantly, Swyft is realistic and doesn't want to make baseless claims that could be labelled as greenwashing. While sustainable homeware is a focus, the brand admits it has some improvements to make, but it's doing as much as possible and is constantly looking for new ways to become more sustainable.
2. Wearth
An eco-friendly online shop, Wearth, partners with sustainable and ethical brands throughout the UK for its homeware offering. The brand is centred around sustainability and eco-friendly values, encouraging people to make small, sustainable changes and choices where they can.
With everything from kitchenware and home fragrance to ceramics and furniture, Wearth champions British makers, which lowers the carbon footprint as the products have less distance to travel.
As well as using minimal, environmentally friendly packaging, Wearth has also partnered with Forest Nation to plant 2036 trees and rebuild natural forest land.
3. Nkuku
Created by a husband and wife duo, Nkuku creates ethical and sustainable homeware inspired by cultures from across the globe. Using only sustainably grown and produced materials and fair trade principles, Nkuku is committed to changing the homeware landscape.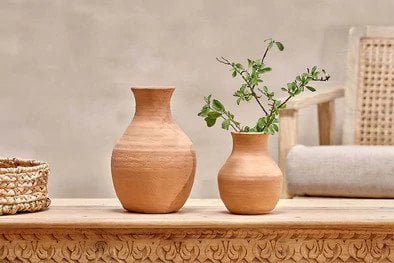 Image Credit
Instead of focusing on disposable trends, Nkuku partners with people worldwide who craft unique, ethical homewares using recycled materials and focuses on traditional production methods.
Nkuku works with independent businesses, fair trade enterprises, social projects and co-operatives, focusing on the societal element of sustainability as much as the environmental impact.
4. Natural Collection
A retailer that's long been championing the sustainability movement is Natural Collection. Although the brand sells everything from health and beauty to household products and perishable food, it has a sustainable homeware range dedicated to fair trade and artisan home accessories.
Natural Collection only stocks brands that are fair trade, organic, eco-friendly, locally produced or promote charity, education or wellness — its sustainable homeware is no exception to this rule.
On top of this, the retailer also operates on a zero waste basis and has achieved the target of sending zero waste to landfill. Instead, damaged or faulty products are sent to charitable organisations, closing the loop.
5. Aerende
Established by a former travel editor for The Guardian and Condé Nast Traveller, Aerende is a sustainable homeware brand that goes beyond the planet aspect of sustainability and focuses on the societal impact.
The handmade homewares are created in the UK by people facing social challenges who may struggle to access or maintain conventional employment.
Aerende partners with charities and collaborates with adults with learning disabilities, women's charities and people with mental health illnesses, in prison or recovering from addiction.
6. Form Lifestyle Store
Based in Manchester, Form Lifestyle Store works with local makers to produce quality, sustainable homeware that stands the test of time.
Focusing on natural materials, longevity and simplicity, Form Lifestyle Store encourages consumers to make considered purchases rather than following potentially wasteful, fast-homeware trends.
Advocating the 'buy less, buy better' mindset, the retailer is focused on transparency, as it believes that knowing where things have come from and how they have been made makes the overall process more sustainable. As well as this, it focuses on packaging made from recyclable or biodegradable materials.
7. Nove
Cork is one of the most sustainable raw materials, so it's front and centre for the lighting brand, NOVE. Committed to using natural materials and traditional techniques, NOVE designs lighting that features at least one cork element.
NOVE works closely with a local, family-run cork manufacturer for its products. Cork is biodegradable, renewable and recyclable, making the range of products sustainable.
8. Bedfolk
Luxury bedding company Bedfolk produces bedding primarily using linen material. Its ethos is to buy once, buy well, focusing on quality that lasts a lifetime rather than cheaper, more disposable, lower quality products that may end up in landfill after a short amount of time.
Linen is a sustainable, long-lasting fabric that doesn't require harmful pesticides or herbicides to produce the finished fabric. It's also biodegradable, so when it does reach the end of its life, it won't have a damaging effect on the planet.
As well as using sustainable materials, Bedfolk is also dedicated to movements that go against the trends. For example, over Black Friday, instead of offering discounts, the brand plants trees to encourage eco-friendly principles rather than hyperconsumerism.
9. The White Company
One of the most recognisable homeware brands, The White Company is playing its part in contributing toward a more sustainable planet. The brand has many ambitious sustainability targets, with one aiming to become B-Corp certified by 2023.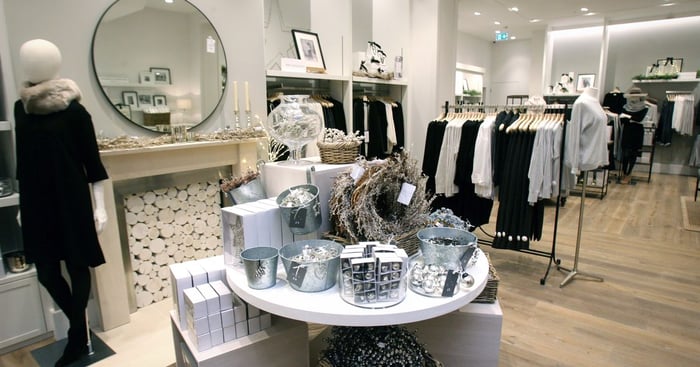 Image Credit
The White Company recently turned to us to help tackle a large challenge stopping the brand from becoming more sustainable – the packaging. The poly bags weren't eco-friendly or biodegradable, which is where we came in to help. We replaced the single-use packaging with recycled LDPE poly bags to help the brand become more eco friendly. To find out more about the project, read the case study here.
10. Sostrene Grene
Another well-known high street homeware brand, Sostrene Grene, aims to become more sustainable by adopting a circular focus. Its latest responsibility strategy outlined how the brand is committed to minimising waste.
The brand already produces recycled plastic products and is eliminating single-use plastics, partly by offering paper packaging in all of its stores. On top of this, it also works with several voluntary certifications to improve the sustainability of products and use 100% wind energy to power its warehouses in Denmark.
11. IKEA
It wouldn't be a homewares round-up without a mention of the interiors giant, IKEA. But is IKEA actually sustainable? Or is it churning out disposable products, allowing consumers to buy homeware focused on trends and consumption rather than quality and longevity?
Although it's debatable whether IKEA is truly sustainable, the brand does have a large number of sustainable initiatives in action. Top of the list is IKEA aims to be circular by 2030.
It offers a buy-back on old furniture, recycle it into new products, reduce the amount that heads to landfill and offer several eco-friendly products in stores, such as LED light bulbs and home solar panels.
Make Your Homeware More Sustainable
Are you a homeware brand? Are you looking to make your offering more sustainable? We can help with that. Simply click the link below to download our Premium Ethical Packaging guide. You can learn about all the sustainable packaging and trim options available for brands like yours.
Get your copy now.