4 Unique Ways to Improve Your Product Packaging in 2019
Written by Weavabel, published 12/08/19 14:18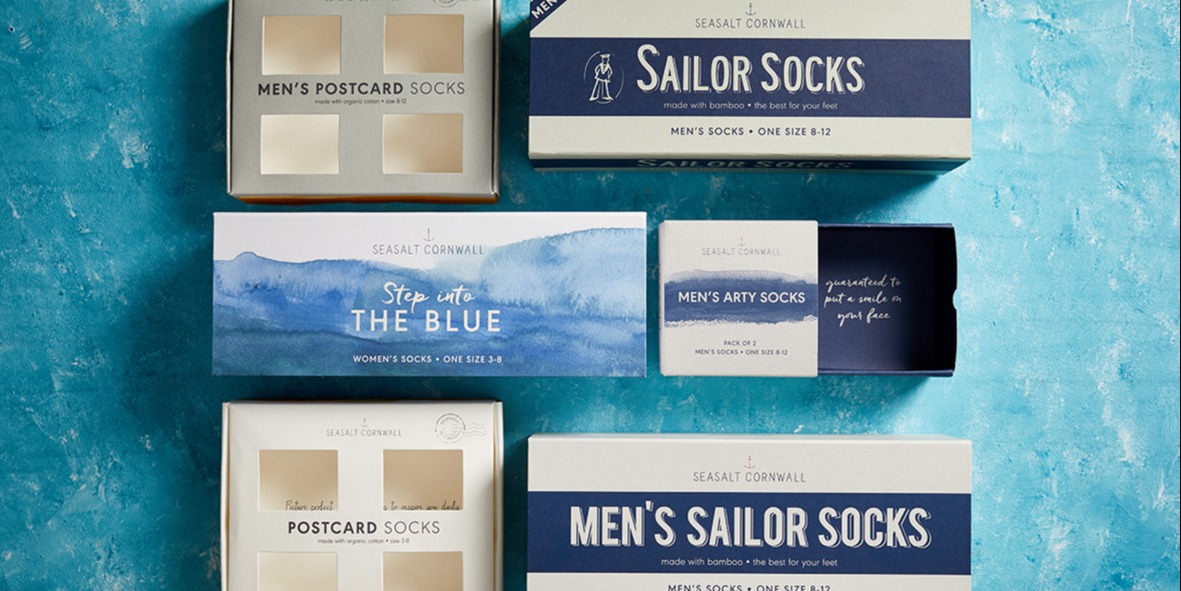 Packaging is often something brands don't consider, it's just a way to get their products safely from A to B. However, packaging is an extension of your branding and should receive the same amount of creativity and attention as your product or garment.
Here are five unique ways to improve your product packaging in 2019:
Branded Cardboard Outer Packaging
Design Packaging That Your Customers Will Want to Keep
Cut Down on Excess Packaging
Use Eco-Friendly Alternatives
1. Branded Cardboard Outer Packaging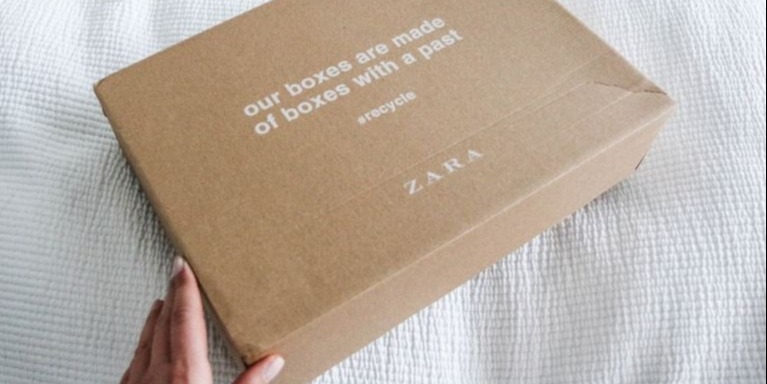 If a cardboard box is non-negotiable for your packaging, then there are ways to improve it rather than leaving it bland. Something as simple as adding your logo can be effective.
Branded cardboard packaging protects your product and also promotes your brand whilst your product is in transit. You can take inspiration from brands like Zara, who in 2019 have embraced eco-friendly packaging solutions whilst remaining true to their ideology.
A single Zara cardboard box can be used up to five times before finally being recycled into new boxes. This is an example of unique product packaging - it's practical and kind to the environment and markets the brand at the same time.
2. Design Packaging That Your Customers Will Want to Keep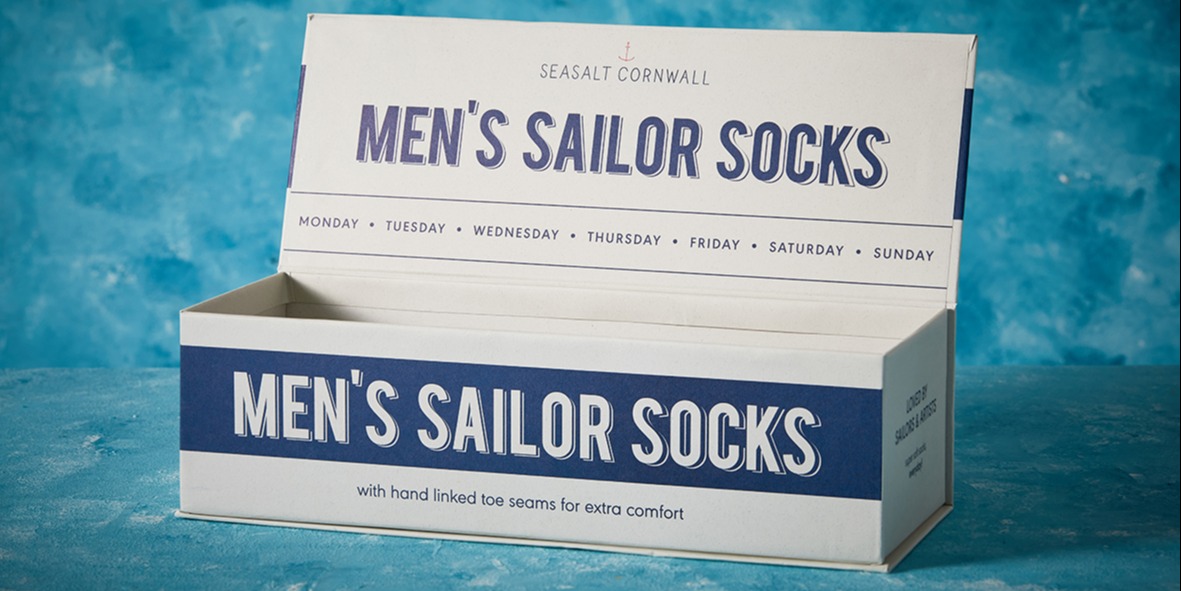 A brown cardboard box or bland unicarton probably heads straight for the recycle bin after you've got your goods. It's not something you want to keep around the house and customers won't either - unless it's unique.
Presentation goes a long way and finding a creative way to improve your packaging plays a pivotal role in building your company's identity.
Interesting textures, unusual fonts and high-quality printing can be all be used effectively to tell the tale of your product. It's an extension of your branding and a showcase-worthy design not only excites your buyers but is kinder to the environment as they're more likely to reuse it.
In 2018, sustainable sock brand Seasalt removed 18 tonnes of single-use plastic from their business, just by giving their packaging a makeover. Their display box has a magnetic closure and is made entirely from recycled card. Inspired by the seaside, their innovative packaging design isn't likely to end up in the ocean but instead reused countless times for trinkets and the product itself.
3. Cut Down on Excess Packaging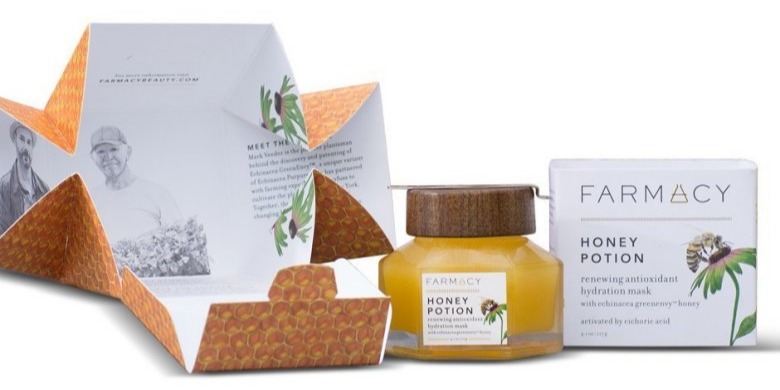 A luxurious unboxing experience doesn't have to consist of several layers of extravagant packaging anymore. By utilising effective printing techniques, you can create the same level of elegance and position your brand as high quality - without the need for excess packaging.
In 2019, we only have to look at innovative brands and their approach to product packaging for inspiration.
Take Farmacy, for example. The skincare brand designed a 6-sided origami style box to hold their jars of 'honey potion' face masks. The box is unfolded to reveal the brand story and ingredient information printed on the inside, removing the need for excess printed information and promotions.
Doing something similar with your own packaging could simply be cutting down packaging, removing additional leaflets and features everything on the inside. Farmacy also uses soy ink onto FSC-certified paper, which acts as a natural extension to their natural and organic product offering.
4. Use Eco-Friendly Alternatives
With David Attenborough bringing to light the devastation of our planet, there's significant pressure on brands to reduce their environmental impact. With over five trillion pieces of plastic debris in our oceans, packaging is a major part of the problem.
You can reduce non-recyclable waste by opting for eco-friendly materials. Biodegradable and even compostable packaging options are fast becoming available too. From the obvious cardboard to the innovative use of cornstarch to make bioplastics, we can all consider the alternatives to our current packaging.
Now you know all the ways to improve your product packaging in 2019, it's the perfect time to implement some of these ideas. Being more unique doesn't have to mean bold packaging and increasing logos on cardboard boxes. It can be as simple as cutting down on excess packaging or utilising innovative bioplastics.
Improve Your Product Packaging in 2019 by Using Eco-Friendly Alternatives
We're all accountable for our environmental impact and should all be making strides to become more sustainable. However, it can be challenging to know where to begin.
That's why we've made our guide 'Eco-Friendly: Make Fashion Sustainable'. From utilising agricultural straw and renewable bamboo paper, substituting petroleum-based inks and much more. Download our guide below.