How Custom Branded Clothing Can Help Boost Profits
Written by Weavabel, published 29/04/19 11:05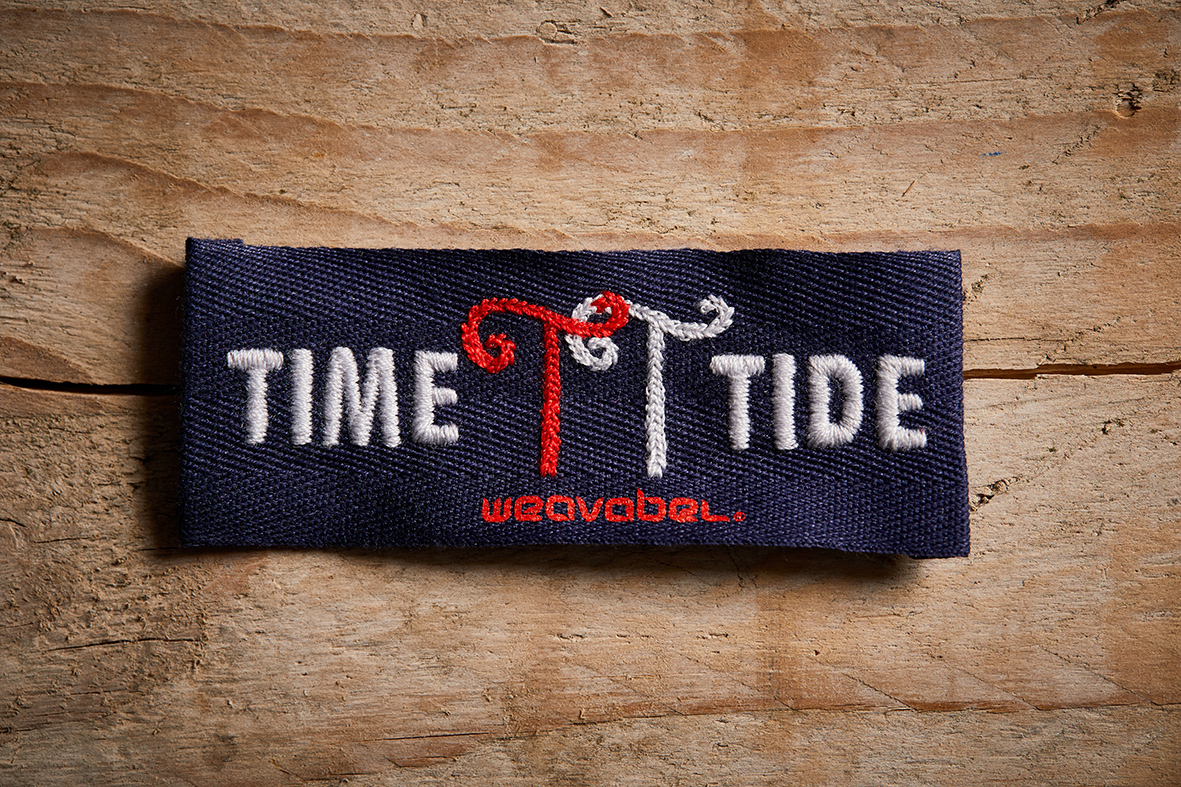 Ralph Lauren, Versace, Fendi - just some of the many household name brands today that excel when it comes to making must-have custom branded clothing. Their legions of loyal customers instantly recognise their unique garments and aren't shy about spending whatever it takes to make sure they have what others can't. The same can't be said about plain, generic clothing that could belong to any brand.
It's no secret that custom branded clothing goes a long way when it comes to boosting profits. So we've outlined how this popular trend can help your brand.
Customers Like Things That Are Unique
It Adds a Quirky Touch
Custom Clothing Helps Solidify Your Branding
Increases Customer Loyalty
Fact: Customers Are Willing to Pay More
Customers Like Things That Are Unique
If it ever came down to choosing between a plain t-shirt compared to one that features unique assets like instantly recognisable labels and rare designs, it's clear which option will grab your customers' attention.
That's not to say that plain garments are avoided entirely (for starters, they're minimalistic and can be a great base for any outfit), but there are plenty of reasons why people like things that are so unique. Some of these include:
To add a statement piece to their wardrobe.
Use them as conversation starters.
To show off their personality.
They want to project a certain image.
They want to try something new.
It makes them feel more confident.
They're extremely loyal to a brand.
It's all about standing out from the crowd.
They just simply prefer unique garments over plain options.
The fact is, offering exclusive custom branded clothing to your customers is what will make you more memorable and set you apart from your competition. Especially if they haven't jumped on this trend yet.
It Adds a Quirky Touch
Let's face it, people are more likely to do a double-take when they see something out of the ordinary rather than plain clothing which they see every day. High-quality custom branded clothing instantly piques the interest of shoppers and also anybody who sees them wearing that personalised item of clothing.
They want to know where the person bought it from, the brand, the price and so on. Nobody will stop anybody in the middle of the street to ask where they purchased generic items from.
It's not all just about logos and labels either. Custom branded clothing which includes the likes of pin badges, leather patches and even swing tags are all little yet massively impactful additions that can turn an ordinary piece of clothing into something quirky and unmissable.
custom clothing Helps Solidify Your Branding
You only need to look at some of the biggest brands in the world to see how successful you can be when it comes to incorporating custom branding to your garments. Although, that doesn't mean you have to go all out in terms of luxury and produce custom symbolic flashy prints and bright colours like Versace either.
Sometimes, stripping things back and keeping everything really simple can solidify your branding even better - just look at Virgil Abloh's insanely popular Off-White brand.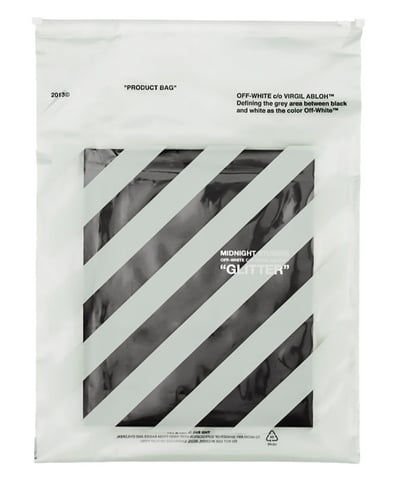 Image Credit: Pinterest
The Off-White custom branding includes simple aspects like white arrows, quotation marks, plain labels, industrial packaging and diagonal lines. But what really solidifies this brand is their signature zip tie, a simple yet quirky addition that makes the brand recognisable right away.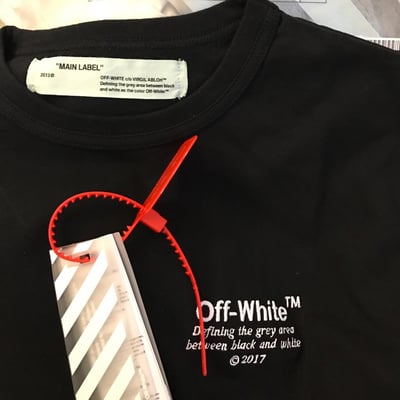 Image Credit: Depop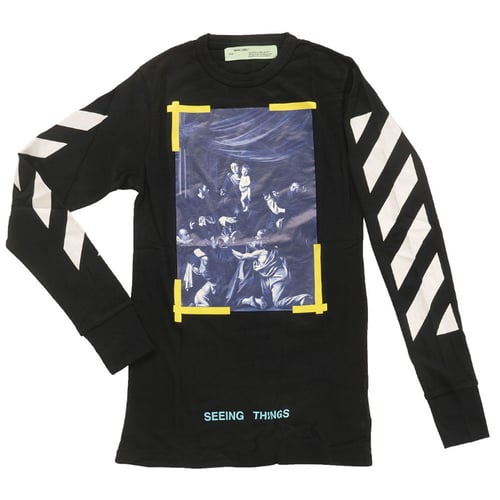 Image Credit: Rakuten
The quirky additions to this streetwear brand are so unique that people are constantly wanting to purchase them. It's why people buy the custom branded clothing from this brand - which is just one example of many - for hundreds of pounds and end up reselling them to others for thousands.
It's a good lesson to take away. Plain clothing isn't what will help solidify your branding as everything will get lost in the noise. Creating custom branded clothing that resonates with your brand is what will give you an identity.
Increases Customer Loyalty
When customers can purchase custom branded clothing that appeals to their style, they get exactly what they want and their satisfaction levels increase. They'll instantly see your personalised products as unique items with added value which is one of the best ways to build loyalty.
Think about it, if your customers feel like they have a unique, custom garment that not everybody owns, then they'll feel more special being in possession of it.
Once that connection with your brand is there through your garments, your competition will have to try even harder to steal your customers' attention away from your brand.
Fact: Customers Are Willing to Pay More
Personalising clothing to fit your brand guidelines doesn't just help increase sales and boost profits, but it also keeps your customers satisfied. Consistency throughout your branding satisfies your customers which then promotes loyalty and word of mouth recommendations - and even more sales and profits follow.
A Deloitte study has shown that, on average, 36% of consumers would consider buying customised products. It also revealed that one in five consumers would be willing to pay 20% more for a personalised or exclusive product - such as your custom branded clothing options.
This shows that consumer mentality is moving away from just the price and towards inherent value. You can see that in the case of Kanye West. He famously uses Gildan branded clothing (which is cheaper to purchase compared to luxury brands and fabrics) as the supplier to create his own coveted merchandise and customising them to meet his brand guidelines.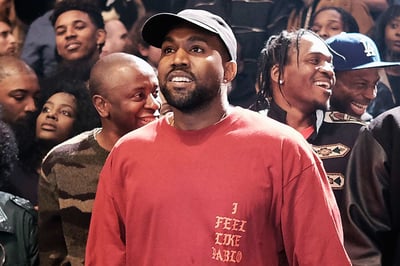 Image Credit: Vulture
In the end, both brands continue to earn millions thanks to loyal fans. If you can make the switch to offering custom branded options, it's likely that shoppers won't shy away from paying even more to help boost your sales.
Although it's one thing knowing how custom branded clothing can help boost profits, it's another to know what you can add to garments to help you get started. That's where we can help.
Take Your Branding Up a Level With Customisation
The next step is to learn more about the types of tags and trims you can add to your garments to make them customised to align with your brand. This is what will help you stand out from the crowd and generate more sales.
For help with promoting your brand, we've created a helpful guide. It includes plenty of useful content, ranging from the artwork to think about and material options. To see how you can create compelling hang tags and trims, get your free copy by clicking the link below.