Green Branding Geniuses: 3 Examples of Eco-Friendly Brands That Are Paving the Way
Written by Weavabel, published 04/10/19 13:30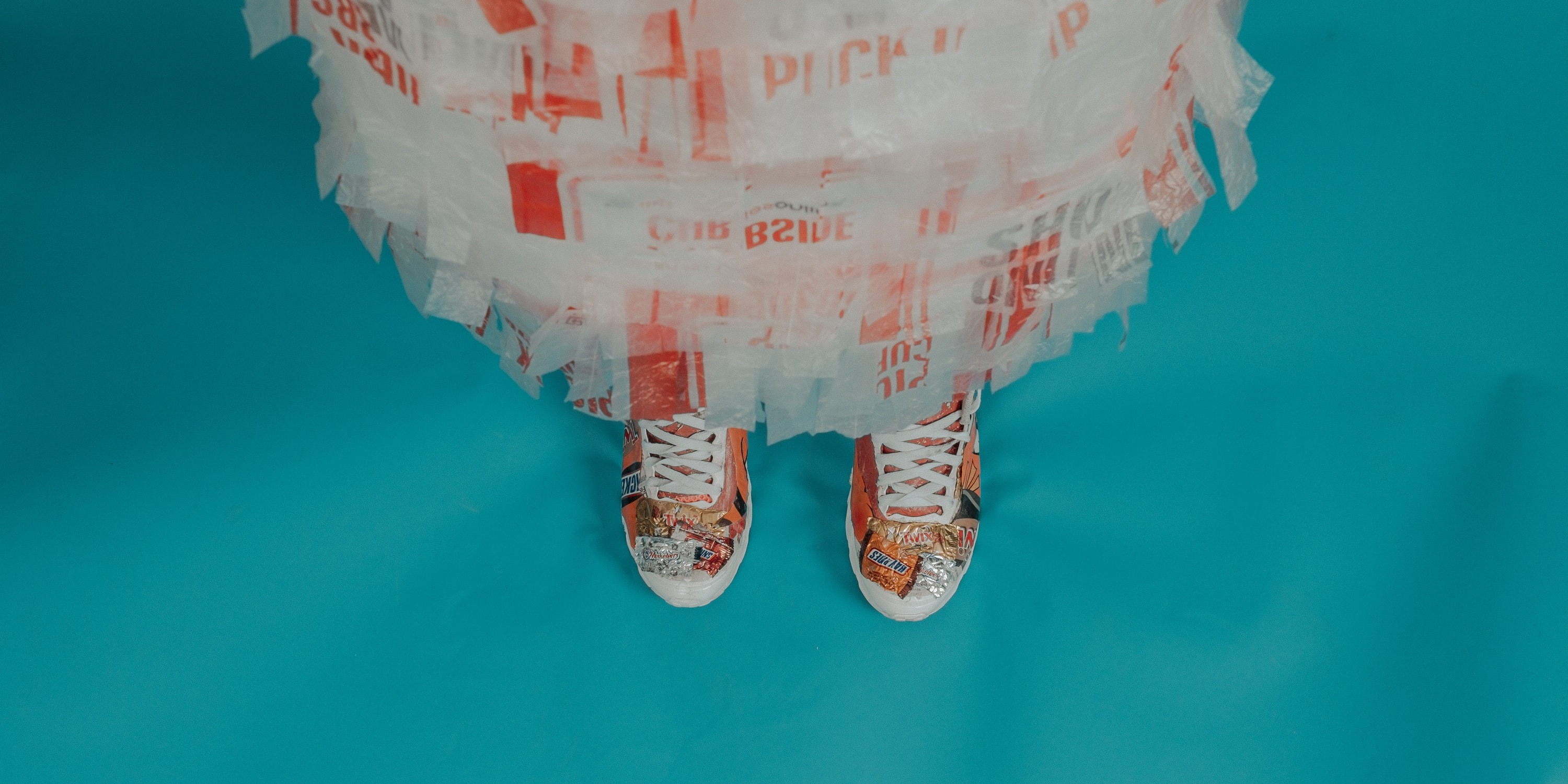 When we think of pollution and what's disastrous for the environment, the fashion industry tends to fly under the radar. To some, it's surprising that it ranks just below the oil industry as the second-largest polluter in the world. However, there are some green branding geniuses doing their part to positively impact the environment in the long-run.
To see how you can follow in their footsteps and switch to sustainable alternatives, check out the examples below.
1. People Tree
People Tree's story started in 1991 with a mission to produce ethical, sustainable and environmentally friendly clothing. Fast forward to 2019 and the brand has launched its debut 'Our Blue Planet' collection with BBC Earth. The aim is to highlight the importance of ocean conservation and was created with a strict environmental policy.
Here's what it includes:
People Tree only uses natural fibres or fibres that follow closed-loop processes, such as Lenzing-certified TENCEL.
The brand uses GOTS-certified organic cotton throughout the supply chain and promotes organic farming.
People Tree avoids polluting substances. Instead, they use GOTS and azo-free dyes.
They aim to protect water supplies through the use of effluent water treatment plants, rainwater harvesting and water recycling.
There's a focus on using materials that are as biodegradable as possible and source from suppliers that prioritise the protection of the environment.
People Tree also promotes the use of traditional crafts and handmade textiles as well as promoting environmental initiatives for a sustainable future.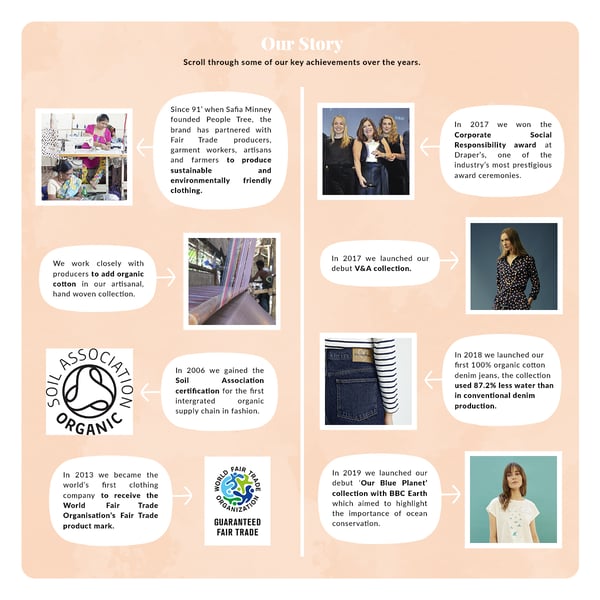 Image Credit: People Tree
People Tree also has strict uses of cotton, denim, TENCEL and production methods. These examples also highlight the great strides the brand takes to be one of the best examples when it comes to green branding.
Cotton: 93% of People Tree cotton in 2018 was GOTS-certified, traceable from the seed to the finished product. As no manufactured fertilisers and pesticides are used, organic cotton produces up to 94% less greenhouse gas emissions.
TENCEL: People Tree uses TENCEL, a sustainable fibre which transforms wood pulp into cellulosic fibres. The process recycles water and reuses solvents at a recovery rate of 99%. It's also biodegradable and compostable.
Production: The People Tree production methods involve no machinery to significantly reduce the carbon footprint. They work with producers in Bangladesh and Nepal who use their experienced crafting skills to produce handwoven fabrics, embroidery, dyeing techniques and knitting.
They even take environmental sustainability one step further as their labels are made from FSC-certified paper. People Tree Founder and CEO, Safia Minney, also featured in the Netflix film, The True Cost, which highlighted the effects of the global clothing industry on people and the planet.
2. Thought Clothing
Every collection from Thought Clothing embraces the concept of slow fashion. Their aim is to influence consumers to wear the garments time and time again. The brand works in a thoughtful way, using natural, organic and recycled fabrics. Although it takes more time to use sustainable fabrics, they see it as time well spent as it lowers the impact on the planet.
When Thought Clothing first started, its go-to fabric was hemp thanks to its irresistible, textural finish and the ability to soften each wear. Since then, the brand has adopted the innovative additions of TENCEL and modal which begin life as sustainably-grown trees.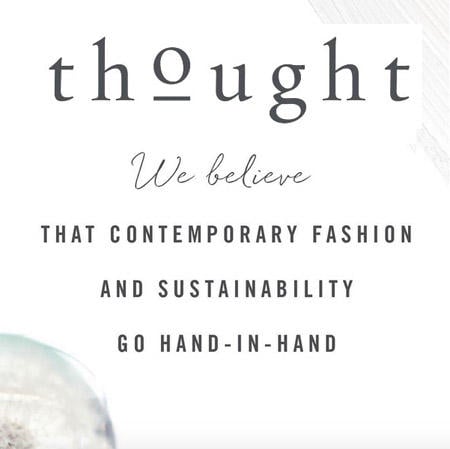 Image Credit: Chartree
Here are more of the fabrics Thought Clothing uses:
Bamboo: Used as it's gentle on the environment - it grows fast and uses minimal resources.
Hemp: Hemp doesn't wear out. It wears in and gets softer as time passes. It's also better for the environment than cotton and thrives with minimal water.
Wool: The wool used by Thought Clothing is 10% natural. Like all of their fabrics, the wool is sustainable. It's also a luxe feeling as it's long-lasting.
Cotton: Thought Clothing's cotton is organic and spun with care and comfort. It's softer, kind to the skin and much gentler on the planet.
Recycled Polyester: Originally, the fabric might have started life as a plastic bottle or two. Now, the brand uses recycled and reworked polyester, so it's strong and incredibly soft.
Rayon: Thought Clothing's rayon comes from recycled tree pulp. It's then spun into a soft, silky fabric.
Every fabric used by Thought Clothing is approved, grown and woven with every effort to protect the planet. Even their dyes help protect the environment. They're azo-free (which is a harmful carcinogen) and thanks to Oeko-Tex, the finishes are also gentle on the environment.
3. Amour Vert
Amour Vert work every day to create a healthier planet for future generations. The brand is committed to making sustainable, versatile and thoughtfully-designed clothing that's good for consumers and the planet. For a better idea of how determined Amour Vert is to creating a sustainable future, the brand name literally translates to 'Green Love' in French.
With every purchase of an Amour Vert tee, the brand plants a tree in North America. To date, Amour Vert has planted over 220,000 trees. They also produce their garments in limited quantities. It's to ensure that the highest production standards are met and helps to eliminate excess waste.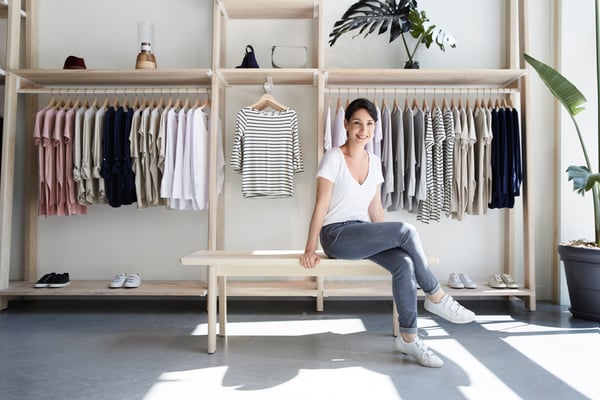 Image Credit: Bob Cut Mag
What's so unique about this green branding example is that they use signature fabrics by working directly with mills. It allows them to soft, beautiful, durable and sustainable fabrics. These include:
Beechwood Blend: Made from sustainably harvested beechwood fibres. It's free of pesticides, luxuriously soft and also biodegradable.
Organic Cotton: Amour Vert's certified organic cotton is both durable and smooth. It's free of pesticides, insecticides, herbicides and genetically-modified organisms. It means it's safer for farmers, workers and their customers.
Mulberry Silk: The brand's silk is Oeko-Tex certified. This means the silk has met rigorous testing for harmful substances, ensuring that that the fabric is nontoxic and safe against the skin.
TENCEL: Amour Vert's TENCEL is made in a closed-loop process from sustainably farmed eucalyptus trees. It's environmentally responsible fibre from start to finish.
Cupro: This is produced from cotton linter that's usually discarded. The brand's production facility recycles nearly 100% of the waste and the cellulosic waste is used as fuel to generate electricity.
Amour Vert, Thought Clothing and People Tree are just three green branding geniuses that have paved the way for other fashion brands to follow. They've proven that great fashion and sustainability can coexist peacefully which is something every label can do.
For starters, it could be as simple as introducing an eco-friendly range to impress customers, meet their demands and play an influential role to help save the planet.
Adopt an Eco Range by Transitioning to a Sustainable Production Process
To help on this exciting journey and switch to green alternatives, we've created a free guide to help you make the transition. It outlines how you can work with an eco-friendly manufacturing and production process to achieve the best results.
The guide highlights plenty of key information, such as consumer trends, what the biggest fashion brands in the world are doing right now, how to make the transition and much more. To get your free copy, click on the link below.