11 Creative Places to Brand Your Garments and Accessories
Written by Weavabel, published 26/04/19 19:05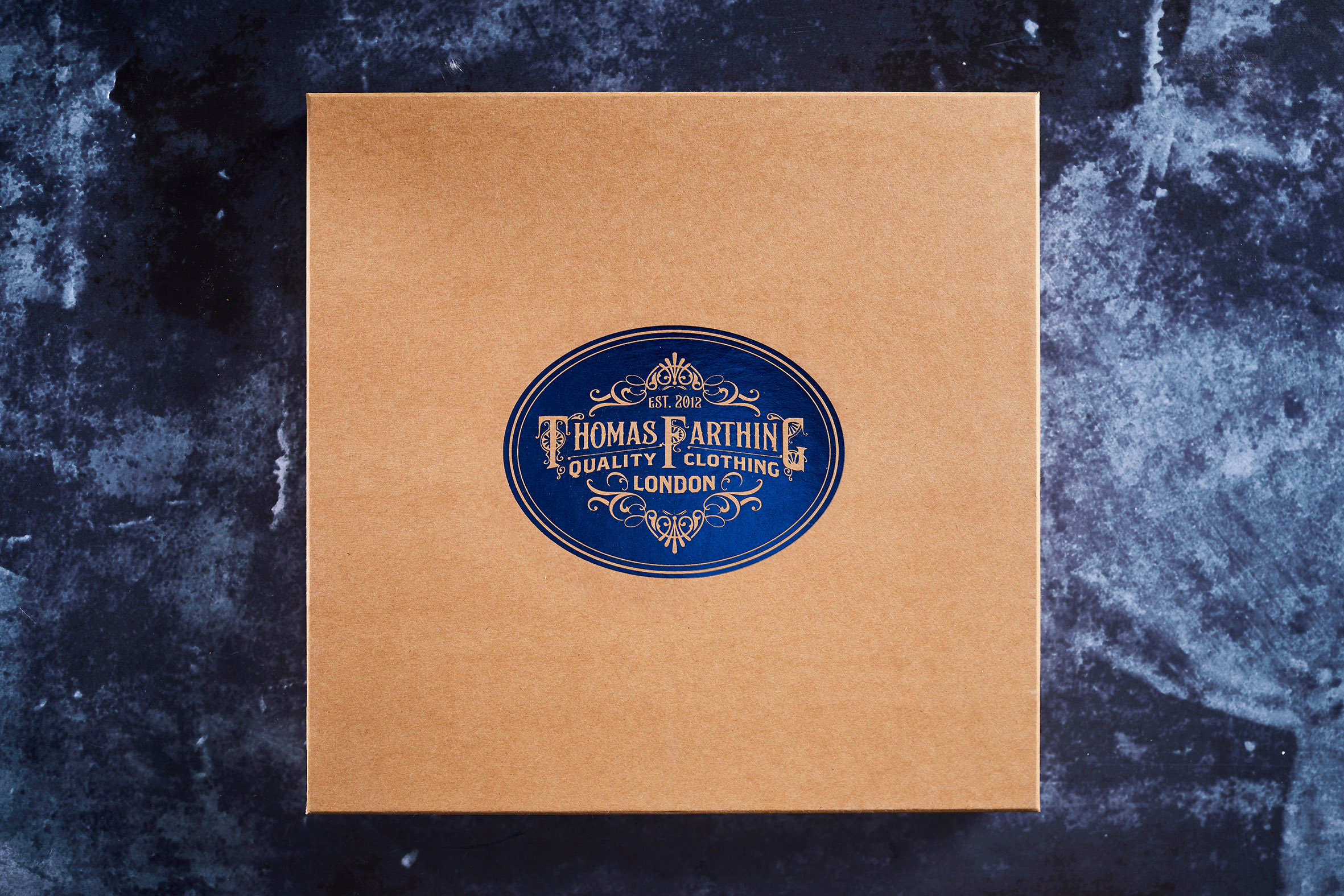 incrYou're no longer limited to just garments and accessories that you can customise to increase brand awareness. With innovative technology rapidly advancing, you have more options than ever to add an injection of creativity - from distressed jeans buttons right through to branded zip pullers.
Here are just 11 of the many creative places you can brand your garments and accessories.
1. Printed Badges with embroidery
This lightweight badge option gives the perfect dynamic yet aged look. By adding vibrant colours, the flock details can really lift the badge to a whole new level while adding a splash of colour and tactile elements. It's ideal if you're looking to add a touch of sophistication to your brand image.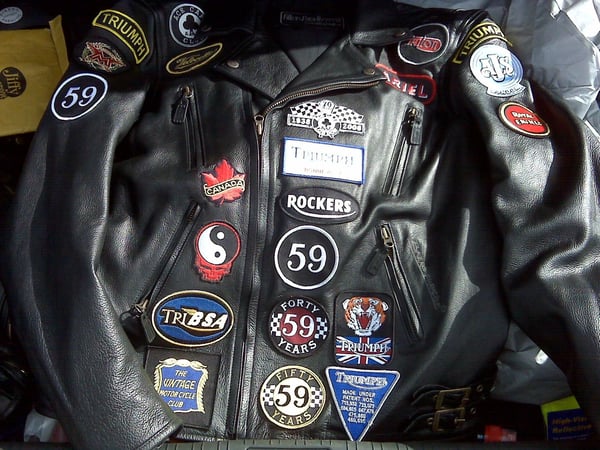 Image Credit: Pinterest
Use on: Leather jackets. People love to customise these with a range of badges to improve the style while increasing brand awareness.
2. Metal Branded Cord End
While these are usually overlooked, cord ends are incredibly useful in terms of branding when used on garment drawstrings, for example. These subtle additions make sure your brand is seen at every opportunity while adding extra value and a classy feel to the garment.

Use on: Metal branded cord ends are really versatile on anything from drawstring bags, swimming shorts to string hoodies.
3. Moulded Metal Pin Badges
Pin badges - simple, versatile and incredibly underrated. Branded metal pin badges are making a comeback and they're an impressive method to display your brand identity. Technology now lets you add 3D metal pin badges that make an even bigger impact. You can create texture and age while inscribing your brand logo can add plenty of depth to your branding which indicates effort and craftsmanship.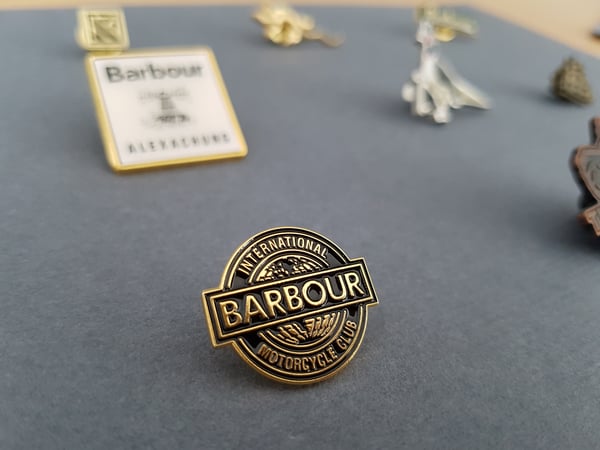 Use on: Anything from bags and caps to using them as gifts and collectables.
4. Distressed Buttons
For a truly interesting distressed effect, utilise faded metal finishes on your branded buttons. Buttons that feature shaped edges give the impression of an even more aged and used look to match the style of clothing they're featured in. Add in techniques like embossing or debossing and your brand will shine as part of the popular antique effect.
Use on: They're best used on distressed jeans and similar jackets.
5. Premium Hang Tags and Swing Tickets
Whether you're chasing a crumpled effect or something with a little more texture, swing tickets and hang tags that feature attention to detail are sure to enhance your branding package. By adding foil blocking, spot UV, embossing or even gilt edges, you can ensure this small but powerful product portrays your brand in the best possible way.
They're also ideal for making your customers feel valued by using text which details the exclusivity of the product they're buying. Combine this on the reverse for product information such as price points and sizing and you'll solidify your branding further.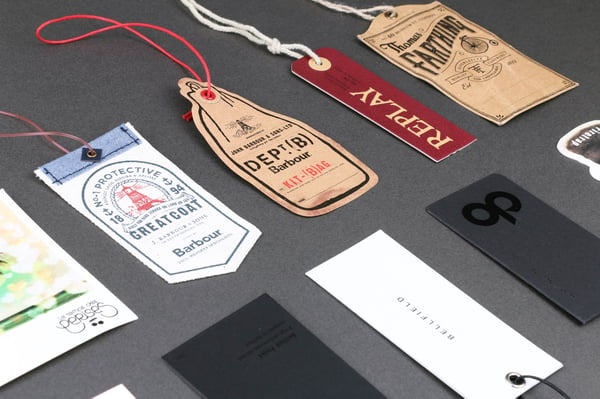 Use on: You can hang these from any types of garments or offer as an extra in the packaging.
6. Customised keyrings
Branded metalwork is an innovative and exciting way of showcasing your brand. While they might seem like they can't add any value at first, adding other accessories like a key ring or a bottle opener ensures they can easily slip into pockets. This is perfect for giving your customers an unexpected little gift which features your brand logo.

Use on: Include branded key rings as an affordable point of sale item on your counter or even as a free gift to surprise your customers.
7. Rivets and Plaques
Rivets don't need to be plain on a pair of jeans. Adding a wash effect over metal can work wonders to highlight your embossed brand name with smooth, raised lettering. Debossing is equally as effective which adds a good variety to any metal branding range you might have. Add in irregular edges and you'll enjoy a more authentic finish to this distressed metalwork.

Use on: Replace your generic rivets with branded ones to add subtle branding to your jeans, while maintaining their original use.
8. Luxury Packaging
You can further enhance your brand with bespoke luxury packaging to make your products stand out better than ever. Flat-packed boxes, rigid boxes, bags and garment bags are all useful for different reasons - but they're all fantastic for consistent brand awareness. Use sturdy materials so that your consumers keep them and re-use them on an ongoing basis.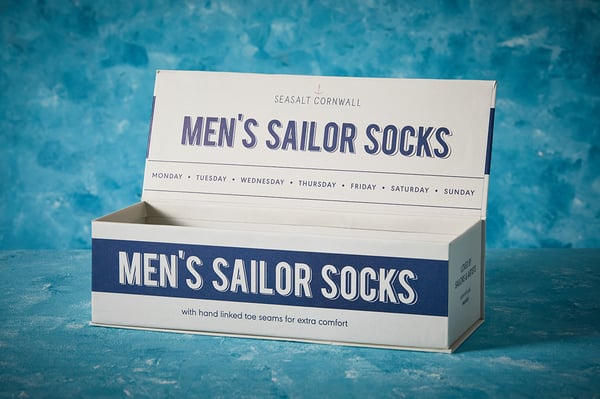 Use on: Use luxury packaging for any type of garment which customers will be impressed by, re-use and won't throw away.
9. Leather Patches
Genuine leather is a much sought after look and you can achieve this through several leather patch options.
Whether they're distressed, debossed, include metal finishes, padded or riveted, you can achieve a great deal by including these on your garments. They can be traditional or quirky and you'll still be able to showcase your brand while including important product information at the same time.

Use on: Leather patches have always worked really well on garments like jeans and chinos.
10. Branded Zip Pullers
Another underrated and usually forgotten about garment accessory is the impact a branded zip puller can have. As zips are features on many types of clothing, this subtle accessory is perfect to include to shout about your brand.
Whether it's different shapes through traditional metal or adding your logo or brand name with modern silicone or durable leather finishes, you can achieve a lot with this small extra.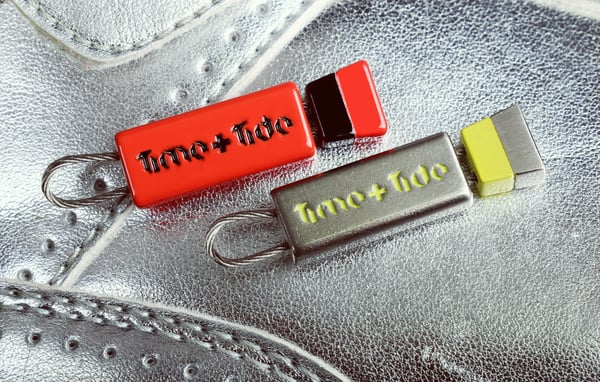 Use on: Any garment that features a zip.
11. Woven Care Labels
Big or small, woven care labels a softer alternative to apply to your garments containing things like washing information and materials used. Best of all, they're a really discreet way of promoting your brand to potential customers and reminds the owner of your brand name. Go for ultrasonically cut edges to ensure minimal itchiness.
Use on: The inside of any type of garment, from shirts to hats.
These are just 11 of the most creative places you can brand your garments and accessories. Now it's time to find out more about how swing tickets and hang tags can promote your brand even further.
Your All-in-One Guide to Swing Tickets and Hang Tags
Swing tickets and hang tags play a huge role in cementing your branding. To help further strengthen and promote your brand image, we've created a guide on all things swing tickets and hang tags.
It's full of useful information on what to look for when choosing board quality, your materials, the finish type and so much more. To get your free copy, click on the link below.