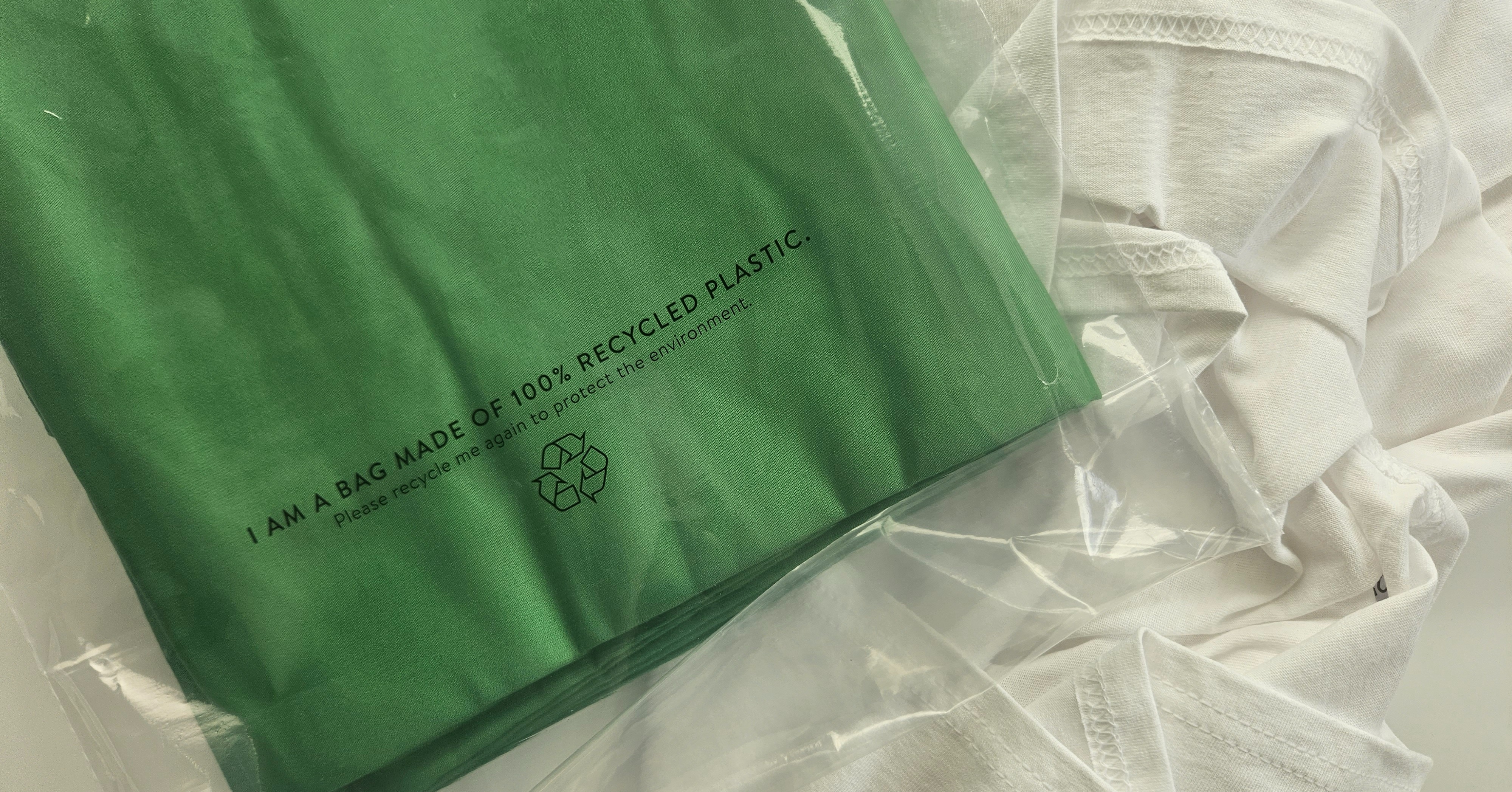 Poly bags are essential in supply chains for the fashion industry and beyond. These humble, transparent plastic bags play an important role in getting products safely from A to B without any costly damage.
The Challenge
While poly bags are a critical part of production, distribution and sales, there's one significant problem — the majority are made from single-use plastic, which has an overwhelmingly detrimental effect on the environment.

With eCommerce sales continuing to boom and retail sales bouncing back, the demand for poly bags grows. With that, the amount of single-use plastic waste increases. It's a vicious cycle.

As global plastic waste exceeds 400 million tonnes and 85% of plastic packaging ends up in landfills, something has to change.
The Solution
Enter the recycled LDPE poly bag, an eco alternative to your standard, single-use plastic poly bag. Produced using pre-consumer plastic waste and available with GRS certification, this is the solution for fashion, homeware, sportswear and luxury brands looking to meet their sustainability goals.

This eco poly bag option is available in multiple compositions — 30%, 70% or 100% recycled LDPE. The higher the recycled content, the cloudier the material, but the less harmful plastic waste ends up in landfills. They're also recyclable, closing the loop on supply chain waste.

On request, our recycled LDPE poly bag can be Global Recycle Standard (GRS) certified, adding another sustainable layer to your standard plastic alternative. Sourcing poly bags through your existing vendors or supply chain partners means they're unlikely to be certified.

Interested to know more about the specifics? Here are some key facts about the Weavabel recycled LDPE poly bags:
They're recycled and recyclable.
The material is transparent and can be printed with a simple design on both sides.
Multiple closure options are available — the most common being an adhesive strip.
Customisable sizes, with thickness options from 0.3mm to 0.15mm.
MOQ is 10,000 pieces.
Lead time is 3-4 weeks from sampling to artwork sign-off and 5-6 weeks for bulk production from sample approval.


The Result
We've helped La Redoute, The White Company, Vingino, Westwing AG and more transition to recycled LDPE poly bags. But besides offering the obvious result — transforming your brand to be more sustainable — what other benefits do our eco poly bags offer?

As governments crack down on plastic waste — such as the UK introducing the Plastic Packaging Tax in April 2022 — our recycled LDPE poly bags provide a sustainable alternative that complies with new global laws. When you partner with Weavabel, we can provide the required information and data records to get your tax relief using our recycled LDPE poly bag option.

If durability is a problem you often face when looking for eco-friendly alternatives to poly bags, you can stop your search. Our recycled LDPE is very similar to virgin LDPE, so it still has the durability and strength needed to protect garments during production and distribution.

As well as being made from recycled pre-consumer plastic waste, our eco poly bags are easily recyclable through most waste collection services throughout the UK and EU.

The bottom line is that our recycled LDPE bags offer you all the characteristics of a standard poly bag that you need for smooth operations — all while being sustainable. Therefore, you'll reduce plastic waste and encourage greater transparency in your supply chain.